Last updated on September 5th, 2022 at 09:08 pm
Like Inksnation, thousands of Chinmark investors are counting their losses. The investment which some people have described as a Ponzi scheme has already claimed its first victim.
Inksnation used to be one of the shady crypto investment platforms that promised to end poverty in Nigeria. Thousands of investors lost millions of naira just investors of agriculture storage business investment have pushed for the arrest of Imu Ovaioza Yunusa, the founder of Ovaioza Farm.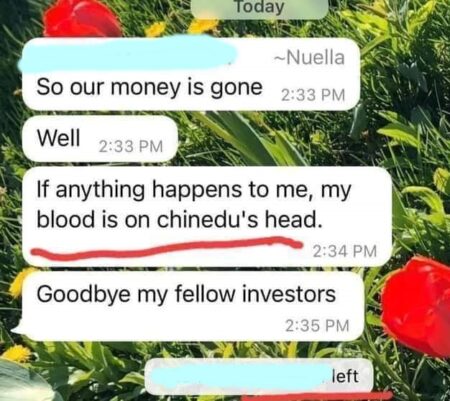 It's reported that one of the Chinmark investors Nuella commits suicide days after making suicidal notes on a messaging group before angrily exiting the group.
It is certain that thousands of other investors may be considering suicide, but if you are one of them, taking your own life because you lost money isn't the solution.
How Chinmark Investment Problem Started
The investment platform was founded by Marksman Chinedu Ijiomah. The man isn't a novice to creative investment.
Some of his successful businesses include Chinmark Restaurant, Chinmark Food Services and many subsidiaries. He has a restaurant in Dubai.
His other businesses are great and still standing, raising questions if a Ponzi scheme operator has real businesses.
Coming back to Nigeria, Marksman's problem started when the Security and Exchange Commission (SEC) on December 25, 2021, warned Nigerians to steer clear of FinAfrica Investment Limited and Chimark Group.
In a warming message, the commission says:
The Commission hereby notifies the investing public that neither FINAFRICA INVESTMENT LIMITED nor Chimark Group is registered by the SEC and the Investment Scheme promoted by these entities are also not authorized by the SEC.
In view of the above, the general public is hereby WARNED that any person dealing with the within named Company in any capital market related business is doing so at his/her own risk.

SEC
It was later gathered that the operation account of the company was frozen by the SEC because it failed to register as a fund/portfolio manager in Nigeria. The founder on his verified Facebook Page that he was able to pay 500 out of 4,466 investors, pleading to others to exercise patience.
Is It Necessary to Register With SEC?
If you are planning to start an investment company, your first step is to register with the Corporate Affairs Commission (CAC) and obtain a licence from SEC.
From the information at our disposal, Chinmark Group only registered with the CAC.
We what we heard, the company's account where billions of Naira were domiciled was frozen by the commission.
If truly, Chinmark Group was not licensed by SEC to operate, the commission is backed by law to take such action.
But if such action was taken in Nigerians' interest, it's important for the commission to come open on how it happened and how the investment of Nigerians can be refunded.
So, what's next?
The Golden Rules of Investment
"Never invest money that you can't afford to lose," is one of the commonest rules of investment. As an investor, you should always keep that in mind.
Killing yourself isn't the solution, if there is truly a dispute between Chinmark Group and SEC, it's something that can be resolved. What happens if such dispute resolution happened after taking your own life?
Avoid 'bubble' investment. Some people claimed that the founder of the investment promised investors 4% Return On Investment (ROI). We can't reliably confirm this.
No Guaranty on Investment. As you lookout for the next investment opportunity, always be reminded that even the U.S. Law and most investment laws say:
"Returns are not guaranteed and when you choose to invest know that you stand a chance of losing all your money."
What this means is that, when you then choose to invest in a scheme that gives you 4% monthly, it doesn't give room for the company to bounce and recover when challenges happen as we've seen in the Chinmark investment
Final thought:
If the current challenge is between SEC and Chinmark, it can be resolved. But if it's a premeditated Ponzi scheme, by now, Marksman Chinedu Ijiomah, C.E.O of Chinmark Group, must have landed in Saint Lucia or any of the Caribbean countries around.
We hope that Chinmark investment will not be re-packaged for some of the gullible Nigerians in a few weeks from Nigeria. One would have expected Nigerians to learn from the sudden collapse of similar investment platforms in Nigeria in the past.
Similar platforms where Nigerians have lost billions of naira include MBA Capital and Trading Limited and Bamise Ajetumobi founded Imagine Global Solution Limited among others.
Avoid bubble investment. If you can't, invest only what you can lose.