Last updated on December 16th, 2021 at 10:41 pm
WhatsApp has rolled out new disappearing messages by default which gives users better control over how long they want chats to stay on the app.
In a message by the founder of Meta (formerly Facebook Inc), Mark Zukerberg, said users will be able to make all new chats disappear not all messages need to stick around forever.
"We're rolling out a new disappearing messages option on WhatsApp today so you'll be able to make all new chats disappear by default after 24 hours, 7 days, or 90 days," Zukerberg stated.
A few minutes after Zuckerberg's announcement, WhatsApp in a blog post titled, "More Control and Privacy with Default Disappearing Messages and Multiple Durations," stated that the freedom for users to fully enjoy their privacy knowing that their conversation isn't being recorded and stored somewhere forever.
The new disappearing message by WhatsApp is to connect the world privately through which users have the decision to how long a message should last.
"It's become the equivalent of a note-taker following us around making a permanent record of everything we've said.

"This is why we introduced disappearing messages last year, and more recently away for photos and videos to immediately disappear after being viewed once," WhatsApp says in a blog post on Monday, December 6, 2021
How to enable Disappearing Messages on WhatsApp
Activating disappearing will not affect your entire chats, but a specific contact and here is how to enable the disappearing chat whether on WhatsApp Business or Messenger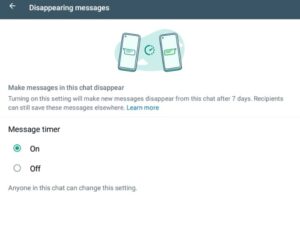 Open a specific WhatsApp chat among your contacts
Ope the contact's name
Under media visibility, select "disappearing messages"
If prompted, click "continue"
Select "on"
Select any of the available options: 24 hours, 7 days, or 90 days
If you can't see the option, head straight to the app store to update WhatsApp App
How to deactivate disappearing messages
In case you decided to make chat stay on your app permanently, you can also disable the disappearing messages on WhatsApp by following the guide below:
Open your WhatsApp chat
Tap the contact's name.
Click disappearing messages.
If prompted, tap "Continue"
Select Off
Meta, the owners of the messaging app says it believes that disappearing messages along with end-to-end encryption are two crucial features that define what it means to be a private messaging service today.
Recap:
Users can now activate disappearing messages on WhatsApp by default, meaning chats can now disappear after 24 hours, 7 days, or 90 days depending on your configuration
Featured Image: