Last updated on August 6th, 2023 at 06:35 am
This is N-Power success story of a former beneficiary who started a tea business in Yobe State with N250,000, makes N300,000 daily sale turnover, makes between N5,000 to N30,000 daily profit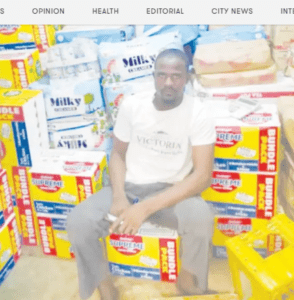 We've heard different testimonials about the youth empowerment programme N-Power of the APC-led government, but the success story of Mohammed Malami is unique and inspiring.
The young man was one of 200,000 beneficiaries of N-Power programme when the temporary job initiative began in 2016.
With a monthly stipend of N30,000, Mohammed Malami saved enough for himself to start a tea business.
Though faced with challenges, but Malami's resilience pulled through he started making N300,000 daily sales turnover.
At InfomediaNG, we believe you can tap from the motivational story of this young man, who overcame all challenges at the initial stage of his business.
According to him, his network of customers grew because of his consistency and he started making N30,000 as daily profit, the minimum daily profit he makes is N5,000.
Where is Mohammed Malami?
Daily Trust which encountered him in the North confirmed that the young man set up his thriving tea recipe business with his monthly stipend.
Based in Gashua headquarters of Bade Local Government Area in Yobe State, North-East, Nigeria, Malami stated that he was among the 2016 first batch beneficiaries of the scheme
His Challenges:
He faced sufficient challenges that were enough to kill his dream of being a business owner, but the challenges made him stronger.
One of such problems he faced was a delay in payment of his N30,000 monthly stipend. He was among hundreds of beneficiaries in the backlog due to BVN and other verification required of the volunteers to be paid. His stipend was withheld for 16 months.
While he wasn't paid, he believed that one day, his backlogs would be paid and never stopped going to his Place of Primary Assignment.
As if that was not enough, after receiving payment for the backlogs, another payment problem set in again and all attempts to tackle the situation were unsuccessful.
How He Raised Funds For His Business
He was quoted as saying, "Upon receiving my first payment in 2018, I quickly initiated a monthly contribution of N20,000 with 12 of my friends and asked them to allow me take the first deposit of N240,000, which they did."
According to him, he had planned on how to invest the money, so he quickly joined another group of monthly contribution. He was using the money to do some little buying and selling.
Why Tea Business?
He said he had done some feasibility studies on the gaps that exist in business around his area and consulted his relatives on his plans to start a business.
"From my research, I learnt that we have bulk of tea sellers in the town that mostly source their recipes from Kano and I became so eager to use that golden opportunity to invest in that area," he said.
He Took A Dive
He disclosed that he ventured into the business with N250, 000 capital, and within a short period "I pulled in many customers."
While his competitors waited for customers to come to pick their products, Mohammed Malami didn't wait for customers to come to his shop, rather "I went to distribute the items to their doorsteps. As I got more profit, I kept enlarging the business.
Some of the things he sells include Tea bags of different varieties and recipes, such as cloves, ginger, lemon grass and so on. "I also supply noodles and other beverages to my customers,'' he said.
How much does he make as a daily profit?
Encouraging Nigerian youths to tap into opportunities around them, he said he gets nothing less than N300,000 as daily sales turnover and makes a profit ranging from N5000 to N30,000 daily, depending on the volume of customers he gets for the day.
He praised the APC-led government of President Muhammadu Buhari for bringing SIP aimed at reaching and uplifting the lives of the poor.
However, he said the government needs to do more in the area of supporting small businesses financially with soft loans.
Meanwhile, the selection process for the N-Power Batch C is ongoing and millions of applicants are at the time of compiling this report writing the online test on NASIMS portal.
Also, the Federal Government through the Central Bank of Nigeria (CBN) opened the COVID-19 TCF portal for SMEs and individuals to get access to soft loans to support their businesses.
What's your N-Power success story? Share with us at infomediang.com