Last updated on August 6th, 2023 at 06:37 am
Since the Ministry of Humanitarian Affairs and Social Development announced the creation of the National Social Investment and Information Management System (NASIMS) for N-Power batch C, hundreds of the applicants have been facing a series of issues.
From accessing the NASIMS portal to how to contact the support centre for help and to updating their profile before taking the test.
What is NASIMS?
NASIMS means National Social Investment and Information Management System for managing the data of applicants and beneficiaries under the National Social Investment Program in Nigeria.
The NSIP is a social welfare initiative created by the Federal government of Nigeria in 2015 by President Muhammadu Buhari-led APC government.
There was N-Power portal for 2016 and 2017, but that has changed, the portal for the management of the N-Power batch C is NASIMS
What can I do within the NASIMS Portal?
All applicants in 2020 are expected to log in to the NASIMS portal to update their data.
How can I login?
If you are a first-timer, you have to click on forget the password, enter the email for the 2020 registration, check your inbox, click on it to reset your password and login to start the process.
Can I use the password I used during 2020 registration to login to NASIMS?
No, you have to reset your password. This is because the data on the N-Power application portal have been migrated to the NASIMS portal, as such reset and start the process.
ALSO READ: Payment Update for N-Power Batch C and Salary Structure
The password you use in December for setup is INVALID the applicant's data has been migrated to a completely new domain, the reason for resetting the password
How can I update my profile?
Follow the process below to update your NASIMS profile:
Click Reset password,
Check inbox for the password reset link.
Use a combination of different characters and symbols as a password to avoid error (e.g OkorieQ$&)
Gain access
Click update profile
Insert your BVN to validate data
Upload your documents for validation
Click submit and note your NASIMS ID
Click go back to profile or click take test if you're ready for the test
Unable to update my account, it keeps saying, "something went wrong, please try again"
You may experience this error while trying to submit your updated profile, if that's the case, follow these tips to get it done:
Check all the required fields to be sure you filled them. Then check if your passport is showing. You may need to upload your passport too before you can submit
Keep trying and ensure the file size doesn't exceed 200kb. Most time, you'll have to change your passport
How to write Batch C test
If you're ready to take the test, we have some likely questions to guide you, click take the test. Here are some of the things you need to know about the nasims online test.
This test is time base and you are expected to answer 20 questions in 10 mins.
You can't retake the test after submission
You cannot skip any question
Every question is allotted an equal score
If you are timed out after the third attempt without submitting, you will not be able to take the test again.
NOTE: Don't click on go back once test is started.
Complete the question and hit submit
That's all.
My NASIMS account has been blocked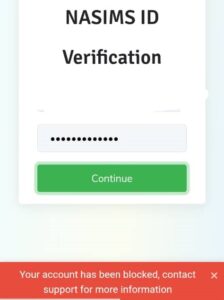 If your account is blocked during the test, that means you can't proceed. Send a complaint to the support email immediately.
I have a problem in NASIMS portal to write test, saying my account is blocked
If your account is blocked and unable to write NASIMS test, kindly send complaint to info@nasims.gov.ng
How can I download N-Power list for batch C?
There is no official list for the N-Power batch list. If you applied when the portal was accepting applications and successfully submitted, head straight to the NASIMS portal, use the email for registration, reset your password and complete other selection procedure.
What's NASIMS Complaint Email
If you face any issue In course of updating your profile, send complaints to support.npower at nasims.gov.ng
NASIMS Support Phone Numbers
You can get support by calling any of the following numbers:
01888340
092203102
018888148
018888189
What other issues are you facing? Share them with us.