Last updated on August 7th, 2021 at 08:32 am
To write the computer-based test (CBT) in the ongoing N-Power Batch selection process, you need NASIMS ID to write the online test for you to proceed to the next stage.
Here is how to get your National Social Investment and Information Management System identification number for the CBT.
Following the official launch of the Batch C of the youth empowerment programme on Thursday, March 11, 2021 by the ministry of humanitarian affairs, you're on your way to becoming one of the 500,000 successful candidates that would be selected.
You need and ID to access the NASIMS portal.
Also Read: NASIMS Likely Questions for N-Power Batch C Applicants
If you haven't reset your password on the portal, kindly check out our guide on how to write CBT.
N-Power NASIMS Online Test Link
The N-Power Batch C test link is http://34.251.105.192/login or onlinetest.nasims.gov.ng/login
NOTE: The above link would take you to NASIMS ID verification page, to get this done, follow this guide to get your NASIMS ID
Step 1: Go to the NASIMS portal at nasims.gov.ng/login and enter your email and click on the forgot password to reset your password.
Login to update information link or edit button to refill your personal information including your passport.
Step 2: Clicking on the submission button in step 1, would prompt a pop-up message which contains your NASIMS ID
Save the ID (better to write it somewhere if you can't screenshot)
How to Retrieve NASIMS ID
If in any case you forgot your NASIMS ID or misplaced it, you can retrieve it right within the portal.
Simply log in to your NASIMS profile, look out for N-Power Registration number, something like: NPWR/2020/
Therefore your NASIMS ID is: NPWR/2020/ (this is just a sample)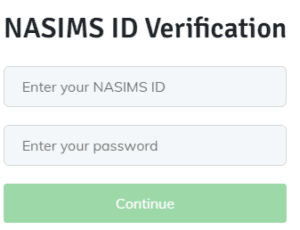 That is your Identification for the National Social Investment and Information Management System, use it to access the CBT to write the online test.
Why NASIMS Was Launched
During the launch, the Minister of Humanitarian Affairs, Disaster Management and Social Development Sadiya Umar Farouq said the National Social Investment and Information Management System was launched in order to achieve maximum transparency in NSIP.
According to her, the ICT tools will be systematically used for coordination, administration, monitoring, and stakeholder management across all Social Investment Programmes.
She sadi:
"To ensure transparency, institutional memory and dynamic impact assessment of the N-Power cluster, Batch C will now be administered through the National Social Investment and Information Management System NASIMS.

"Through this portal, beneficiaries will receive their stipends on time, have access to a wide range of industry-specific content for leveraging enterprise learning, communicate their concerns and promptly receive feedback from the program implementation teams.
The minister also pointed out that NASIMS portal would enhance a redefined and seamless beneficiary verification process.
Other reason she stated include:
Efficient transition
Efficient exit management plan to help beneficiaries to be migrated automatically to the NEXIT Program
To ensure merit and equitable representation across all strata of Nigeria.
She said:
"Following safety concerns due to the COVID-19 pandemic, the ministry has taken concrete steps to ensure that the recruitment and onboarding of N-power beneficiaries is carried out with relevant public safety protocols with a greater percentage of the onboarding process taking place online, utilizing the NASIMS framework".
Sadiya also said that the "Selection will ensure equitable regional and gender representation including persons living with disabilities.
Have written your test? Are you facing any issue?