Last updated on August 29th, 2021 at 03:49 pm
The onboarding process of the N-Power Batch C Stream 1 of the youth empowerment programme of the Federal Government has begun, the Minister of Humanitarian Affairs, Disaster Management, and Social Development Sadiya Farouq made an announcement during the flag-off ceremony of the programme in Abuja, August 23, 2021 in Abuja, the Federal Capital Territory.
InfomediaNG gathered that the process is gradual as the 510,000 applicants who successfully underwent screening and thumb printing a few months ago would start seeing the update on their dashboard.
The minister also said that 490,000 applicants would be selected for the Batch C, stream 2 while urging successful beneficiaries to login to their portal to print their deployment letter, see this guide
It was rumoured some days ago that there were physical screenings at local councils, but the social media handles of the N-Power reacted by saying:
Dear Prospective Batch C Beneficiaries.

Kindly disregard any information that did not originate from our verified social media channels.

We are currently not conducting any physical verification.

Any information currently making the rounds about physical verification should be considered FAKE NEWS!
How Many Nigerians Applied for Batch C?
According to Sadiya, over 6,000,000 young Nigerian graduates submitted applications for the programme.
According to her, batch C will onboard 510,000 beneficiaries in stream 1 and 490,000 beneficiaries in stream 2.
Here is how Stream 1 were selected:
Out of the 510,000 who made the stream one, 450,000 beneficiaries are graduates while 60,000 beneficiaries were non-graduate beneficiaries.
Salary:
The minister stated that the graduate component will receive monthly stipends of N30, 000 while the non-graduate beneficiaries would be paid N10, 000 monthly stipends.
Beneficiaries will be posted to several sectors, including:
Education,
Agriculture,
Health,
Building,
ICT
Creative industry
How the Batch C works:
Sadiya was quoted as saying: "All beneficiaries are granted an appropriate starter pack for their trade to enable them start their businesses in their chosen trades."
Mode of payment:
The creation of National Social Investment Management Systems (NASIMS) is to enable prompt payment and track issues faced by the beneficiaries.
As such, the ministry has partnered with key MDAs like the NYSC, the UBEC, the NPHCDA, the NOA to effectively implement its interventions.
Components of NASIMS Portal
Your dashboard has four components for you to keep track of your application, they are:
Overview
Screening
Verification
Deployment
Overview
This section contains the applicant's personal details, residential address, education background, means of identification, bank details, and other documents
Screening
This section is for the officials of the  Ministry of Humanitarian Affairs to look through your application and your suitability for the programme.
All successful applicants in batch C stream 1 have passed through this stage.
For batch c stream 2, this is a very important stage for you to pass for you to move to the next stage, failure to pass this stage means you will not be on the next stage.
Verification
The verification stage prelude the deployment. This is the stage where you have to undergo fingerprint and biometric capturing.
Deployment
Accessing this stage would tell you if you have been deployed or not. This is the stage where you can easily click on the deployment button to print your deployment letter.
You will see the school, agric extension unit, or government parastatal where you are posted to. Those who have complaints can send such to the headquarters in Abuja, find it at: https://infomediang.com/nasims-gov-ng-complaint-email
NPower Batch C Stream 1 Deployment Checker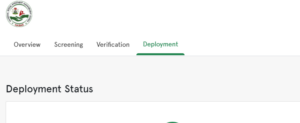 Login to your dashboard at: nasims.gov.ng/login
From the four options, navigate "deployment"
Click it to know where you've been posted. If not, you will have to check back
Takeaway
The NASIMS portal is designed in a way for applicants and beneficiaries to easily track their status
Deployment of N-Power Batch C Stream 1 is a process that will be done by the Federal  Ministry of Humanitarian Affairs, as such don't rely on speculative reports. Log in to your portal to check your status
You can check your deployment status right on your device.