Last updated on May 2nd, 2022 at 03:20 pm
Beneficiaries of batch C, stream 1 of the N-Power programme are lamenting the delay in the payment of their monthly salary. As of the time of this update (Friday, April 22, 2022), many of them are yet to receive January 2022 stipend.
Despite the delay on the part of the ministry managing the largest youth-based programme, it boasted that it will enlist another 400,000 as part of stream 2 of the ongoing batch as captured in one of our reports.
Earlier in the year, the Ministry of Humanitarian Affairs, Disaster Management, and Social Development promised that beneficiaries would be paid their monthly salary without delay through the special N-SIP Management System.
One of the measures by the ministry was the inauguration of N-Power Independent Monitors to track the activities of the beneficiaries at their places of primary assignment across Nigeria. One of the mandates of the monitors was to promptly forward names of beneficiaries for each month for payment.
Here is where you can get the latest update about the monthly stipend of beneficiaries and the N-Power salary structure of the youth empowerment programme which was launched in 2016.
January 2022 Disbursement
On Friday, April 22, 2022, some beneficiaries have been credited. While some of them, especially those who use Union Bank are having issues with payment.
December 2021 salary
Beneficiaries have been paid, but some of them complain that their payroll is showing errors. We hope that the management does something urgent about the payment issue.
November Stipend
A check on the NASIM payroll portal showed that November has fully been disbursed.
October Stipend

As of Monday, January 10, 2022, the October stipend has been released and marked as "paid" on the nasims payroll portal of the beneficiaries after days of "processing" on the payment status.
Payment Of September Stipend
September 2021 payment of beneficiaries commenced on Monday, November 8 after days of delay, an update on nasims portal says. Already, some beneficiaries have received payment.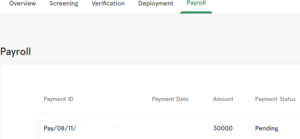 According to the information, "some payment statuses are PENDING and will be processed at the shortest possible time by the banks in question"
Beneficiaries are therefore enjoyed to ensure that their bank account details are correctly captured on the NASIMS dashboard to avoid further delay.
We can confirm to you that n-power payment date for September falls between Novem 8 to November 12. If your bank account details are correct, you don't need to tamper with them.
Activation of Resignation Button
The management of the SIP has activated an option for beneficiaries of the programme to exit N-Power programme if by any way they are dissatisfied or have got another job opportunity.
Minister off to the US for baby delivery
In another development, the Minister of Humanitarian Affairs and Disaster Management Sadiya Umar Farouq was reported to have jetted out of Nigeria for childbirth in a clinic in the United States, TheWillNigeria reported on December 3, 32021
Recall that she secretly got married to Nigeria's former Chief of Air Staff, Air Marshal Sadique Abubakar in September of 2020, her aides denied the wedding.
Implication
The absence of the minister may be one of the reasons npower beneficiaries may have to warm up for a gloomy Christmas if something urgent isn't done.
Apart from this, Nigeria's economy led by President Muhammadu Buhari relies on borrowing, a bad economic policy that has thrown the economy into devastating debt.
We'll keep you updated as we have them.
Latest update: FG Reacts To Issue of Processing Failed on Payroll NASIMS Dashboard
The ministry of humanitarian affairs and social development has called on beneficiaries of the N-Power programme who are yet to receive their September payment.
While some beneficiaries have been paid, a few others stated their "processing" in on the payroll dashboard of the nasims portal suddenly changed to "failed" raising concerns about whether failure to receive the monthly stipends two days after some of their colleagues had been credited.
In a message on nasims portal, the coordinating ministry of the youth empowerment programme stated that it was due to a technical glitch.
"If your payroll has changed from processing to failed don't be panic, your payment will certainly be processed soon"
The ministry advised beneficiaries who were faced with related issues to call the helpline for assistance.
You can get support by calling any of the following numbers:
01888340
092203102
018888148
018888189
Or send an email to support dot npower at nasims.gov.ng
Note:

You are most likely not going to get an immediate response by sending complaint via the email address.
Now, let's take a look at the N-Power 2021 salary and the structure
N-Power Salary Structure
The programme is divided into 1) graduates and 2) non-graduates
N-Power Category
Monthly Salary
Notes
N-Power Teach
NGN30,000
Earners under this category fall under the graduates from university, polytechnic, colleges of education
N-Power Agro
NGN30,000
They are graduates from higher institutions either from university, polytechnic, colleges of agriculture or forestry
N-Power Health
NGN30,000
They are to provide healthcare support at their communities
N- Tax
NGN30,000
To assist the Federal Inland Revenue Service in tax compliance. This programme went down along the way or it was reserved for special people.
N-Power Build
NGN10,000
Beneficiaries will get skills in building services, utilities, automotive, and construction among others

 

 

 N-Power Creative
NGN10,000 plus a device
They would be trained in graphic design, animation, scriptwriting, and post-production
N-Tech Software
NGN10,000
They would be trained on phone repair and app development
N-Power Knowledge
NGN10,000
Beneficiaries would be trained in outsourcing industries
Note:
N-teach, N-Agro, N-Health, and N-Tax fall under the graduate programmes, their monthly stipend is NGN30, 000 per month
Under non-graduate there are four programmes, they are: 1) N-Creative, 2) N-Knowledge, 3) N-Build, and N-tech. They will be paid NGN10,000 as a monthly stipend.
I saw failed payment on my payroll, what can I do about it?
All failed payments for the month of September, October, and November will be paid as backlog
What is payroll in the N-Power programme?
In the N-Power programme, payroll is the process of paying monthly salaries known as stipends to the beneficiaries of the programme.
Beneficiaries can only receive their salary if they received "a pass" from the monitor at the places of primary assignment.
The payroll in the nasims dashboard is to enable the federal government and beneficiaries to track their monthly payment. The payment is done through direct deposit
Simply put, the payroll is also to assist the ministry of humanitarian affairs and beneficiaries in assessing and calculating taxes and the annual wages.
What does processing on npower payroll mean?
When the ministry dispatches monthly salary to banks through the ministry of finance, processing will be activated on the npower payroll. This means you would be credited if there are no issues with your account or your BVN.
The Npower payroll has six menus, they are:
1) Payment ID: Every payment has an ID for easy tracking by the ministry
2) Month: The month you received payment or "being processed" will show here
3) Year: Year for the payment. September to December 2021 will show 2021
4) Amount: If your programme is an undergraduate programme, the amount will read "NGN30,000"
5) Payment Status: It reads "Processing" if you're yet to be credited; it reads paid if you have been credited. If it changes to "failed" that means there is an issue in your account details or a technical glitch on the part of the ministry of humanitarian affairs
6) Reason: If your payment reads failed, there will be a reason and it will be stated under this menu. If it reads "paid" it will change to "approved and completed.
When will beneficiaries receive their next payment?
There are contradictory reports from some of the officials of the National Social Investment Office (NSIO), one of the agencies of FMHDS.
While an official said the process of payment was ongoing, another confided in InfomediaNG Business Solutions (IBS) that there is no specific date for payment, which corroborated a statement credited to a government official as reported by the Gazettengr that December payment for civil servants might be delayed.
Has all batch c been paid?
Not at the moment. Some have been paid while some payments are being processed at the time of this update.
How long does npower program last?
The graduate programme lasts for 12 months (one year) while beneficiaries under the non-graduate programme component would receive salary for 9 months
The beneficiaries of N-Power batch C, stream 1 are 510,000 (450,000 for graduates; 60,000 for non-graduates)
Recall that the minister, Sadiya Umar Farouq, during the inauguration of Batch C, stream 1 in Abuja on August 23, 2021 said, "The N-Power graduate volunteers are entitled to a monthly stipend of thirty thousand naira each (N30,000.00) for a period of one year.
"The non-graduate beneficiaries are entitled to ten thousand naira (N10,000.000) monthly stipends for a period of nine months.
How do I know if I'm due for payment?
To know if you would receive your monthly stipend, follow the steps below:
1) Login to your portal
2) Check if the "payroll" option has been activated on your dashboard
3) Click on it to check the date
"No payment data available" means your payment has not been disbursed. If it shows "failed" it means you would receive your stipend as backlog
During batch A and batch B (2016 and 2017) there was also an option for beneficiaries to track their payment record.
This means that each month you receive your salary, the payroll dashboard would be updated.
My payroll is showing no payment data, what's the cause?
If your payroll shows no payment data available, it may be as a result of the following:
1) Technical glitch on the part of N-Power, in this you would be paid, but it may come late and as backlog
2) Your banking details were not correctly entered
3) N-Power is unable to verify your BVN, possibly there are discrepancies in your name
4) You failed to report for the physical verification exercise
How can I solve bank details issue?
Log into your dashboard; Navigate to the "overview" menu; Click "edit" button; Scroll to the bank details and correct the error if there is any.
How can I solve the issue of BVN name discrepancies? 
Approach your bank; Fill the BVN correction form; wait for the details to be updated, it may take up to a week; Head back to your dashboard to re-enter your details.
Recap:
Payroll is a process of paying workers or employees their wages. This update doesn't include batch stream 2 who are still awaiting release of another list
The graduate and non-graduate beneficiaries do not earn the same salary at the end of the month.
Those who fall under the graduate programme receive NGN360,000 annually.
Unlike batch A and B who were engaged for at least 24 months, batch C would last for 12 months.
This article was specifically published to update beneficiaries about their monthly salary.