Last updated on December 31st, 2022 at 07:04 am
South Africa is one of the few African countries where there is a fair cryptocurrency policy by the government. And of course, this has triggered the interest of many citizens of the country to embrace digital currencies.
Irrespective of your location whether in Limpopo, Eastern Cape, Northern Cape, Free State, and Gauteng among other provinces, there are crypto exchanges where you can join bitcoin traders.
Table of Contents
This guide covers the crypto exchanges in South Africa where residents can buy Bitcoin, Ethereum, Ripple BNB, Litecoin, Wrapped Bitcoin, Dogecoin, and Bitcoin Cash among other available cryptocurrencies.
Interestingly, there are many global crypto exchanges in South Africa that individuals who are interested in investing in digital coins can use effortlessly, including peer-to-peer exchanges.
Ovex
Let's begin from the home front. To those prospective Bitcoin traders in South Africa who want to know if Ovex is legit or not, we can confidently tell you that, ovex is one of the most trusted crypto exchanges in South Africa that enable you to buy 64 assets including Cardano, Bitcoin, Chainlink, Avalanche, Basic Attention Token, Binance Coin, Bitcoin Cash, Litecoin, Shiba Inu and Polkadot among other cryptocurrencies.
Ovex is based in Cape Town and also allows pair trades. What makes Ovex a good product for South Africans is that they can easily use the South African currency (rand) to complete trades within minutes.
This obviously removes the headache of converting dollars to ZAR which is common on other international exchanges that operate in the country.
Additionally, the platform operates what is called Ovex FX (foreign exchange) exclusively designed for South African residents and organisations where they can buy and sell globally-accepted currencies like the US dollar, Pound sterling, Euro, and CHF among others.
Coindirect
Coindirect is one of the crypto exchanges in South Africa that makes it seamless for traders to link their bank account to their coindirect account and start buying assets like Bitcoin, Ethereum, Ripple, Bitcoin Cash and Litecoin.
Coinbase
Being one of the global crypto exchanges, Coinbase's presence in South Africa allows users to buy BTC, ETH, LTC and South Africa Tether (xZAR) among other digital coins.
What makes Coinbase popular in the former apartheid country is the ability of the crypto community to buy cryptocurrency with a credit/debit card in South Africa.
Coinbase offers custodial and non-custodial exchanges, meaning it allows traders to keep their crypto assets in the hands of the exchange or save them offline (non-custodial method) which is called offline storage.
It is important that South African Coinbase users pay attention to the debit card fee which is almost 4% and 1.49% standard commission on Bitcoin purchases.
Also, the minimum deposit is $50 which is at least 804 ZAR (official rate and excluding banking charges) at the time of publication.
Revix
Based in Sea Point, Cape Town is Revix a South African crypto exchange that allows its users to complete crypto trade in less than five easy steps.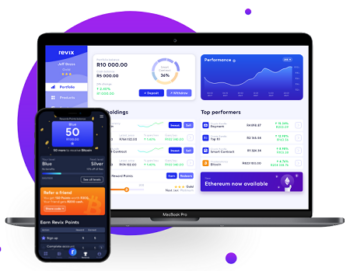 What makes revix easy to use is that Bitcoin, Ethereum, and Solana can be purchased using the local currency (ZAR) and three other foreign currencies like EUR, USD, or GBP.
Luno
With a presence in over 40 countries and still counting, Luno is one of the earliest players in blockchain technology in South Africa. One of its regional hubs is based in Cape Town.
As of Wednesday, May 11, 2022, Luno's trade volume in the last 24 hours was $34,904,219.82 or 1,118 BTC, according to data on CoinMarketCap.
Luno South Africa supports eight digital coins including USD Coin, BTC, ETH, Ripple (XRP), Chainlink (LINK), LTC, Uniswap (UNI), and Bitcoin Cash.
Charges and fees depend on how deposits are made. For instance, if you make a deposit using the ZAR, R20 plus 5% fees apply, EFT deposit is free while 1.4% applies on instant EFT using the rand.
Crypto.com
The low fee policy on crypto.com, and support for more than 200 digital coins make the platform one of the best and most trustworthy bitcoin exchanges in South Africa.
Apart from its support for fiat currencies like the USD, AUD, CAD, Pound sterling, and EUR, South African rand is among the few African currencies on the list crypto.com
What's more?
The competitive commission of 0.40% on buy and sell coins plus access to a variety of metaverse coins makes the exchange a global products
Token reward depends on coins and terms on the crypto interest accounts as it can be seen in the table below:
| | | |
| --- | --- | --- |
| Crypto assets | Term | Interest |
| Chainlink | 3 months | 3% |
| Dogecoin | 1 month | 2% |
| Polygon | 1 month | 10% |
| Solana | 3 months | 4.5% |
| Shiba Inu | 3 months | 3% |
| Polkadot | 3 month | 12.5% |
| Bitcoin | 3 months | 4% |
| Ethereum | 3 months | 4% |
| Tether | 3 months | 8% |
| Litecoin | 1 month | 2% |
| Uniswap | 3 months | 3% |
| Cardano | 3 months | 3% |
| Binance Coin | 3 months | 3% |
| COSMOS | 3 months | 5% |
And as NFTs are emerging across photography, art, sport and many more, NFT buyers enjoy commission-free charges on crypto.com's NFT marketplace
However, users must pay attention to the commission. For instance, there is up to 0.40% when you buy Bitcoin on crypto.com; 2.99% fee applies on a debit card.
Binance
In the early stage of Binance's operation in South Africa, the world's largest crypto exchange found it challenging to operate in the former Apartheid country due to regulations, but since SA's crypto policies become friendly to stakeholders, Binance South Africa simplified the process of purchasing bitcoin in the country.
Buying BTC with your debit/credit cards is easy on Binance, though the debit card fee depends on the payment processor.
Added to its features are 0.1% standard commission on Bitcoin trade and offers Non-Fungible Tokens (NFTs) and staking, and account management is free.
Binance houses the highest number of crypto assets for users to choose from irrespective of location. Using rand to make purchases makes it simple.
Note: If you prefer to use the p2pBinance, take your personality seriously and ensure to activate 2-factor security authentication to protect your account.
Paxful
Paxful is one of the popular peer-to-peer Bitcoin platforms in Africa and its presence in South Africa enables the bitcoin community to convert ZAR into BTC, ETH, LTC and other cryptocurrencies.
P2P system is a marketplace where buyers and sellers meet to complete trades. The available coins include ETH, BTC and LTC among others.
The supported payment method s include bank transfer, PayPal, bank deposit and Perfect Money, thereby creating a wide range of options for traders.
Irrespective of your location whether in Limpopo, Eastern Cape, Northern Cape, Free State, and Gauteng, North West, KwaZulu-Natal, Western Cape, and Mpumalanga, buying and selling bitcoin is made possible on paxful.
Easycrypto
As a new player in the crypto market, Easycrypto's simplicity makes it easy for beginners to start investing in crypto assets by using the South African rand to purchase more than 100 digital coins.
Note: There is a minimum to the number or fraction of all cryptocurrencies you can buy on Easycrypto as you can see below:
BTC: $35
Ethereum: $26
ADA: $25
LTC: $25
BNB: $25
Chainlink: $50
Bitcoin Cash: $25
Solana: $25
Ripple: $25
Above all, ZAR as the default currency to buy BTC and other coins on Easycrypto makes it really easy to use credit/debit cards to buy crypto assets in South Africa.
VALR
Another easy to use cryptocurrency exchange platform designed with the love of South Africans at heart is VALR.
The exchange platform houses more than 50 digital coins dealers can choose from including Cardano, UNI, NEM, Bitcoin Cash, TRX, LINK, BTC, DOT, and ETH among others.
What makes VALR easy is the fact that users can also make withdrawals directly to any bank account in South Africa.
Apart from allowing South African residents to buy digital assets with Credit/Debit Cards, its VALR Pay allows buyers to make payments.
Kraken
For close to 10 years Kraken exchange has proven to the crypto community around the world that it's up to the task of keeping the assets of investors in its custody safe and secured.
The platform contains other features that make it possible for financial derivatives traders to come on board and up to a margin of 1:5 on Bitcoin and other cryptocurrencies.
But note that Kraken is a custodial exchange, meaning it doesn't offer a proprietary wallet that allows you to retain control of your private keys.
There is a fee of 3.75% on a debit card while 0.26% fee applies to bitcoin purchases. Above all, the crypto exchange offers a wide range of options for traders to choose from.
AltCoinTrader
If your mission is to trade cryptocurrency pairs, AltCoinTrader should be an exchange to try out. It makes it easy for South African crypto traders to buy the South African Tether (xZAR) which is pegged at 1:1 with the rand (South African legal tender).
No doubt, something which presumably necessitates the platform to pride itself as the biggest crypto exchange platform in the country. Some of the digital currencies supported at AltCoinTrader include
Supported crypto assets on AltCoinTrader include Bitcoin and altcoins like Dogecoin, Bitcoin Cash, SOL, LTC, Namecoin, Ripple, ETH, Dash, ZCash, USD Tether, Cardano, NEO, GAS, Tron, Monero, Bitcoin Cash S, BitTorrent, Stellar Lumens, South African Tether, and LINK among others.
No doubt, AltCoinTrader is among the largest crypto exchanges in South Africa.
Recap:
Revix, VALR, AltCoinTrader, Easycrypto, Coindirect, and Ovex are the six bitcoin exchanges in South Africa that were designed with the love of the crypto community in the country at heart. They allow users to link their bank account to their crypto account and buy with a credit card with ZAR among other easy features
If a peer-to-peer platform is your choice, paxful and Binance should be the platforms to give a thought to. On the global stage, you have coinbase, luno, Crypto.com and Kraken to choose from.
Above all, South Africa's friendly crypto policies may set the country on the path of being the pacesetter of digital coins on the African continent.
References:
Featured image by pixabay