An aspirant for the Ayedire/Iwo/Ola Oluwa Federal Constituency, Adisa Muyiwa Muhammed Kulukulu, has disclosed that he would continue to empower the people of the constituency if given the mandate in the 2023 General Elections.
The international businessman who already declared his intention to fly the flag of the All Progressive Congress (APC) stated this while revealing the second batch of empowerment a few days after some indigene from the three local government areas went home with working tools including sewing machines and cash to support their businesses.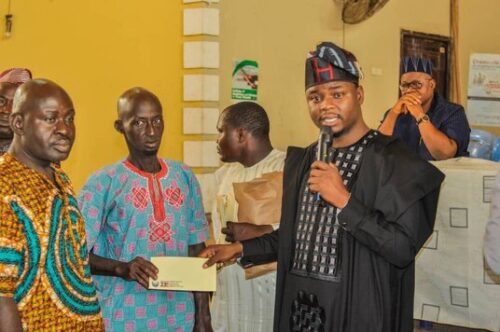 Kulukulu, who during the first batch stated that 2023 and beyond would be about core dividend of democracy, promised that the upcoming one has been designed to accommodate people with special needs.
The first empowerment and training took place on March 21, 2022, at Iwo City Hall. The venue was full to capacity
In a statement, he said:
"It should not be a one-off event, but a planned, consistent and sustainable one so that the impacts could be visible and measurable in the lives of the beneficiaries."
He said empowering people at the grassroots is one of the ways of liberating them economically, saying:
"What we are doing is to provide access to basic tools, opportunity to thrive and social protection so that, ultimately, they can stand on their own and not be controlled unreasonably by others."
He promised that the second batch would witness giving out wheelchairs, walking frames, and walking sticks, among others to persons with special needs.
Others would also benefit from equipment, seed funding, and foodstuffs while certificates would be given to startups whose empowerment programme assisted to register their businesses with the Corporate Affairs Commission free of cost.
He promised to continue with the humanly gesture if given the privilege to represent Ayedire/Iwo/Ola Oluwa Federal Constituency in the 2023 election.