Last updated on August 6th, 2023 at 06:25 am
The Nirsal MicroFinance Bank has alerted the general public about a fake NMFB loan application link that is being circulated online. It urged members of the public not to hand over their Bank Verification Number (BVN) to a stranger.
You can see the legitimate NMFB loan application link in this guide https://infomediang.com/cbn-covid-19-credit-facility-portal
The fake one being circulated is asking for applicants to verify their application, but in a disclaimer, NMFB warned loan applicants to steer clear of such fake link.
"Our attention has been drawn to a fraudulent website nyif.com.ng which is currently being circulated to unsuspecting applicants, requesting that they should validate their BVN on the fake site in order to access their loan."
Why you should be careful with your BVN
When you're applying for loan, you will be required to undergo a verification process which includes submitting your BVN.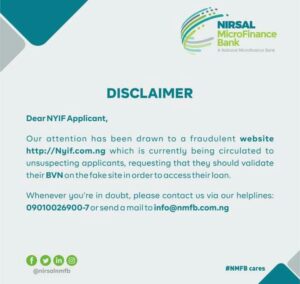 That's why the first thing an online scammer does is to gain access to your BVN, which contains your financial details.
NMFB urged members of the public to reach out by calling its customer helpline on 090100269007