Last updated on May 9th, 2022 at 05:51 pm
The Central Bank of Nigeria Private Sector Accelerated Agriculture Development Scheme (P-AADS) Fund is specifically designed to boost agric produce across Nigeria where a maximum of N2,000,000,000 can be accessed by agripreneurs.
A full list of CBN loans can be found at https://infomediang.com/cbn-sme-loans-in-nigeria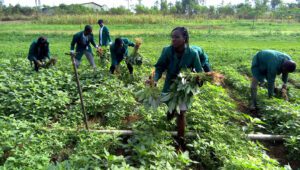 Launching of P-AADS
On November 11, 2020, the Godwin Emefiele-led apex bank launched the P-AADS which is aimed at complementing the already existing Accelerated Agriculture Development Scheme (ADDS).
Under the scheme, 370,000 agripreneurs are being targeted to benefit from the P-AADS.
Loan Tenor:
6 years for annual crops
10 years for perennial crops
Moratorium:
6 months for annual crops
1 year for perennial crops
Funding:
The CBN P-AADS shall be  funded from the Anchor Borrowers Programme (ABP)
Objectives
The objective of the funding scheme is to ensure that Nigeria is self-sufficient in agricultural produce.
That's why the focus is on the private sector who engages in the cultivation of staple foods and industrial raw materials.
In doing this, jobs will be created, there will be food security, and above all, to support the economic diversification of the Muhammadu Buhari-led government.
Focal Commodities
There are some agricultural commodities eligible for consideration under the scheme, they include:
Cassava
Rice
Sorghum
Cocoa
Maize
Cotton
Livestock/Dairy
Oil Palm
Wheat
Tomato
Poultry
Fish
Who can apply for P-AADS Fund?
Processors of agricultural commodities listed above
Those with good credit record
Those who have the required collateral
Prime anchors and commodity associations participating under the ABP
Those who can provide evidence of capacity to cultivate a focal commodity directly or engage farmers
Companies and individuals with evidence of ownership of contiguous land readily available for clearing and cultivation of agricultural commodities
Loan Limit: N2 billion per applicant
Interest Rate:
9% per annum (all-inclusive). It was 5.0% pa (all-inclusive) up to 28th February 2021.
Collateral:
The cleared land and other acceptable collateral prescribed under the ABP CBN shall bear 50% of the credit risk in the event of default by the participant.
How To Apply for CBN P-AADS Fund
So, you're ready to go into agriculture or you already doing some agricultural activities listed above? It's time to apply for CBN P-AADS loan.
1) Visit any commercial banks closer to you e.g Zenith bank, GTB, Union bank, FCMB etc. In this case, your own bank is the most appropriate since all commercial banks in Nigeria are participating in the scheme
In a tweet on November 19, 2020, the apex bank said it had "authorised commercial banks to give up to N2 billion maximum loan to youths interested in going into agriculture, under the Private Sector-Led Accelerated Agriculture Development Scheme (P-AADS)."
2) Ask for risk management unit to request a P-AADS application form
3) Your bank will keep you updated if your application is successful.
More can be found on www.cbn.gov.ng/Out/2020/DFD/GUIDELINES FOR THE P-AADS.pdf
How To Repay:
Repayment of the facility shall be made on an installment basis through the participating banks and spread over the EOP of the cultivated commodities.
According to the document we received, the participating banks shall remit repayment received to the CBN on a quarterly or annual basis depending on the commodity financed.
Key Take-Aways:
The P-AADS is designed to boost local production of agricultural produce Nigerians consume
It is aimed at encouraging young Nigerian graduates, who complain of unemployment, to embrace agriculture, this way, the government is ready to support 370, 000 agripreneurs with N2billion each.
PAADS shall be funded from the Anchor Borrowers' Programme (ABP).
The CBN is ready to deploy N740,000,000,000 to support agripreneurs under the P-AADS funding scheme
It is a government-supported loan through the Central Bank of Nigeria (CBN) which can be accessed through all the commercial banks in Nigeria.
Photo credit: Youth Agripreneurs