Last updated on October 11th, 2022 at 08:40 pm
Here is the comprehensive list of cryptocurrency abbreviations with other acronyms (jargons) associated with digital assets across the world.
BTC, LTC, ETH, are some of the abbreviations (currency stickers) associated with the internet of money (digital currency), but there is also common cryptocurrency jargon (terms) generally used in the crypto market.
Cryptocurrency terms used in a digital coin trading
Selling Pressure
Selling pressure occurs when the majority of traders or coin holders are selling, indicating that the majority think the market price will decrease.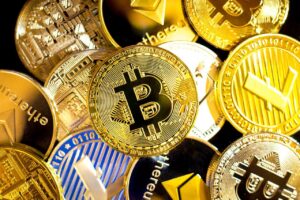 This happens between January 16 to January 18 when one of the bitcoin lending and exchange platforms, BitConnect, stopped lending and staking.
It paid off some of its investors leading to price cash of BCC coin from over $300 to $9USD. Nearly all the BCC coin holders flooded the trading market to sell their coin and the value of BCC coin fell heavily.
Up till now, BCC hasn't recovered from the pressure. At the time of compiling this list, BBC was $7.29USD, experiencing a downfall of 29% in the last 24 hours.
Shill: Someone who overhypes a cryptocurrency that is usually a scam.
Soft Wallet: Software used to store cryptocurrencies either on PC, mobile devices, or online.
Trading Volume: Trading volume is the total amount of digital coins that were traded during a certain period of time.
Support Level: This refers to price point in which downward price movement is resisted due to market conditions.
ATH – All-Time High
DOS – Denial of Service
FOMO – Fear Of Missing Out
FUD – Fear, Uncertainty, and Doubt
POS – Proof-Of-Stake
POW – Proof-Of-Work
UAHF – User Activated Hard Fork
UASF – User Activated Soft Fork
Altcoins:
This is a general term used to refer to alternative coins to bitcoin. All other coins that came up after the success of bitcoin in the market are known as Altcoin. Ethereum, litecoin, dash, monetro and the others are referred to as altcoins (bitcoin alternative).
Bitcoin Whale:
Bitcoin Whale is an early bitcoin investor who bought a large chunk of bitcoin when the value was relatively low.
For instance, someone who bought bitcoin worth of $10, 000 when one bitcoin was below $1 is definitely a BTC whale today when a BTC is worth over $10,000USD at the time of compiling this acronyms and cryptocurrency glossary.
Bag Holder:
A cryptocurrency investor who buys and hold coins in large quantity, optimistic that he'd make profits when coins get more value in future i.e when the price goes up.
Cryptocurrency:
Cryptocurrency means digital currency (money) that utilizes encryption and cryptography to control the generation of new units of currency as well as secure and verify transactions of that currency.
Cryptocurrency exchange
A cryptocurrency exchange is a digital (trading) marketplace where traders can buy and sell bitcoins, ethereum, litecoin and other coins using different fiat currencies. It is an online trading platform that acts as an intermediary between buyers and sellers of cryptocurrency.
Cryptocurrency exchange platforms are similar to stock exchange where buyers and sellers are matched.
At the time of compiling this list more than 1,000 cryptocurrencies were listed in the market opened for trading.
However, less than 30 of the coins are globally known, while others are still geographically based, promotion and Ads could make them go global like bitcoin, ethereum, litecoin, and monero, it may not be so soon.
1.BTC: bitcoin
ETH: ethereum
XRP: Ripple
BCH: Bitcoin Cash
ADA: Cardano
XLM: Stellar
LTC: litecoin
EOS: EOS
NEO: NEO
MIOTA: IOTA
XEM: NEM
DASH: Dash
XMR: Monero
TRX: Tron
VEN: VeChain
BTG: Bitcoin Gold
ICX: ICON
QTUM: Qtum
ETC: Ethereum Classic
LSK: Lisk
XRB: RaiBlocks
PPT: Populous
OMG: OmiseGO
USDT: Tether
STEEM: Steem
ZEC: Zcash
STRAT: Stratis
BCN: Bytecoin
BNB: Binance Coin
XVG: Verge
SC: Siacoin
BTS: BitShares
ZRX: 0x
SNT: Status
ARDR: Ardor
WTC: Walton
REP: Augur
MKR: Maker
WAVES: Waves
DOGE: Dogecoin
VERI: Veritaseum
HSR: Hshare
KCS: KuCoin Shares
KMD: Komodo
ARK: Ark
ETN: Electroneum
RHOC: RChain
IOST: IOStoken
LRC: Loopring
AE: Aeternity
DCR: Decred
BAT: Basic Attent.
DRGN: Dragonchain
PIVX: PIVX
DGB: DigiByte
ELF: aelf
DCN: Dentacoin
DGD: DigiDAO
QASH: QASH
KNC: Kyber Network
GAS: Gas
GNT: Golem
GBYTE: Byteball Bytes
ZCL: ZClassic
BTM: Bytom
WAX: WAX
FUN: Funfair
CND: Cindicator
SALT: SALT
ETHOS: Ethos
SMART: SmartCash
NAS: Nebulas
FCT: Factom
CNX: Crytonex
POWR: Power Ledger
AION: Aion
DENT: dent
RDD: ReddCoin
SYS: Syscoin
NXS: Nexus
GXS: GXShares
MONA: MonaCoin
NXT: Nxt
MED: MediBloc
ENG: Enigma
SRN: SIRIN LABS
MAID: MaidSafeCoin
BNT: Bancor
REQ: Request Network
XZC: ZCoin
PART: Particl
KIN: Kin
BTX: Bitcore
GAME: GameCredits
XP: Experience P
QSP: Quanstamp
NEBL: Neblio
SUB: Substratum
ICN: Iconomi
PAY: Tenx
PAY: TenxX
LINK: ChainLink
PLR: Pillar
GNO: Gnosis
CVC: Civic
XDN: DigitalNote
EMC: Emercoin
RLC: iExec RLC
RDN: Raiden Network
SPHTX: SophiaTX
POE: Po.et
XPA: XPlay
TNB: Time New Bank
SKY: Skycoin
ENJ: Enjin Coin
DEW: DEW
STORJ: Storj
VTC: Vertcoin
ANT: Aragon
AST: AirSwap
BTCD: Bitcoin Dark
BCO: BridgeCoin
ACT: Achain
COB: Cobinhood
UBQ: Ubiq
VEE: BLOCKv
PAC: PACcoin
UNITY: SuperNET
BLOCK: Blocknet
LEND: ETHLend
SNGLS: SingularDTV
PPP: PayPie
SAN: Santiment Network
NAV: NAV Coin
VIBE: VIBE
RCN: Ripio Credit Network
RPX: Red Pulse
MCO: Monaco
THETA: Theta Token
OST: Simple Token
DBC: DeepBrain
DTR: Dynamic Trading
AMB: Ambrosus
TEL: Telcoin
MANA: Decentraland
HPB: High Performance
BAY: BitBay
HTML: HTMLCOIN
XCP: Counterparty
150: APPC: APPCoins
XAS: Asch
XBY: XTRABYTES
INS: INS Ecosystem
ZEN: ZenCash
EMC2: Einsteinium
R: Revain
BIX: Bibox Token
CTR: Centra
UKG: Unikoin Gold
PPC: Peercoin
WABI: WaBi
ITC: IoT Chain
ADT: adToken
AGRS: Agoras Tokens
ADX: AdEx
SNM: SONM
MDS: MediShares
CMT: CyberMiles
SPANK: SpankChain
ETP: MetaverseETP
EDG: Edgeless
MOD: Modum
INT: Internet Nod
DATA: Streamr DATA
ION: ION
NULS: Nuls
TNT: Tierion
QRL: Quantum Resi…
MLN: Melon
180: BRD: Bread
BCC: BitConnect
182: NLG: Gulden
183: FUEL: Etherparty
ATM: ATMChain
CDT: CoinDash
ECA: Electra
DNT: district0x
MTL: Metal
WINGS: Wings
LBC: LBRY Credits
ECC: ECC
UTK: UTRUST
TNC: Trinity Network
DCT: DECENT
QLC: QLINK
VIA: Viacoin
WGR: Wagerr
PRL: Oyster
RISE: Rise
CLOAK: CloakCoin
UPDATING….
We shall be updating this list everyday with at least 100 coins daily till it's completed. New ones shall be added.
If there is upcoming one, you can let us know.