Last updated on August 5th, 2023 at 09:29 pm
In a few years from now, Nigeria may experience an increase in the number of non-interest banking as the number of SMEs who need interest-free continue to grow after the pandemic.
After Jaiz Bank PLC kicked started Islamic banking in 2003, it took another one, Sterling Alternative Finance, over a decade to emerge, while Taj Bank followed in 2019.
In one of our reports which is available at: https://infomediang.com/interest-free-loan-nigeria, we pointed out how interest-free can help Small and Medium Enterprises to grow and expand as against double digits loans which is peculiar to other commercial banks in Nigeria.
The latest in town at the time of publication is LOTUS Bank, a Non-Interest Nigerian Bank with its head office at Adetokunbo Ademola Street Eti-Osa LGA, Victoria Island, Lagos.
With its non-interest products for business owners, LOTUS Bank received an operation licence from the Central Bank of Nigeria (CBN) on July 17, 2021, and opened its doors for business the following month.
Less than two months after obtaining the CBN licence, the bank which was founded by Hajara Adeola has now opened more branches, in Nigeria's commercial city of Lagos.
LOTUS which promises to uphold ethical banking and ethical investing aims to target the banked, millions of unbanked or under-banked Nigerian population through its extremely refined digital banking.
Branches of LOTUS Bank Nigeria
Idumagbo on Lagos Island,
Allen Avenue, Ikeja,
Oshodi Transport Interchange, Lagos Mainland
Ogo-Oluwa, Gbogan-Ibadan road, Osogbo, Osun State
The launched with digital offerings, which enable customers to open accounts online on its website and transact via USSD banking.
The Managing Director of the bank, Mrs. Kafilat Araoye, while announcing the new office branches said:
"With evolving digital solutions and a millennial generation coming into centre-stage, LOTUS Bank is bringing onboard innovative and comprehensive non-interest compliant financial solutions in investment banking, consumer banking, asset management, private banking, and wealth management."
On the board of the bank are seasoned bankers and investors whose interest in non-interest is exemplary great.
Our Take:

With its issues of free debit cards to account holders and zero account opening plus interest-free loans, other commercial banks in Nigeria have strong competition in the market
Who is the owner of Lotus Bank?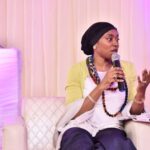 The founder of Lotus Bank is Mrs Hajara Adeola. The bank operates on the principle of Shari'ah financing which prohibits interest. It is a non-interest bank like JAIZ Bank.
She is also the founder of Lotus Capital Limited, a Nigerian pioneer in Shari'ah compliant Asset Management, Private Wealth Management Advisory Services and Financial Advisory Services
Hajara's husband is Fola Adeola, a co-founder of Guaranty Trust Bank
Who is the Managing Director of Lotus Bank?
The Managing Director of Lotus Bank is Mrs Kafilat Araoye. She was a former senior staff member of Guaranty Trust Bank (GTBank).
Mrs Araoye had close to three decades of banking experience at GTB. She was a former head of GTB's Human Resources Group. Other areas of her experience include International and Domestic Operations, Payments, General Management, Business Development, and Risk Management.
Is there Lotus bank in Osun State?
Yes, there is a branch of LOTUS bank in Osogbo, Osun State capital. It is located in Ogo-Oluwa area of Osogbo, opposite KIA Motors
What is non-interest banking?
Non-Interest Banking is a kind of financing whereby risks and profits are shared between the lender (bank) and the borrower (customer).
As such, non-interest banks (Islamic banks) see their customers as customers. Non-interest banks are more committed to customers' success.
The benefits of Islamic banking are numerous.
Who are the Board of Directors of Lotus Bank?
The board of directors of the bank are made up of individuals with "intimidating" banking profiles and track records in financing.
They are:
1) Hajara Adeola: Chairperson
2) Kafilat Araoye: Managing Director
3) Adeoye Fadeyibi: Non-Executive Director
4) Muhammed Atiku- Abubakar: Non-Executive Director
5) Gen. Sansadeen Awosanya: Non Executive Director
6) Toyin Kekere-Ekun: Non-Executive Director
7) Muhammed Babangida: Non-Executive Director
8) Moinuddin Malim: Non-Executive Director
9) Alhassan Abdulkarim: Executive Director
10) Nurudeen Lemu: Non-Executive Director
11) Nuratu Batagarawa: Non Executive Director