Last updated on August 5th, 2023 at 09:21 pm
Changing your Place of Primary Assignment (PPA) in the ongoing deployment process of the N-Power programme is possible if you carefully follow the process.
CAUTION: Applying for redeployment is tricky, we urge you to first find out if there are vacancies in the new Place of Primary Assignment (PPA) you wish to move to. If you are redeployed and the new place is filled up, this may affect the process of monthly allowance.
If you're yet to be deployed, you're advised to check out our guide on how to download your deployment letter, get it signed by an official and upload it on your NASIMS portal.
Reasons for redeployment
You must have cogent reasons before changing your PPA to another. Some of the reasons include:
You're married and would like to move with your husband to another location
Your current PPA is too far from your place of residence
Due to health challenges and you need to move closer to home
You're relocating to another state due to the status of your parent or spouse
 Process of changing your N-Power PPA
One of the beneficiaries of the ongoing onboarding of Batch C stream 1 told us he chose N-Teach during the application, but that isn't available in his location.
If you are one of those facing a similar problem, here is a guide on how to apply for redeployment and select a new programme in your location.
If the option to print a deployment letter doesn't appear on your dashboard, it means the programme you selected during registration isn't available.
In this case, the NSIP team would direct you to re-select a new programme, here is to solve this problem.
It's simple, click on the option to select a new programme and submit.
InfomediaNG advice
In a situation whereby the available options do not contain your preferred choice, don't worry, select the available one and submit.

When you're posted to the new PPA, you can then apply for redeployment. But before then, you need to find an FG-approved location.
Requirements for redeployment: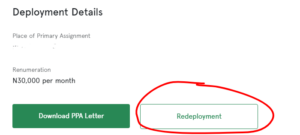 Get a rejection letter from your current primary place of assignment.
Obtain an acceptance letter from one of the PPAs that you want to redeploy to

Redeployment Process:
Login to your NASIMS dashboard
From your dashboard menu: Overview, screening, verification, deployment, select, "deployment"
Select "redeployment" (It can be found beside the download PPA Letter)
Follow the instruction highlighted above
Click "See available PPAs for your LGA
It displays the available Place of Primary Assignment and their specific location
Click apply for redeployment
Upload your rejection letter and acceptance letter
Select  place of primary assignment indicated on your acceptance letter
Hit the submit button, that's all.
Since verification of the successful beneficiaries began, we've noticed that those who had the opportunity to have downloaded the letter are now having some technical issues on their dashboard.
Can beneficiaries whose redeployment request is still showing pending resume work at their new PPA?
No, they cannot resume at their PPA until their request is approved.
What are the redeployment emails or to cancel my redeployment?
To cancel your redeployment application, kindly send such a request to npowersupport@nsip.gov.ng and clearly state the reasons why you opted for redeployment.
How can I contact N-Power for more inquiries?
Send inquiries to npowerinfo@nsip.gov.ng
I have downloaded my deployment letter even before the commencement of the physical verification, but now my PPA has suddenly changed to another school. What should I do?
You can choose between the current PPA on your page or the one you posted earlier. This means you can ignore the new one if you've already uploaded your signed deployment letter.
For some of us who upload PPA letters before going for physical verification, do we need to download the letter again?
You do not need to re-download it again. The one you uploaded, signed and uploaded is still valid.
I have passed my PVC but my deployment status is still pending, should I be worried?
You don't have to be worried; your deployment status will change very soon.
When will N-Power Batch C Stream 2 receive a stipend?
You will be paid when you officially resumed work.