What NIMC Enrolment Front-End Partners Do
NIMC Enrolment Front End Partners (FEPs) are enrolment agents that were approved in 2020 to complement the roles of the National Identity Management Commission (NIMC) in providing enrolment services on behalf of the government in nooks and crannies of Nigeria.
Number of FEPs in Nigeria
At the time of publication, there are 71 Enrolment Front End Partners in Nigeria, including MTN Nigeria, Dantata, ZinCom Technology, and Slogani Consults Nigeria Limited among others.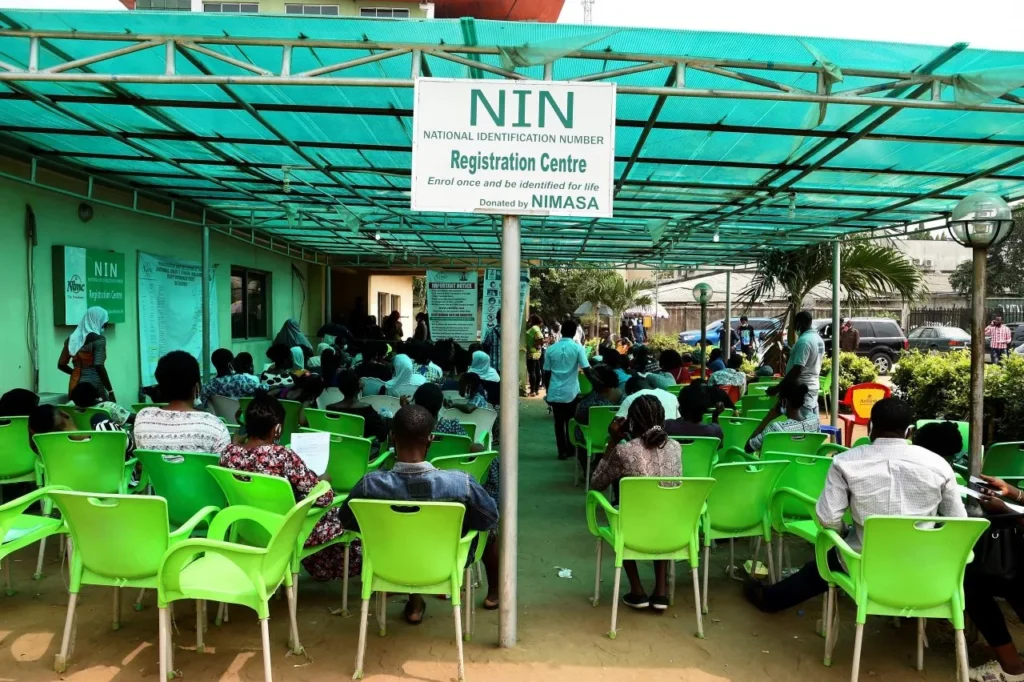 Here is the full list of NIMC enrolment Front End Partners in Nigeria:
NOLIA (it has 23 centres across 12 states)
NA SAMUELSON (it has 20 centres across 2 states)
PENPRIME
JOESON (it has 12 centres across 7 states)
DEFCON (it has 6 centres across 4 states)
Research & Data Solution (2 enrolment centres)
POMADE (it has 8 centres)
Service Management Consulting
Sanstonz Consultancy Services Limited
Etranzact International Plc (22 centres across 8 states)
Dantata (5 centres)
Digitalpulse Technologies
Kevonne Consults Ltd (10 centres across 3 states)
Volsus Energy Limited (26 centres across 13 states
Slogani Consults Nigeria Limited (12 enrolment centres across 8 states)
MTN Nigeria Communications Plc (and its 97 enrolment centres across over 30 states)
Knowledgesquare Foresight Nigeria Limited
Best Internet Cafe
Dune Engineering And Construction Company Limited
Basaleh Global Services Ltd
BELLOKANO
Andy Links Gps Data Tracking Services Ltd
Spherical Gis & Rs Ltd Enrollment Centers
Beu Synergy Solution Ltd
Abuchi Ed.Ogbuju & Co
AYGF
Data Formula Global Con. Ltd
Data Formula Global Con. Ltd
Biosecureone
Seamfix Limited
Murna Foundation
Thrixes Technologies Limited
Verifix Concept Limited
Solcorn Technologies Ltd
Successory Nigeria Ltd
Joreal Nigeria Limited
Spaceblog Technologies Ltd
Rovins Global Services
Samuiky Global Ltd
Ibolda Health Int. Ltd
Isah Nguru Ventures
Zincom Technology
Randaframes
Miandkay Enterprise
Joeson Consult Ltd
De' Blue Shangarilla Limited
Akwa Ibom State Ministry Of Science And Technology
Verse It Services Limited
Moriahrock International Company Limited
Kruggerbrent& Co Nigeria Limited
Leema Investments Ltd
Multibase Investment Nigeria Ltd
Theo-Ict Integrated
Jetlink Limited
Improved Data Solutions Limited
Kt Nintocompany Nig Ltd
Amex West Africa Ltd
Pan-Dus Powell's Nig Ltd
Biosec Solutions Limited
Lasventures Global Services Ltd
Interra Networks
Kimberley Matt Nig Ltd
Khahus Consulting Solutions Limited
Himbell Company Ltd
Simpson Venture
Cobaz Projects Limited
GOMFID
Excellent Word Foundaton
Friends Cafe And General Printing Services
File Solution
Why NIMC engaged FEPs
The enrolment partners were engaged in January 2020 by the federal government when it was discovered that NIMC doesn't have the human resources and enough outlets to meet the target set by the government to enrol over 200 million Nigerians.
The partners are empowered by NIMC to obtain, register and transmit biometric data of Nigerians to NIMC headquarters.
Before they were commissioned by the government to handle the NIN registration, NIMC offices in local government areas were not efficient and the cost of enrolment was not only prohibitive, it was not also uniform.
NOTE: FEPs are different from NIN verification service providers as compiled in this post.
Are the services of the FEPs free?
The Federal Government is expected to pay them month-to-month based on the number of registrations done on behalf of the government.
According to information from one of the partners, NIMC outlets were charging between N5,000 to N10,000, "whereas, officially, enrolment should cost (the enrollee) zero naira."
So, in the wisdom of the previous management, they said, 'okay, let the FEPs start to do it and nobody is expected to charge any money and they were supposed to pay them on a month-to-month basis.
However, it is reported that some of the FEPs have not been paid since 2021. They've also halted their services to the government until their backlogs are paid. NIMC promised to carry out a revalidation process before backlogs are paid.