Last updated on May 7th, 2023 at 09:55 am
The shareholder account number is one of the requirements to begin the process of claiming a long-abandoned dividend in Nigeria.
If you're among those who don't know where their share certificate is kept, there is another way to retrieve it, provided you can remember the name of the company from which you bought the share.
What Is Shareholder Account Number?
A shareholder account number is a unique identifier digit for your shareholding and can be found on either your share certificate or on the non-mandated portal of the Securities and Exchange Commission (SEC).
In some jurisdictions, a shareholder account number is a 9-digit character number that can be found on the top right-hand corner of the shareholder's statement.
In Nigeria, however, the number can be found on the left side of the share certificate. The digit varies.
For instance, it's 7 digit number for Ecobank Transnational Incorporated while it's a 6-digit for Oceanic Bank Plc (a bank that was acquired by the ETI).
Why It's Important
There are several questions shareholders ask especially those who bought stocks in the 1990s and early 2000s when public offers by companies were very popular.
That's when share certificates were delivered by the Nigeria Postal Service, and a lot of them can still be found at the storeroom of some local NIPOST offices across Nigeria.
The major importance of shareholder account numbers is to identify an investor and how many shares they bought as you can in the photo below.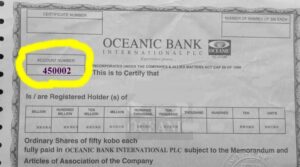 2 Ways To Get Your Shareholder Account Number in Nigeria
Which of the shares did you buy in the 80s that's giving a headache how to retrieve your unclaimed dividend? You can begin the process of claiming an unclaimed dividend by using these methods:
Via U-eDiv Search (non-mandated portal)
On Share Certificate
Via U-eDiv Search
Following the accumulation of unclaimed dividends in Nigeria worth several billions of Naira, the Security and Exchange Commission (SEC), launched a portal that contains the full list of unclaimed dividends in Nigeria. It's called U-eDiv search portal also known as a non-mandated portal.
To use the non-mandated portal to get your shareholder account number, follow this process:
1) Head straight to http://sec.gov.ng/non-mandated/
2) Enter your first and last name and hit the search button
3) Carefully Check the result because there could be similarities in the names, check the company's name where you bought the share
4) If you found a convincing result, by the left side is your shareholder account number
5) Look at the last column "registrar name"
6) Contact the registrar to get the eMandate form.
Note: If you don't have CSCS account and Clearing House Number, your stockbroker would guide you on the application process for you to start receiving an electronic dividend straight into your account.
Share Certificate
A share certificate is a legal document issued to shareholders by a company that sold part of its shares to them. In the past, the share certificates were delivered via postal service, but today, they were mailed electronically to investors.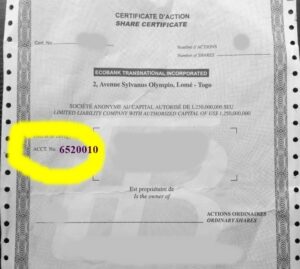 The certificate contains the following information:
Number of shares
Certificate number
Name of the company
Full name of the shareholder
Account number
Date of issue
Transfer number
Signature of company's representative
If you can locate your share certificate, check the top or middle left side of the certificate to find your number.
Get the eMandate form, fill it and send it to your stockbroker for processing.
Recap:
So, you can find your shareholder account number in Nigeria using two effective ways 1) on SEC non-mandate portal and 2) on your paper certificate
The number is an identifier to track the details of a shareholder and it's a prerequisite for claiming your dividend.