Last updated on June 4th, 2023 at 09:28 pm
Following the pressure on the Nigerian currency, we asked the large language model ChatGPT about the future of the Naira against the US Dollar.
ChatGPT responded like an experienced financial expert, stating that it is difficult to predict the future of Naira against the US Dollar.
At the time of publication, the official exchange rate was pegged at NGN460 against the US Dollar.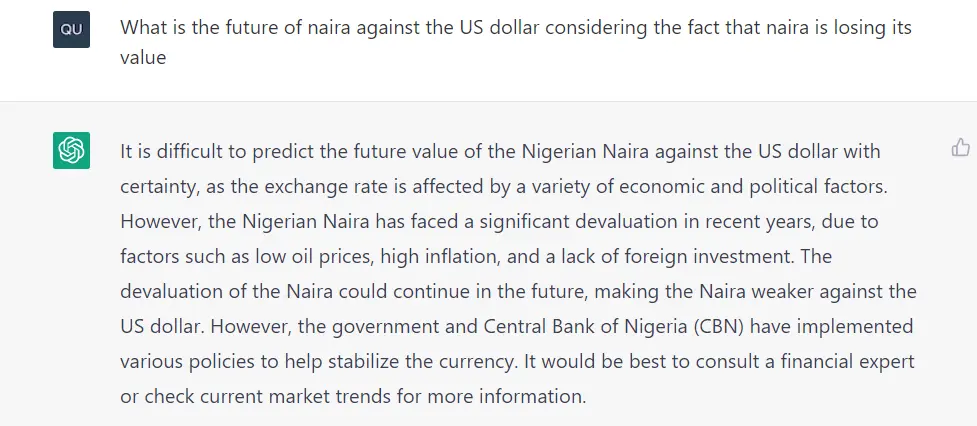 At the black market, the exchange rate is a completely different story because it is a free-for-all at NGN755 against the USD at the parallel market.
Developed by OpenAI, ChatGPT uses deep learning techniques to generate human-like text.
Factors affecting USD/NGN Exchange rate
The exchange rate is affected by a variety of economic and political factors in recent years, facing significant devaluation.
Specifically, economic mismanagement, mismanagement of revenue from oil revenues, lack of foreign investment due to insecurity and poor economic policies have badly affected the value of the Naira against the USD and other global currencies.
Based on the current factors, ChatGPT predicts the devaluation of the naira could continue in the future, making the naira weaker against the US Dollar.
While the AI tool could be correct about the uncertainty surrounding the future of the Naira against the USD, it would be best to check the current market trends expert or check current market trends for more information.
What are the best ways to help stabilize the value of the naira against USD?
To end of our experiment about how knowledgeable the AI tool is about Nigeria's foreign exchange crisis, we decided to be direct by asking ChatGPT about the best ways to stabilize the value of the naira against the USD.
the solutions proffered by the artificial intelligence were similar to our earlier article on how to increase the value of the naira against other currencies by:
Reducing imports
Increasing foreign reserves
Improving the business environment
Increasing exports to earn more foreign currency
Tightening monetary policy to help reduce inflation
Conclusion:
ChatGPT can be used for a wide range of natural language processing tasks, such as text generation, language translation, and answering questions.
It is imperative to note that the strategies to increase the value of the naira may take time to have a significant impact on the value of Nigerian currency.
In essence, these solutions must be implemented in a holistic and coordinated manner in order to be effective and produce the desired result.