Last updated on September 25th, 2023 at 11:06 am
Ex-American rapper Sir Robert Bryson Hall II popularly known Logic has bought six million US dollars in bitcoin, becoming the latest star to dive into the world of the most valuable asset.
In a video posted on his Instagram verified account @NoJumper, Sir Robert Bryson Hall II, born January 22, 1990, bragged that he bought six million US dollars worth of bitcoin in October 2020.
In the video, Logic could be seen making the collar pull gesture popularized by fellow rapper Xzibit in the mid-1990s MTV show Pimp My Ride.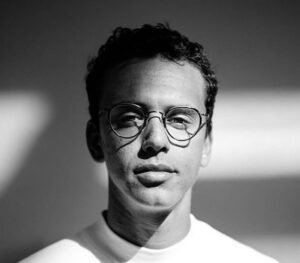 Flanked by a pretty lady who wears some adoring smiles, Logic says, "F**k it," "YOLO" and "Seriously…"
YOLO means "You only live once"
What does $6M Bitcoin Investment mean to him?
In October, bitcoin was trading at $13,850 to 1BTC, at the time of this report, one bitcoin is worth over $18, 000, the updated Crypto price shows, meaning Sir Robert Bryson Hall II has gained at least $2 million US dollars within a month.
Findings show that Logic's $6 million bought 433BTC at the time of purchase (October)
A month after, those 433 BTC are worth $7,926,500 at the time of this report.
Crypto analyst at Cointelegraph says if the rapper used the phrase "last month" to refer to one month ago, "then his buy-in price could have been $11,760.
These hypothetical 510 BTC would now be worth $9.3 million, or a cool $3.3 million gain," Jack Martin wrote.
Regardless of the time Logic dived into a bitcoin purchase in October considering the volatility of cryptocurrency, he must be cooling off with 65% or more in return on his initial bitcoin investment.
That's cool.
Robert Bryson Hall II Changed His Twitter Name After Big Return on Bitcoin. A check on Logic's Twitter handle shows that he changed his Twitter name to Bobby Bitcoin.
His excitement is epic "Sounds like something only logic would dc" one of his admirers on Instagram says.
Some crypto enthusiasts have thronged his page to boost his morale, "Smart af. Give it time. Cryptocurrency's going to take over" Cloud.Kaden says.
"*hit gone be worth 100 million by 2030," Christopher50K, an encouragement for Logic to hold or buy more coins for the future.
1BTC was $18, 250 on Friday, November 20, 2020, showing a 3.31% appreciation against the US dollar in the last 24 hours.
It showed an impressive upward trend on Thursday and was obvious it's going to dive into the $18K, showing 12.76% impressive move in the last seven days, data on coinmarketcap shows.
Who is Robert Bryson Hall II?
Professionally as Logic, the American retired rapper, songwriter, and record producer Robert Bryson Hall II was born on January 22, 1990.
During his reigns on the stage, the streamer and author released six studio albums and received two Grammy nominations.
At 20, Logic began his music career and released the mixtape Young, Broke & Infamous, but his Young Sinatra mixtape series brought him to the limelight.
His third iteration, "Young Sinatra: Welcome to Forever" which was released in 2013 helped Logic secure a recording contract with Def Jam Recordings.
His first two studio albums: 1) Under Pressure released in 2014 and "The Incredible True Story" which was released in 2015 peaked within the top five on the U.S. Billboard 200 and were certified gold.
Retirement from music
In 2017, Logic achieved mainstream popularity with "Everybody", the album was charted at number one in the United States and was certified platinum, while its lead single, "1-800-273-8255", reached number three on the U.S. Billboard Hot 100. It was among the top-ten hit internationally, his Wikipedia page says.
During COVID-19 pandemic, specifically July 2020, Robert Bryson Hall II announced his retirement as a rapper, releasing his final album "No Pressure"
Growing Up
In 2013, Logic revealed that growing up was fun and interesting saying he smoked marijuana but said:
"I don't drink; I don't smoke weed. I used to smoke; I used to be a pretty big pothead when I was younger, but I don't smoke. I might have an occasional glass of champagne."
He stated that he began smoking when he was 13 and that, when giving up marijuana and alcohol, he could not overcome the addiction until 2014.
Logic was addicted to cigarettes, dedicating the song, "Nikki", from Under Pressure to the subject.
Marital Life
Logic wedded his girlfriend and singer, Jessica Andrea, on October 22, 2015, unfortunately, the marriage crashed in March 2018. In September 2019, Logic married Brittney Noell and the marriage was blessed with a son.
What's next for Logic?
No one knows if the American rapper would consider pushing some bucks into Ethereum, BitcoinCash, Litecoin, and other promising altcoins following bitcoin's prediction that by 2030, 1BTC could be worth $397,727.
Logic remains an entertainer as he continues to post his favourite video games on his YouTube channel.
Who knows? Robert Bryson Hall II might just be making some dollars from reviews on his YouTube channel