Last updated on September 25th, 2023 at 11:00 am
There is an age-long myth about the Nigerian Civil War. One of them is a propaganda that the Eastern Region Military Governor Lt.Col. Odumegwu Ojukwu released Chief Obafemi Awolowo who was serving a prison term for treason when the Biafra War broke out.
It was propaganda!
Ojukwu had not declared Biafra war when Pa Awo regained his freedom.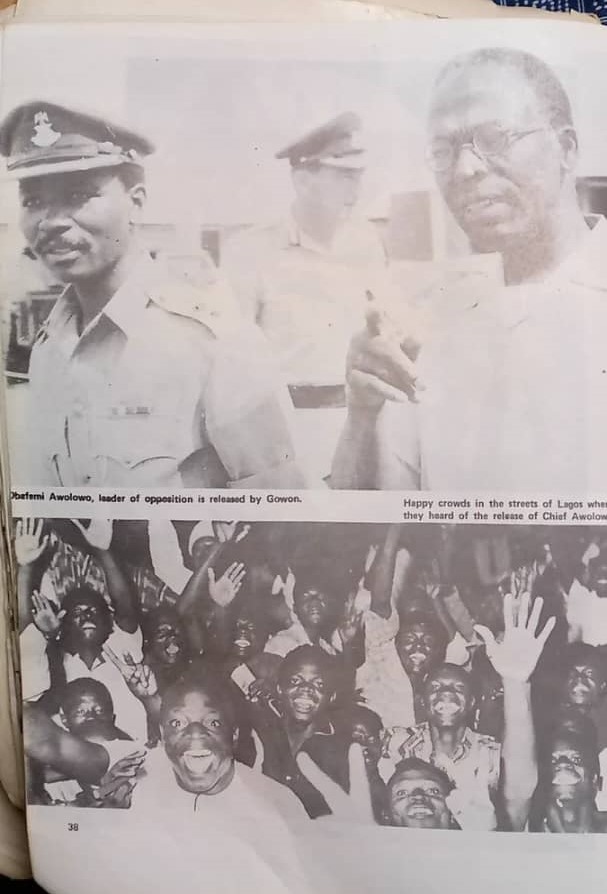 It was propaganda that was designed to malign the person of Awolowo and to paint him as a traitor for supporting the unity of Nigeria while the Nigerian Civil War lasted.
Background:
On September 11, 1963, the leader of the opposition in Nigeria's Parliament was found guilty of a plot to overthrow the Government of Sir Abubakar Tafawa Balewa, Nigeria's Prime Minister at the time.
Awolowo, along with 17 prominent politicians, was sentenced to 10 years in prison.
They were taken to different prisons across Nigeria, the Action Group leader was taken to Calabar Prisons. Calabar Prisons was under the Eastern Nigeria Government.
Declaration of Biafra War
While Awolowo was in Prison, two military coups took place within a year – January 15 and July 29, 1966. One, led by an Igbo officer, killed Tafawa Balewa and other prominent army officers from the North such as:
Sir Ahmadu Bello
Sir Abubakar Tafawa-Balewa
Hafsatu Bello (wife of Sir Ahmadu Bello)
Brigadier Zakariya Maimalari
Colonel Kur Mohammed
Lt Colonel Abogo Lagerma
The full list of other victims will be published in our next episode, but Chief Festus Okotie-Eboh (Itsekiri from Midwest Region), Brigadier Samuel Ademulegun and his wife (Western Region), and Samuel Ladoke Akintola  (Western Region) were also killed.
The second coup was led by Northern officers led by Captain Theophilus Danjuma, killing Gen Aguiyi-Ironsi, Nigeria's military Head of State (an Igboman) in Ibadan along with his host Adekunle Fajuyi. The second coup was called counter-coup.
So, both coup d'etat were tribal coup between the East and the North. The East triggered it, anyways.
That was the remote cause of the war. However, the failure of Gowon to implement the Aburi Accord was the last straw that broke the camel's back.
Instead, Gowon returned to Nigeria and on May 27, 1967, he announced the creation of 12 states.
To reduce the powers of Ojukuw, Gown broke the Eastern Region into three: South Eastern state, Rivers state and East Central State.
And on May 30, 1967, Ojukwu declared the brake away of eastern region from Nigeria and named it as the Republic of Biafra.
So…
Who released Awolowo from Prison?
On August 2, 1966, Lt Col Yakubu Gowon released Chief Obafemi Awolowo from prison and on August 3, 1966 regained his freedom.
To make the pardon an official one, the Military Head of State at the time exercised section 101 (1) of the Constitution of the Republic said that the Supreme Military Council, "do hereby remit the unexpired portion of the sentence imposed on the aforesaid Chief Obafemi Awolowo and grant him a full pardon".
Awolowo's state pardon was contained in Official Gazette No. 81, Vol. 53 and signed by His Excellency Lieutenant-Colonel Yakubu Gowon, Head of the National Military Government, Supreme Commander of the Armed Forces of the Republic of Nigeria.
Set the record straight:
Calabar Prisons is owned and controlled by the Federal Government, prison was under the exclusive list. No state-owned prisons at the time.
Ojukwu had not declared Biafra Republic when Awolowo was released from prison. Awolowo walked to his freedom on August 3, 1966, while Ojukwu declared Biafra Republic on May 30, 1967.
So, Ojukwu couldn't have released Pa Awo when he (Ojukwu) was still a military govenor, he has no such powers.
Plan to kill Awolowo in Prison orchestrated by Igboman
Contrary to the propaganda that Ojukwu pardoned Pa Awolowo, there was even a plan to assassinate Awolowo when he was in Calabar Prisons.
According to Chief Gabriel .O. Ohwo, who was the head of Calabar Prisons, where Awo was serving his 10-year jail term, there was what he perceived as organized riot in the prison by inmates.
"That riot would have been used to eliminate Awo. You know, when there is riot in the prison, both government property and prisoners could be destroyed. So, that was the aim. And I think those who plotted it like one Eze, who was an officer under me was asking me "oga, you no go go?", saying that a riot was about to be executed.
Pa Ohwo told the Tribune in an interview in 2019 that he refused to leave the prisons "and was just looking at them because there was nothing they could do to me as their 'governor' in the prison. Eze was using Okotie , the only Urhobo man among them."
Again, in October 2015, Yakubu Gowon said the reason for releasing and granting state pardon to Pa Awolowo was to end the political unrest in the South West and ensure peace across Nigeria in the 1960s.
"'It was my fortune and I thank God that it was me that had the opportunity to release Papa from prison from Calabar to Lagos and certainly to be able to help us have peace in the West at that time and then we came," Gowon told journalist who was in Ikenne, Ogun State, to pay condolence visit to the Awolowo family on the death of HID Awowolo the wife of the late Sage.
Conclusion:
It was Yakubu Gowon who released Awolowo from Calabar Prisons and NOT Ojukwu as it is been circulated by some sections of Nigeria, especially the people of the defunct Biafra republic.
On the release of Awo from Calabar Prisons, he was flown to Lagos, where he met with Yakubu Gowon.
History has it that Murtala Mohammed volunteered to drive Pa Awo from Government Office in Lagos to his house in Ikenne, Ogun State.