Last updated on December 31st, 2022 at 07:16 am
Located in the South-West geopolitical zone, Ogun state is the most industrialised state in Nigeria. It shares borders with Oyo and Osun states to the north, Lagos state to the south, Ondo state to the east.
Going by the business opportunities in Ogun, this article focuses on how investors both at home and abroad can seize the investment potential of the state.
Some of the first-tier firms in the state include Nestle, Dangote, Coleman Cables, Lafarge, Unilever, May & Baker, and International Breweries among others.
The presence of big companies in the state creates another set of opportunities for those who are looking for lucrative businesses in Abeokuta, Sango, Otta, Ifo and other major towns and villages in the state.
Its entry and exit point through the Benin Republic makes the state one of the Nigerian states that share international borders with countries in Africa.
The state was also strategic for foreign penetration of the western region before independence, it still plays a major role in trans-border business with other countries, no wonder it earns the moniker, "The gateway state."
So…
What are the business ideas someone can start in Ogun State?
Below are some business opportunities in the gateway state and some of the challenges you are most likely going to face.
Adire Distribution
Tie and dye is one of the cultural and indigenous professions of the Ogun people. There are people who became extremely rich from buying and selling the famous adire fabric within and outside Nigeria.
Also called "kampala" adire distribution business doesn't necessarily require huge capital, especially in the digital world.
With just NGN200,000 you can start buying and selling adire fabric. The buyer incurs the cost of transportation.
Getting Started:
If you're in Abeokuta, your smartphone will get the job done. Liaise with a wholesaler. Take pictures of beautiful adire fabric, post on your social media platforms, post videos if you can.
Do pre-paid orders, deliver on time, and make profit from the margin. Don't ridiculously increase the price of the product in a dubious manner so that you can have returning customers.
Note: Most buyers compare prices before making buying decisions. This is working for dozens of ladies you see on Instagram, Facebook, and Twitter.
Tourism Business
Ogun state is best with cultural locations and historic rocks, some of them include Olumo rock, Centenary Hall, the Ake, the residence of the traditional ruler of Egbaland among others.
A tourist investor can come in in several ways to package some of the locations for business purposes including building halls, conference centres within these historic places.
Challenges: The case of kidnapping is common in Ogun State, as an investor considering a tourism business, you need to make provision for top-notch security of people coming within and outside Nigeria.
Agric Products Export
The major economic activity of Ogun people is agriculture. The state is known for the cultivation of maize, rice, maize, cassava, yams, plantains, palm oil, kola nuts, cotton and bananas among others.
Strategically, selling of these products to other African countries can be done through the land borders to the rest of the world.
In terms of connecting other states in Nigeria, Abeokuta is a terminus of the roads and railways coming from Lagos and other parts of Nigeria.
You need to closely work with locals, farmers so as to buy at cheaper rate. And make sure to obtain the necessary export documents. Your company must also be registered.
How to tap into this opportunity:
If you don't speak Yoruba, it becomes a challenge unless you are dealing with educated farmers, hundreds of them are in the state who have taken farming as a profession.
If it's the food packaging business, we already have a guide that you'd find useful to get started.
Assignment Outsourcing for Students
Ogun State houses more than three dozen higher institutions including universities (private and public), polytechnic, colleges of education, advanced training institutes.
Some of them include the Federal University of Agriculture, Abeokuta, popularly called FUNAAB; Federal college of education, FCE in Osiele; Tai Solarin University of Education; the Federal Polytechnic, Ilaro; Moshood Abiola Polytechnic (MAPOLY) among others.
On the private list, there are Covenant University; Babcock University in Ilisan-Remo and many other institutions being built in the state.
A high concentration of higher institutions provides a lot of business ideas for those who are ready to tap into them.
On campuses, there are rich students who are constantly in search of people who can assist them in carrying out research, writing term papers, who can teach them other things that they miss in class.
If you set up an assignment outsourcing firm, you can make a lot of money from it particularly if you are good at technical writing.
Getting started:
Locating your firm around where public institutions are located will be your best bet. You will get customers among students who are preoccupied with other things like writing their assignments and other academic works.
Dry Cleaning (laundry) Business
In many places state headquarters or where higher institutions are located, we've seen undergraduates who set up a dry cleaning business.
And of course, they did well. They mostly get customers and referrals from their pairs. It is one of the businesses that do not necessarily require millions of naira to get started.
On a small scale, you can set up a dry cleaning business with as little as NGN200,000. as you expand, you get bigger washing machines and employ more hands to help you in ironing, packaging and delivery.
Challenges: Apart from some selected places in Abeokuta, Ijebu Ode, the power supply is generally poor in Ogun. As such, you need to have a standby power generator to avoid delay and disappointment
Agriculture Business
Closely related to the exportation of agricultural produce is engaging in agric-related business in the state considering its viability and rich soil for plantation of a lot of crops.
For instance, palm oil is still being imported and smuggled through borders into Nigeria.
Going into palm oil plantations would bring a lot of money especially when the product is scarce and expensive during the dry season.
Another agriculture business opportunity is cassava farming because cassava is a raw material for a lot of industrial goods, flour, starch are some of them.
Challenges: If you are going to operate on a large scale, access to land and bad roads in the state are some of the problems you're going to face. Getting a family land may be problematic if all parties in the ownership are not involved.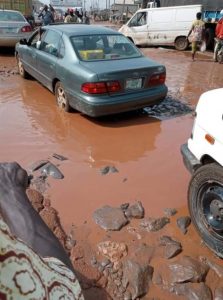 To avoid this problem, directly work with the traditional rulers in the area and liaise with heads of families. This may also involve "rubbing hands" with the elders
Car Wash Hub
Some time ago, a branch manager resigned from his banking job to start a cash wash business in Abuja. He later revealed that he makes X3 of what he was receiving as salary in the bank.
That's to give you an insight into how lucrative and profitable the car wash business is, especially if it's located in a major busy location within the town.
For instance, you set up a cash wash centre in busy locations in Otta, Sango, Abeokuta, Ijebu Ode, you will attract clients on a daily basis.
To attract more customers, you can set up a pepper soup joint at the corner of your centre
Getting started:
Buying a plot half a plot to start your car washing may be challenging in terms of cost.
Lease should be your alternative for a start before buying a permanent site. Choose a good location. You can employ more hands as your business flourishes.
Auto Workshop
There are millions of cars and trucks in Ogun State because of industrial status. One man could have as many as 10 vehicles. This is a business opportunity.
You don't necessarily need to be a trained mechanical engineer to start this business, however, it'll be a plus you're certified in this field.
Make provision for the necessary equipment, employ a trusted engineer as the workshop manager. Make a list of available services and cost for you to track income and expenses.
Choose specific brands of cars you service, be known for the brands, don't jack of all brands.
Challenges: If you have the capital to invest but no training and you want to set up an auto workshop, it will be tasking to get a trustworthy trained mechanical engineer. You have to wash out for dubious engineers.
Fuel Supply Business
The concentration of manufacturing companies in Ogun makes fuel-supplying business in the industrial areas a lucrative business.
None of the factories in Nigeria can depend on government power, they all have industrial generators that run on diesel.
Getting started: Do research, visit the factories to market your product, give them a competitive price. If yours is just NGN1 cheaper, you can win hundreds of clients.
However, it could be challenging to win new leads unless you are able to make friends with one of the key staff members of the company.
Cosmetics Production Distribution
Sango-Otta axis houses a lot of cosmetics manufacturing firms. You can tap into this opportunity by signing up as a distributor..
Ofada Rice Export
As earlier pointed out, many parts of Ogun State, especially the small towns and villages. One of such agriculture products the state is known for is the cultivation of ofada rice and a town known as Ofada located in Obafemi Owode Local Government is suitable for the cultivation of the local rice.
The local rice is appreciated within and outside Nigeria. This is a business opportunity. You can start packaging ofada rice for export.
Cost implication: You can go to buy rice packaging or a rice bagging machine for a large production. The machine, depending on the brand could cost between $6,000 to $12,000 per unit.
Recruitment agency
A lot of companies in Ogun State have either scrapped human resources unit by contracting it out to recruitment agency, this way they are able to save cost of maintaining such unit or department.
As a trained human resource development expert, you set up your recruitment agency to employ workers for your clients (companies). It's one of the lucrative businesses in Ogun State considering the number of companies in the state.
Content Creation Agency
Businesses are now paying commendable attention to content creation for the promotion of their business, especially when they are launching a new product into the market.
Most companies want creative writers to curate descriptions for new products, if you are a good writer, this is another opportunity you can tap into in Ogun State.
Legal Services
Land matters is a serious issue in Ogun State. The land is gold in the state, no wonder the state is the headquarters of land grabbers.
Because of this, providing legal services like legal consultation is something you shouldn't underrate.
Challenges: Be security cautious because of the activities of thugs.
Transportation Business
There are hundreds of Lagos workers who reside in Ogun State. The transit from Ogun to their workplaces in Lagos every day, hence an investment in a transportation business should be on your table.
Getting started: It's capital intensive, but the investment is worth it considering the number of people that move to and from Lagos into the state every day.
Make the comfort of your passengers a priority. Do something different from other transit owners.
Mining Business
Mining business is profitable in Ogun State because of the large deposit of natural resources the state is blessed with. Some of them include limestone, iron, coal, iron ore, and bitumen.
Getting started:
Obtain a mining licence from the Federal Ministry of Mines and Steel Development.
Take the security of your worker seriously of kidnappers.
Real Estate Business
Coming through the Ibadan expressway through Mowe may be difficult for someone who is not familiar with that axis to know the boundary of each of the states.
The same thing applies between Ogun and Oyo State. As such, there are many people who reside Ogun and work in Lagos and vice versa.
To be a problem solver, invest in real estate, by building apartments in border towns because accommodation is cheaper in Ogun state than Lagos state.
Tutorial Centre
For a brilliant young graduate, setting up a tutorial centre in Ogun State is a lucrative business. To get started, employ specialists in core subjects. There are hundreds of admission-seeking students in Ogu State who want to pass JAMB in flying colours.
Social Media Marketing
Millions of businesses around the world are getting new customers through social media platforms like Facebook, Instagram, Twitter, Tiktok and other platforms.
A lot of the businesses are ready to handsomely pay social media marketers, experts who can place ads on social media.
Getting started:
Be visible, make your price competitive, run Facebook Ads, Instagram Ads, Tiktok Ads about the services you render. You'd be surprised by the number of customers you'd get on these platforms.
Challenges: This doesn't come without some challenges, but they are surmountable. They include restrictions on Debit Card. Your best alternative is to get Dollar MasterCard or Visa Dollar Card to fund your ads account.
Gym and aerobics centre
Hundreds of people on Monday to Friday go to work. Some of them are on the lookout for a gym or aerobics centre where they can take time out to keep fit.
Are you a trained aerobics person or do you have a qualification in Physical Health Science? Setting up a gym centre in Ogun State will fetch you more money than any school can pay you.
Business Solutions Agency
More small businesses are coming up in the state, some of them seek financial aid from the state and the federal governments.
One of the requirements to access credit facilities from state and FG is to have a certificate of business registration or evidence of company incorporation.
Hundreds of them face challenges doing so on the business registration portal, hence they need services of CAC accredited agents to help them handle business registration and resolve issues surrounding filing of annual returns.
Setup a business solutions firm that provides solutions to businesses in Ogun State, you'd be amazed by the number of people who face business registration challenges.
Getting started:
Your firm must be registered. You must be certified by CAC and an accredited agent. Becoming CAC accredited agent requires some professional certifications and qualifications.
What business can I do in Ogun State?
Adire distribution, Poultry farming, catering service, photography, and business registration consultancy are some of the businesses you can start in Ogun State.
And because the state has lot of expatriates, laundry business is also lucrative in the gateway state.
What is Ogun State known for?
Ogun state is known for its high concentration of industries. It is a manufacturing hub and a prominent state in the southern part of Nigeria for its rich culture.
Is Ogun state a good place for investment?
According to PEBEC committee, Ogun State isn't a good place to invest because of many challenges. In the Ease of Doing Business by PEBEC, Ogun State was ranked 19 among the 36 states and the FCT in 2021.
What are the challenges of Doing Business in Ogun State?
As an investor, you're going to spend more on security because of its porous borders. Power supply is also poor in the state except for a few places like GRAs.
Despite its huge internally generated revenue, road network is poor in Ogun state. Kidnapping for rituals is also rampant.
But all the problems are not insurmountable, it only means the cost of running a business is high which is going to impact the sales price.
Above all, the state is rich in resources and strategically located, that's why it's hard for an investor to ignore Ogun State.   
What are the best places to invest in Ogun?
The best place to invest in Ogun depends on the nature of the business. If your target is to start a mining business, the location where the mineral resources are found would be your best location.
If the production of industrial products is your target and you're concerned about access road, Mowe-Ibafo-Redeem Camp axis should be on top of your preference.
Recap:
There are more than 50 business opportunities in Ogun State for small and large scale investors, however, the listed ones in this article is a good place to start implementing some of the ideas we pointed out.
Above all, make sure your company is registered with the Corporate Affairs Commission to enjoy business mileage.
Sources:
Featured Image by ZGM Investment Group