Last updated on August 27th, 2022 at 09:06 pm
Buying cryptocurrency isn't as hard as it used to be 10 years ago. This is because some crypto exchanges have integrated local currency into the payment methods to simplify the process.
In this post, we will guide you on how to purchase bitcoin, Ethereum, Binance coin, Solana, Cardano and other cryptocurrencies on VALR, one of South Africa's crypto exchanges by using a credit card
Supported Coins on VALR
While South Africans can buy crypto with rand using their credit cards, they listed up to 60 cryptocurrencies on VALR.
Some of them are Bitcoin (BTC), Bitcoin Cash (BCH), Ethereum (ETH), Chainlink (LINK), Litecoin (LTC), Solana (SOL), Ripple (XRP), Binance Coin (BNB), DogeCoin (DOGE), NEM (XEM), and US Dollar Coin (USDC) among others.
Cardano (ADA)
Polygon (MATIC)
Ethereum Classic (ETC)
MonaCoin (MONA)
Shiba Inu (SHIB)
Uniswap (UNI)
Algorand (ALGO)
Aragon (ANT)
Basic Attention Token (BAT)
Bancor (BNT)
Bitcoin SV (BSV)
Celo (CELO)
Compound (COMP)
Crypto.com Coin (CRO)
Civic (CVC)
Dai (DAI)
Qtum (QTUM)
Augur (REP)
iEx.ec (RLC)
Siacoin (SC)
Decred (DCR)
GameCredits (GAME)
Gnosis (GNO)
Golem (GNT)
Komodo (KMD)
Lisk (LSK)
Decentraland (MANA)
OmiseGO (OMG)
Digibyte (DGB)
District0x (DNT)
Polkadot (DOT)
Enjin Coin (ENJ)
Expanse (EXP)
TenX Pay Token (PAY)
Pivx (PIVX)
Quant (QNT)
VeChain (VET)
Vertcoin (VTC)
Status Network Token (SNT)
TrueUSD (TUSD)
Waves (WAVES)
Lumen (XLM)
0x Protocol (ZRX)
Tezos (XTZ)
StormX (STMX)
Storj (STORJ)
TRON (TRX)
So, you know which coin to buy by now, we've also noticed that you one doesn't have to be a pro to buy and sell any digital coin on the exchange platform. It's obviously designed for beginners and pro alike with easy to use features.
Buying and Selling Crypto on VALR South Africa
If you are a first-timer, see below the process to follow to buy crypto on VALR with your debit card:
1) To start trading on VALR, you need to sign up for an account at: valr.com/signup
2) Click the confirmation email in your inbox, if you can't find it in the inbox, check the SPAM folder. You can now sign in to begin your crypto journey.
3) On signing in, you would also need to verify your phone number. As such, enter your active phone number and check an SMS that would be sent to you for the 6-digit number.
4) If you're a first-time, VALR crypto exchange will want to verify the system you use to access your account (this would not be needed next time if you are using the same device, it's for your safety). Again, check your inbox and click authorise the device, and enter a new code sent to your phone number.
5) Enter your residential address and means of identification. They are necessary for regulatory reasons. Don't forget that cryptocurrency trading is legalised in South Africa.
Verification Process on VARL
You need a valid means of identification authorised by the government
You also need a smartphone to continue with the verification process and there are two options here: 1) Scan the QR code, 2) Send a link via SMS
6) I guess you'd like the choose the second option – send link via SMS – just like me. If that's your choice, enter your phone number. The international dialling code should automatically be generated using geo-location
7) Check SMS for the verification link and click it. To complete this process, make sure your ID is set, ensure that you are in a well-lit location (it could be your room, anyway), and be prepared to take a selfie and photos of your ID.
8) Click "START SESSION" on your smartphone to snap your government-approved ID, turn the ID to snap the back page and take a selfie. If you followed the requirements of VALR verification, the below messages will appear on your phone:
Photos uploaded to cloud
Image quality checked
Document data matched
Biometrics verified
Everything looks great, finalising the decision.
You can now close the window and return to your computer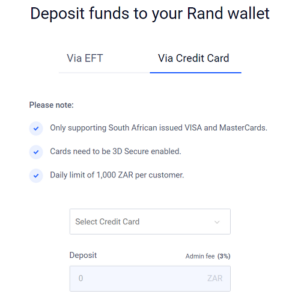 9) Make a Deposit with your debit or credit card To do this, click "ZAR" to make a deposit either via ETF or credit card and enter your card details
If you prefer to make a deposit in crypto, you can choose BTC, ETH or XRP.
All other options apart from fiat currency (ZAR) will prompt you to generate a wallet address.
Note: If you selected Ethereum as a means of deposit, "click generate wallet address" ensure to copy the right wallet address
Deposit in ZAR supports VISA and MasterCards and a daily deposit limit via credit or debit card will be displayed on the deposit screen
10) Enter an amount not exceeding your daily limit
11) You will be directed to PayGate, fill out the form and complete your deposit.
For security reasons, check the page you're redirected to before making payment, the correct link should be https://secure.paygate.co.za/PayHost/process.trans
12) Enter your card details (holder, card number, expiry date, CVV which can be found on the back of your card), this way, your card should automatically save. You can add another card in future if you want.
13) Complete other prompts, and funds should reflect in your VALR account.
14) You can now use ZAR to trade crypto
That's how to purchase cryptocurrency on VALR using a credit card in South Africa
Note: Withdrawal on your account may be suspended if you use a different device apart from the one recognised by VALR, but don't worry it's for your safety. If you didn't authorise the login, check your email address and click "BLOCK"

How Can I set up auto-buy on VALR?
VALR auto-buy enables South Africans to buy Bitcoin, Ripple, and Ethereum daily, weekly, monthly or at any interval.
You can do this by scheduling recurring EFT payments from your bank and the platform will handle the rest and your VALT wallet will be credited.
How long does it take for the rand deposit to be credited into my account?
Usually, it takes a few seconds for the ZAR deposit to reflect on your VALR account. However, it could take up to 48 hours in some cases.
To avoid delays, use the credit card or bank account linked to your VALR account, using a third-party or bank account that is not in your own name may cause delay.
If you waited up to 48 hours with any tangible, reach out to VALR support to resolve the issue
What other currencies can I fund my account with?
You can fund your VALR account with one fiat currency (South African ran) ZAR, and three digital coins: Bitcoin, Ethereum, Solana (SOL), Ripple (XRP), and Binance Coin (BNB)
What is the withdrawal limit on VALR?
The daily limit for a fully-verified account is 0.2 BTC daily limit. If you want to raise the bar, you will have to upgrade to the fully-verified PLUS to enjoy the 100 BTC daily limit.
To achieve the fully-verified PLUS, you would need to enable 2-factor authentication.
Note: Your withdrawal limits depend on your verification level. Your withdrawal may be limited for regulatory reasons or if your account violates regulations.