Engineering has traditionally been a male-dominated subject, although outstanding women have bucked social expectations and made substantial contributions to the field throughout history.
These women have demonstrated outstanding brilliance and broken glass ceilings with their ground-breaking structural designs and technical advances. In this essay, we emphasize the influence, resiliency, and unshakable commitment of women in engineering to influencing the development of our contemporary world.
Table of Contents
Historical Trailblazers
A small number of outstanding pioneers set the path for subsequent generations as the adventure of women in engineering got underway.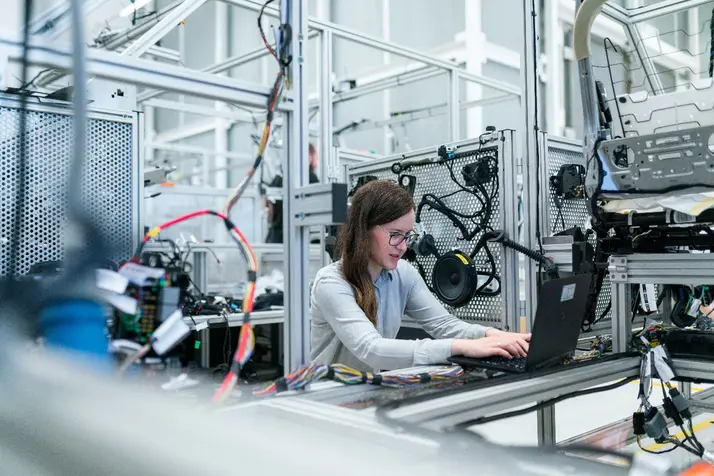 Barriers were broken in the late 19th and early 20th centuries by individuals like Hertha Ayrton, an electrical engineer noted for her revolutionary work on arc lamps, and Emily Warren Roebling, who was instrumental in the Brooklyn Bridge's construction. Their efforts helped pave the way for women to pursue careers in engineering.
Advancements in Technology
Women engineers have been instrumental in advancing innovation in the quickly changing world of technology. Hedy Lamarr, an actress and inventor, co-developed a frequency-hopping spread spectrum technology, a precursor to modern-day Wi-Fi and Bluetooth.
Dr. Shirley Ann Jackson, a theoretical physicist, made significant contributions to the development of telecommunications devices. Radia Perlman, dubbed the "Mother of the Internet," also revolutionised networking protocols with her efforts.
Breaking New Ground in Aerospace
Women engineers have made indelible marks in the aerospace industry, propelling humanity towards the skies and beyond. The achievements of Katherine Johnson, Mary Jackson, and Dorothy Vaughan, highlighted in the movie "Hidden Figures," showcased their critical roles in NASA's early space missions.
They calculated trajectories and sent America's first astronauts into space thanks to their mathematical prowess. Women like Dr. Anita Sengupta are breaking barriers today by heading innovative NASA programs and helping to create cutting-edge technology for space exploration.
Sustainable Solutions
The development of sustainable solutions to meet urgent environmental concerns has greatly benefited from the work of female engineers. For example, Rachel Carson, a marine scientist, raised awareness of the risks posed by pesticides with the publication of her well-received book "Silent Spring."
Environmental activist Dr. Vandana Shiva has been a vocal proponent of biodiversity preservation and sustainable agriculture. Due to their efforts, more people are now aware of how crucial it is to use responsible engineering techniques to protect the environment for future generations.
Infrastructure and Urban Planning
Women engineers have been instrumental in creating sustainable cities and transit systems in the fields of infrastructure and urban planning.
Urban landscapes have been significantly influenced by notable individuals like Dame Judith Hackitt, an engineer and author of the famous Hackitt Review on building rules, and renowned architects Zaha Hadid and Judith Hackitt.
They have transformed skylines and produced useful places that improve the quality of life for people all around the world because to their inventive designs and dedication to safety.
Biomedical Engineering and Healthcare
The genius of female engineers who have transformed healthcare owes a lot to the area of biomedical engineering. The first African American woman in space, Dr. Mae Jemison, is not only a skilled astronaut but also a qualified medical professional. She has devoted her professional life to promoting scientific literacy and developing healthcare technology.
The area of personalized medicine has benefited greatly from the work of Dr. Sangeeta Bhatia, a pioneer in the field of nanotechnology. She has created cutting-edge diagnostic tools and implantable devices that enhance patient outcomes.
Robotics and Artificial Intelligence
Women engineers are at the forefront of creating disruptive technologies as robots and artificial intelligence continue to alter our future. Roboticist and social robotics pioneer Dr. Cynthia Breazeal has investigated the possibility for robots to engage with and support people in a variety of contexts.
Meanwhile, computer vision and machine learning specialist Fei-Fei Li has made important strides in the field of artificial intelligence and has pushed for ethical AI research. Their work is a prime example of how engineering and technology can come together to push boundaries and create new opportunities.
Empowering the Next Generation
In addition to their outstanding achievements, women in technology have played a significant role in empowering the following generation of engineering aspirants. Many of them have developed into mentors, instructors, and activists who fight to close the gender gap and provide young women the chance to pursue engineering professions.
They encourage and assist females in improving their engineering abilities and pursuing their passions boldly through programmes like females Who Code, the Society of Women Engineers, and numerous STEM projects.
Conclusion
In addition to making a substantial impact on their disciplines, women engineers have paved the way for next generations. While we acknowledge their genius and achievements, it is critical to keep tackling the challenges that women in engineering confront, advocating for diversity and inclusion, and creating welcoming settings that give all aspiring engineers the confidence they need.
In addition to honoring their history, we can help the engineering profession and the society at large move towards a more egalitarian and creative future by recognizing and honoring the accomplishments of women in engineering.