Last updated on September 25th, 2023 at 10:40 am
Artificial intelligence is now an essential part of many industries, including marketing. Your marketing plan can change and become more effective by utilising AI tools.
There are numerous technologies that can enhance your business operations, whether you are a freelancer running a one-person operation or in control of several personnel.
Table of Contents
Your company's game plan should include marketing tools that are powered by AI. You can use it to put together an efficient marketing plan that will help you achieve your goals more quickly.
What is an AI marketing tool?
A piece of software that employs artificial intelligence to make automatic judgements is known as an AI marketing tool.
These choices are supported by information that has been gathered, examined, and evaluated in light of market trends. The objective is to create a marketing plan that foresees the buyer's subsequent action.
Without the involvement of a real person, everything is completed in real-time. This lightning-quick ability to make automatic decisions is what makes AI marketing tools for businesses so powerful.
The Best AI Marketing Tools for Your Business
Here, we discuss a thorough overview of AI marketing tools and how to use them to outperform the competition.
1) Jasper
Jasper is a powerful AI marketing platform designed to produce engaging emails, social media posts, and ads. The GPT3 model created by OpenAI is used by the software to produce text that sounds human. The copy will be generated for you after you submit your brand name or product.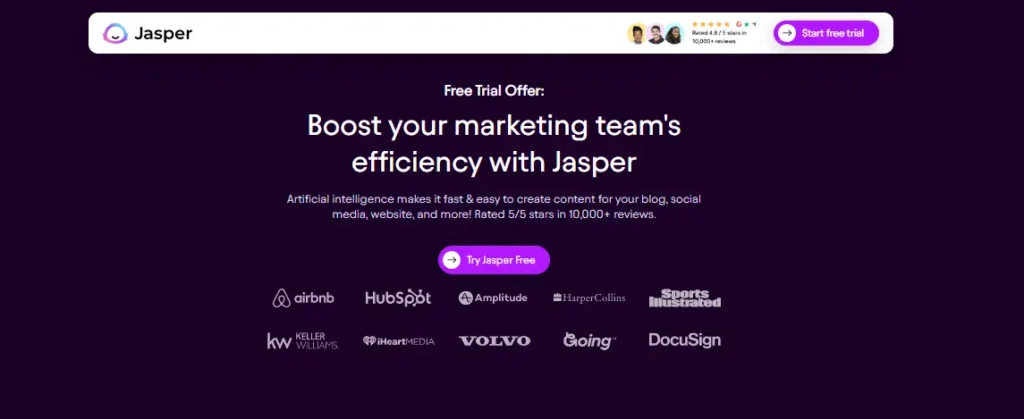 Using this effective AI tool, online stores can also create product descriptions. With the click of a mouse, it can write titles and meta descriptions as well as Amazon product bullet points. It can finish an article of 1,500 words in about 15 minutes.
More than 2,500 kinds of writing styles and 11,000 free fonts
25+ languages are supported.
logical interface
Help with long-form writing
Recognise important textual components.
2) Paraphrasing.io
The main goal of this paraphrasing tool was to make writing easier by allowing you to rephrase the information at the phrase, sentence, and paragraph levels. The diction and syntactic structures are changed, resulting in fully original and error-free content.
The highest level of accuracy in rewriting the content is achieved by using AI-based paraphrasing tools. It neither alters the context nor lowers the standard of the information. This AI marketing tool improves the readability score by fixing grammar, spelling, and dictionary mistakes.
An AI-based free rewording tool called paraphrasing. It is thought to make content distinctive by swapping out terms with synonyms. This tool employs cutting-edge AI algorithms to guarantee that the information is paraphrased accurately and quickly.
The effective marketing tool Flick AI Social Media Assistant is made to make writing and brainstorming more efficient. Users are given a 7-day free trial so they can try out a new method of producing interesting content.
The Flick AI Assistant is not just another generic AI writing tool; working with it is like working with a seasoned marketer who is intimately familiar with your brand.
This tool features a simple setup procedure and 24/7 assistance. Over 100,000 companies, marketers, and content producers trust Flick AI Social Media Assistant.
You can develop your skills as a copywriter without having to spend a lot of time in school. This can aid in improving your mental organisation, resulting in more coherent content.
With the aid of Reply.io, users may quickly create emails that are 100% human-like. It uses GPT-3 technology and enables users to send emails instantaneously, create AI follow-ups, and generate first-step emails.
To assist customers in writing better emails and boosting open and reply rates, the tool also offers an email quality check. To scan through incoming responses and find warm prospects, the tool has an AI-supported algorithm.
With the help of the platform, you can quickly apply filters to find the customers most likely to buy your goods or services.
5) Anyword
Make more sales and conversions with Anyword's AI Writer and Copy Intelligence Platform. Take advantage of predictive analytics to enhance copy performance immediately. Use custom scoring AI models to improve performance by 30%.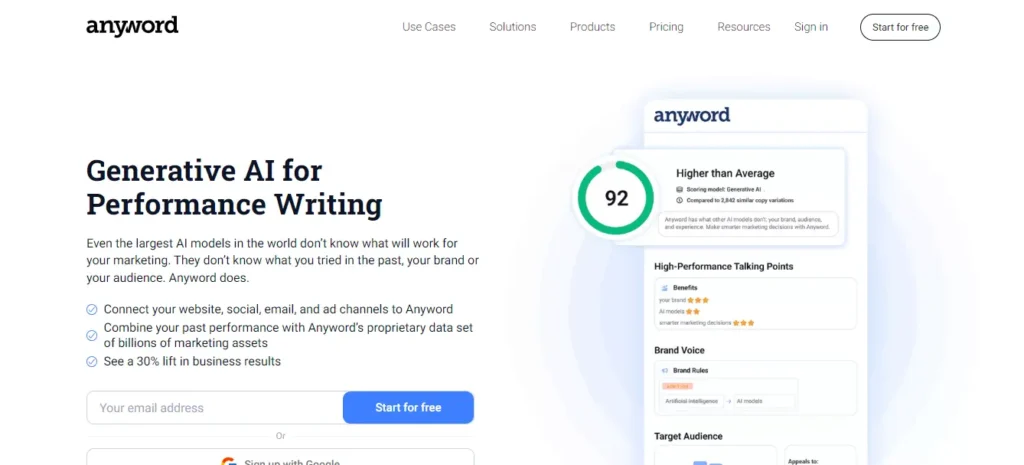 Perfect for content, social media, and copywriters. It quickly produces brand-consistent content for any audience on social media, landing pages, blogs, websites, emails, and more.
To improve campaign success at scale, this AI marketing technology creates ads, assesses their compliance, and anticipates their engagement.
6) Surfer SEO
Surfer SEO is a content optimisation tool that assists in producing content for search engine rankings. Your content is evaluated by Surfer based on its keyword density, readability, length, use of headers, and other elements that help content move up search engine results pages.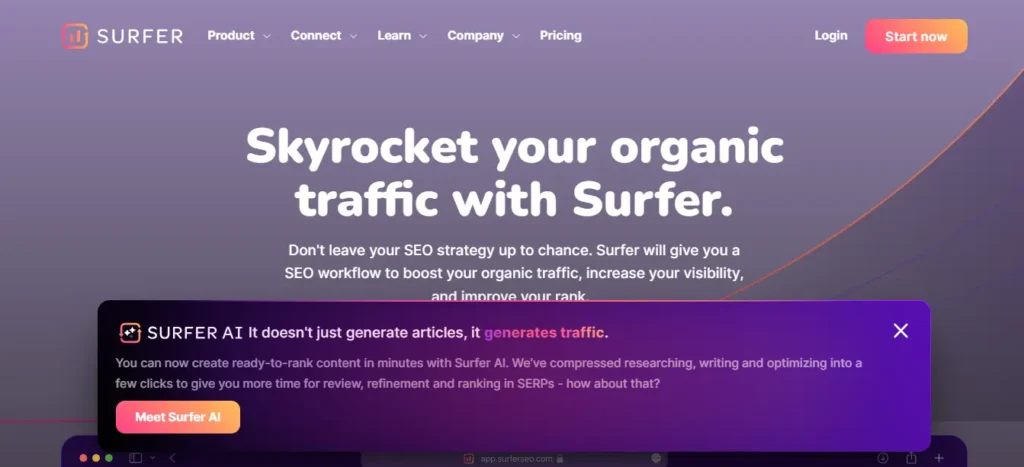 Writers, content managers, and agencies can expand their content efforts with Surfer SEO, automate their SEO workflow, and rank higher and more quickly than ever.
In Surfer, a major emphasis is placed on fusing keyword research with the creation of high-quality, readable material that consumers and search engines will adore.
Surfer is a comprehensive platform for content intelligence that continuously monitors tens of thousands of data points. For the user, it evaluates tasks and ranks them according to their potential impact.
7) Hemingway App
A new AI writing tool called the Hemingway App is intended to assist you in producing clear, succinct material. By responding to questions about your topic and audience, you can use the app to create or change your own content.
The software analyses your content using artificial intelligence (AI) and offers suggestions for how to make it more structured. It will make recommendations based on what its AI reviewers say works best in the context of their own writing style after obtaining input from them.
By highlighting the distinction between active and passive phrases, the Hemingway app will assist you in recognising the passive voice in your writing.
The Hemingway app can be used to check your writing for typos and grammatical errors.
8) Phrasee
The marketing platform powered by Phrase AI works by enhancing the brand language used by businesses in their copy.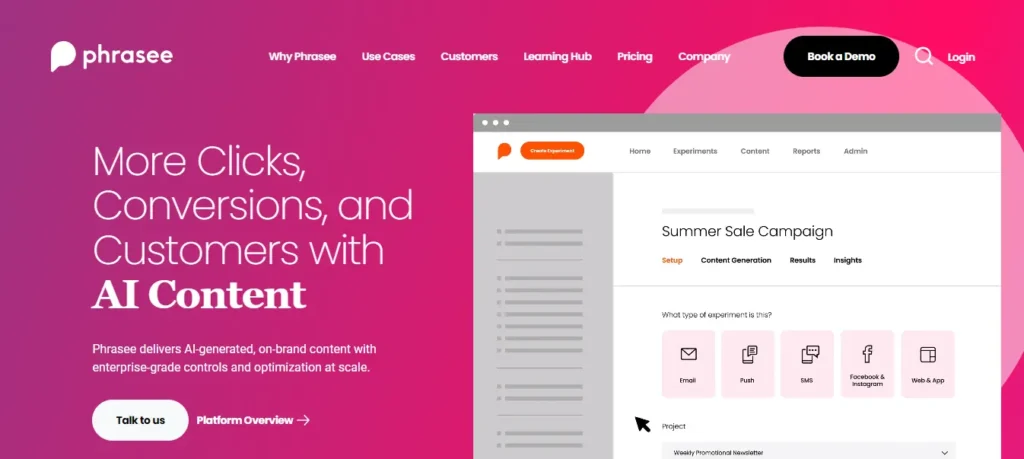 Using a natural language generation system, it may produce a copy for emails, Instagram, Facebook, or even push notifications. The end result is text that is effective and human-sounding while adhering to the brand.
Phrasee creates billions of the most effective marketing messages for use across the digital client journey using generative AI. For better performance, conversions, and ROI, it makes it simple for marketers to test and optimise content.
Based on facts, not intuition, Phrasee develops and forecasts your best-performing content.
9) Grammarly
Grammarly is one of the top free marketing resources for any business. By double-checking it on this powerful AI content marketing tool, businesses can make sure that their written material is polished and business-like.
The AI-enabled communication support offered by Grammarly gives users peace of mind when composing messages and sending them.
It has highly precise AI that instantly evaluates internet grammar and spelling. However, you can also add it to Google Chrome as an extension. The Premium and Business packages offer more robust features like tone, clarity, and style checks.
10) Optimove
Optimove is a client data platform with AI-based marketing capabilities. It aids in gathering information from many platforms in order to present a unified view of all the information on one dashboard.
Businesses may quickly analyse data and share or decide on a marketing strategy. The CRM Journey Mapping algorithm from Optimove uses AI to automatically uncover worthwhile client engagement.
Optimove assists marketers in consistently sending the appropriate message to each customer through the appropriate channel. Customer-driven journeys that boost customer engagement, retention, and lifetime value are the outcome.
Wrapping Up
AI and machine learning in marketing are nothing new. Companies have long relied on technology to implement changes in their operational procedures and get useful information to boost sales. However, in today's increasingly digital world, using the best AI marketing tools is seen as a necessity rather than a luxury. In order to build a long-lasting, forward-thinking brand, it's essential for businesses to make use of the above AI marketing tools.