Last updated on September 25th, 2023 at 10:42 am
Do you know that you can use ChatGPT to start a blog? I mean using the AI tool to plan a blog from scratch. You can use prompts (instructions) to get the best suggestions from the OpenAI-powered tool. Not only that, you can command it to go micro in the niche you're planning to start, if it's a broad one.
This post will show you how to use the AI-powered tool ChatGPT to start a blog. If you know how to draft the right prompts, the OpenAI-powered tool can virtually execute any task.
Table of Contents
Ask ChatGPT about your preferred niche
To get started, start the ChatGPT, if you don't already have an account, sign up to get started. Explain in your prompt your area of focus and exactly what you want to do for you. Be explanatory enough to get the best output.
Example of a prompt: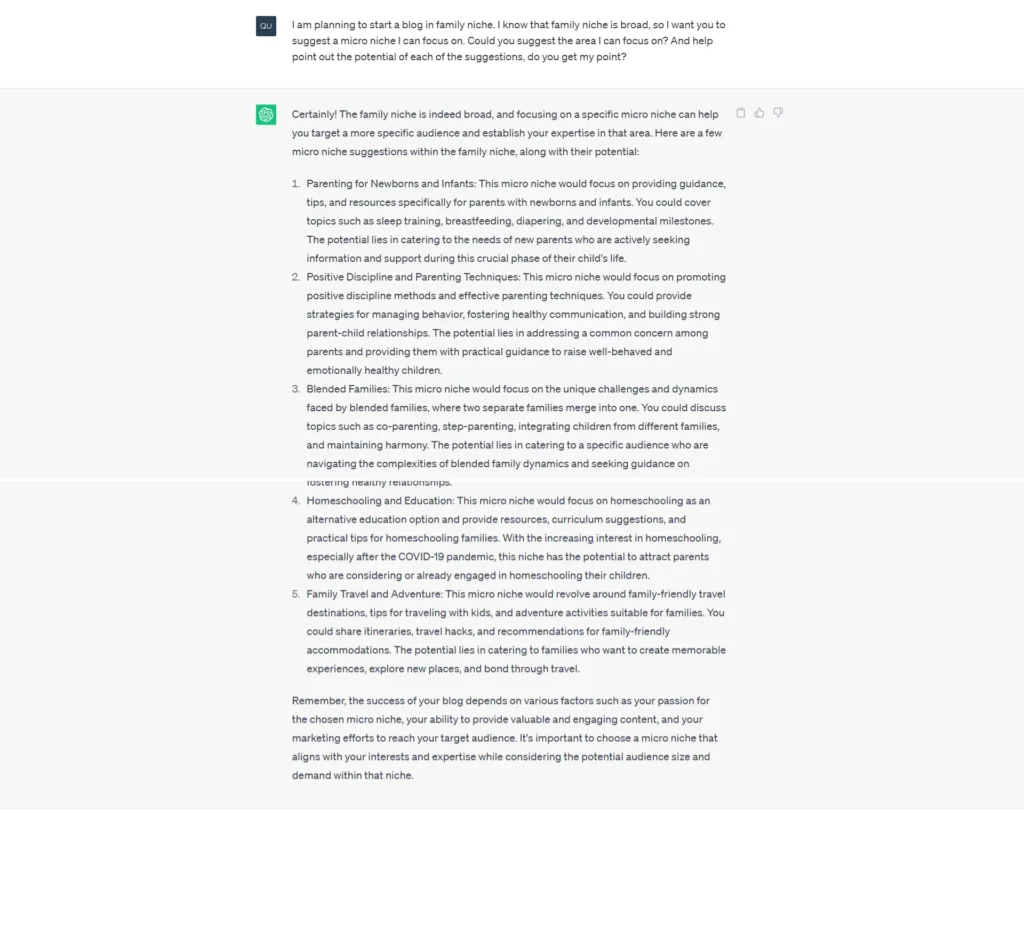 Based on the prompt, here is a list of five micro-family niches ChatGPT generated:
Parenting for newborns and infants
Positive discipline and parenting techniques
Blended families
Homeschooling and education
Family travel and adventure
As you can see, it has done a pretty job within a few seconds. It is now left for you to pick your preferred niche instead of a broad niche.
Ask ChatGPT to narrow the niche to just two
While you could pick any of the niches, you could ask ChatGPT to narrow it down to just two with the highest potential audience. Its result might not be accurate, you can use a keyword research tool to get the closest result.
Example of prompt:
The output shows that ChatGPT wanted to leave it open for me to pick one, but I was not satisfied, so, this time, I was specific with another prompt:
Based on ChatGPT analysis parenting for newborns and infants AND homeschooling and education have more potential audience than others.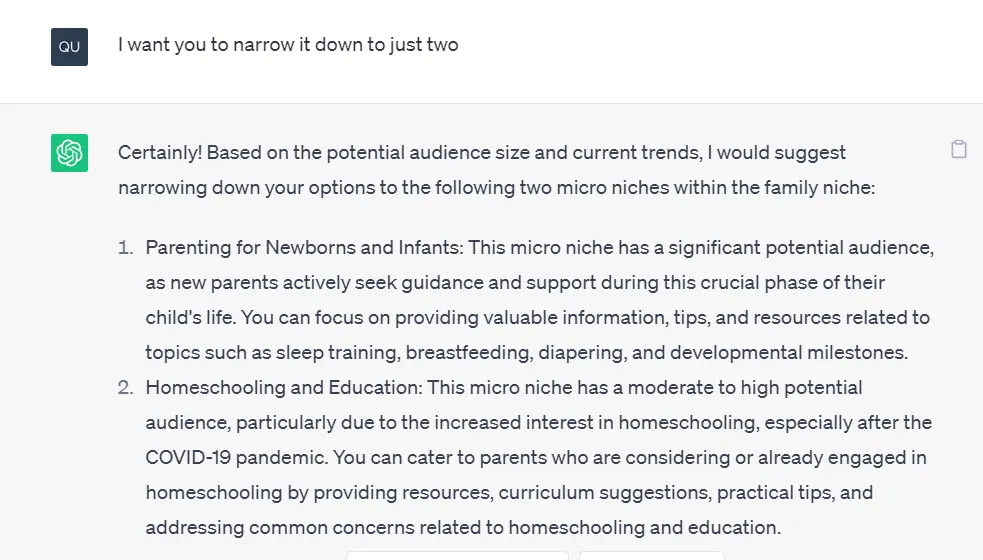 According to the AI-powered tool, "parenting for newborns and infants" has the potential of getting the readership of new parents who need guidance and support when their child is younger.
For instance, the Artificial Intelligence assistant tool suggested that focusing on tips on sleep training, diapering, developmental stage, and breastfeeding would be valuable.
ASK ChatGPT to suggest the most important pages
After getting the direction you want to go, it is important to know the most important pages you need to have on your new blog. Trust me, the OpenAI-powered tool can efficiently make suggestions, but you have to make your prompt as clear as possible.
Example of prompt:
Here is a list of suggestions ChatGPT came up with:
Home page
About page
Blog categories
Resource page
Expert review
Product review
Contact page
Privacy policy
You might want to make some adjustments, but ChatGPT output is based on a prompt. The tool recommended that the blog should have a product review page because it will provide an opportunity to review baby products and services through which I can incorporate affiliate links to generate revenue while providing informative and honest reviews.
Ask it to recommend blog categories
The tool came up with brilliant pages. While there is room for adjustments, one of the pages you would find interesting is, "blog categories".
This page is important because this is where the articles in various segments would be published since this isn't just a page blog.
So, I went ahead with the prompt that ChatGPT suggested categories for the new blog, and it didn't disappoint. It came up with seven categories based on my prompt.
Sample of prompt:
Here is the result I got:
Newborn care
Sleep and routines
Breastfeeding and bottle feeding
Developmental milestones
Health and safety
Parenting tips and advice
Product recommendations and reviews
You can shorten long category names or modify it to related words.
Ask ChatGPT to suggest color and theme
Using ChatGPT to start a blog also requires that you use the AI tool to make suggestions based on the 'mood' of the niche. So, I asked it to suggest color and what I should look out for in a WordPress theme that resonates with the blog's target audience and also reflects the tone and purpose of the blog.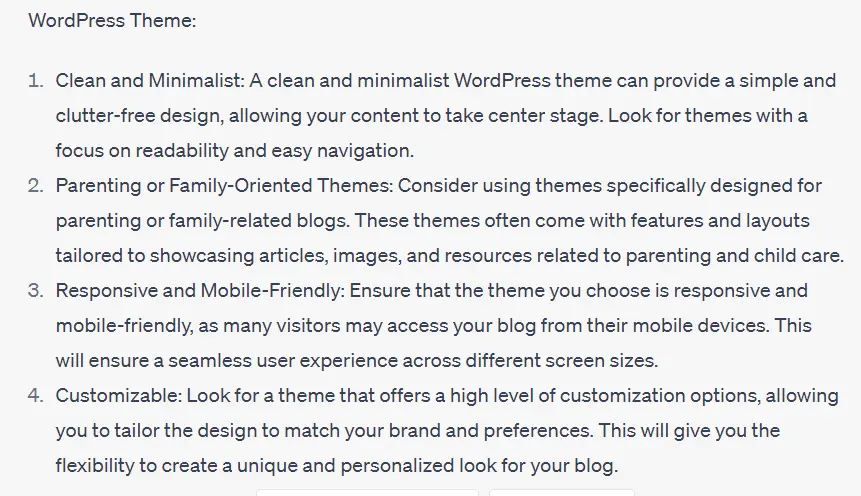 Example of prompt:
Ask ChatGPT to suggest domain names
Since I decided to go with the "parenting for newborns and infants" niche, a domain name that is memorable, relevant to the niche, simple, and that is available is necessary to complete the process.
So, with a prompt on the kind of domain name that will best deliver and resonate branding, I asked ChatGPT for its input.
Sample of prompt:
Check the availability of the domain names
It suggested 10 SEO-friendly SEO domain names. But that's not all, you must check the availability of the domain names. Some of the tools to check domain name availability include:
Domain.com
Godaddy: ie.godaddy.com/domainsearch/
Namecheap: namecheap.com/domains/domain-name-search/
Name: name.com/domain/search
Hostinger: hostinger.com/domain-name-search
Bluehost: bluehost.com/domains
Out of the 10 domain names suggested by ChatGPT, five have either been taken or are premium (unavailable).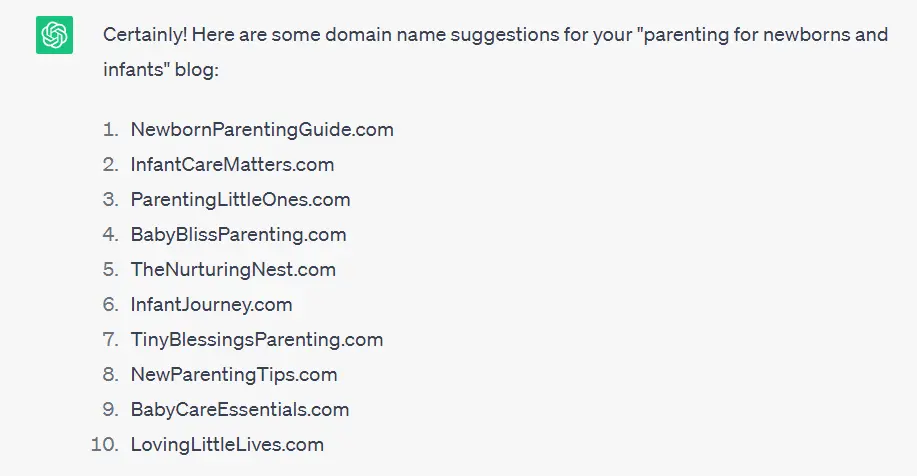 While most of its suggestions are long domain names, they are, however, SEO-friendly and good for branding for the kind of niche I picked.
The available ones are:
InfantCareMatters.com
NewbornParentingGuide.com
LovingLittleLives.com
TinyBlessingsParenting.com
BabyBlissParenting.com
Conclusion:
You've got all the information you need on how to use ChatGPT to start a blog. Its recommendations should provide insight, you're free to make some adjustments where necessary. The purpose of Artificial Intelligence is to simplify tasks. ChatGPT is an assistant in the process of starting your blog, to get ideas that can be modified.
With the process above, your work has been simplified, you only need to do some research on the best WordPress Theme for a family niche.