Last updated on May 15th, 2023 at 02:45 pm
The cryptocurrency market is growing at a rapid pace. The introduction of new coins and tokens happens almost every minute, making it difficult for investors to keep track of the market and new opportunities.
With so many different digital currencies, it can be overwhelming trying to decide where to invest your money.
Many investors turn to third-party crypto-tracking websites that provide detailed information on digital assets and markets.
Table of Contents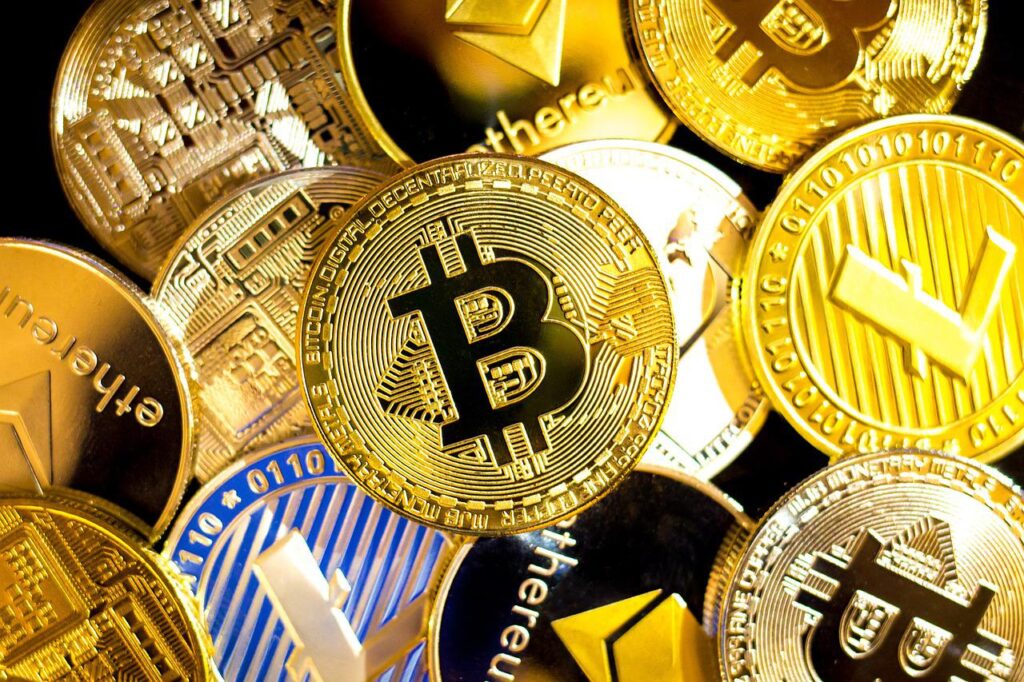 The most popular ones are:
CoinMarketCap,
Coinratecap,
CoinLib,
CoinGecko,
CoinCap,
LiveCoinWatch,
CryptoCompare, and
BitInfoCharts
These crypto sites list prices, volume, supply, circulating supply, and other vital statistics for various cryptocurrencies; users can filter data by exchange or sort by price or volume. I will focus on CoinMarketCap.
It's an excellent resource for anyone who wants to keep track of the crypto market and find out which virtual currencies are performing well at any given moment.
In this article, we look at what exactly CoinMarketCap is, how it works, its pros and cons, and its influence on the cryptocurrency market today.
Note: Windows 10 and iPhone XR were the operating system and devices used for this review.
What is Coinmarketcap (CMC)?
CoinMarketCap (CMC) means Cryptocurrency Market Capitalizations which is a crypto aggregator site that displays essential information about different cryptocurrencies to traders and crypto enthusiasts.
Information on Coinmarketcap:
Market capitalization,
Tokenomics,
Price charts indicating performance in different time-frames,
Major crypto exchange websites,
Explorers,
Crypto community links
Crypto exchanges/platforms where traders can trade digital assets.
How CoinMarketCap Works
CoinMarketCap works by providing information and statistics about cryptocurrencies.
This information is gathered from various exchanges and sources and then organized and presented as user-friendly on the website.
Users can access information about different cryptocurrencies like Bitcoin, Ethereum, Litecoin, Ripple, Solana (SOL) etc such as their market capitalization, price, and trading volume.
The website also provides tools and features that allow users to track the performance of different cryptocurrencies and compare them with each other.
For example, users can see how a particular crypto has performed over a specific time or compare its performance with other cryptocurrencies.
CoinMarketCap also offers a range of other features, such as news articles and educational resources about cryptocurrencies.
Who founded CoinMarketCap?
Brandon Chez created CoinMarketCap in May 2013, and the site grew into a multi-million dollar crypto business.
Initially built as a hobby project of a single person, it has since become an essential tool for anyone who trades cryptocurrencies in the United States, Canada, the United Kingdom, and other countries around the world.
Even since its creation, the website has been the go-to source for tracking cryptocurrency prices.
The website also allows users to view all significant cryptocurrencies on exchanges worldwide and provide historical price information for those currencies going back several years.
Something that started as a personal project has grown to become the most reliable source for getting information on crypto assets by users and is commonly cited by some news outlets.
Who bought it CMC?
Binance Holdings (BNB) brought CoinMarketCap in April 2020, which now ranks among the world's largest cryptocurrency exchanges.
Binance is an exchange that allows users to trade cryptocurrencies with minimal friction, and users can buy and sell digital coins and tokens and make margin trades.
Binance is one of the biggest cryptocurrency exchanges in the world, and it has a straightforward user experience that makes it simple for newbies to get started. Changpeng Zhao (CZ) created Binance in  2017.
CoinMarketCap intends to use Binance's vast resources to get more information on projects, reduce information deformity in the crypto industry, and provide outstanding data to its users due to the acquisition.
How much did Binance Holdings Limited Buy CoinMarketCap?
Cointelegraph says the purchase was done for an undisclosed amount, but several reliable platforms like coindesk.com, news.bitcoin.com, decrypt.co say Binance Holdings Limited paid a whopping $400Million USD to acquire the most-referenced crypto site in the world.
Speculators assume it will be the largest acquisition in the cryptocurrency and blockchain industry.
Mandate of CoinMarketCap
To provide accurate, timely, and unbiased information. CoinMarketCap has operated independently of its parent company since its purchase by Binance in early 2020.
How can I buy bitcoin on CoinMarketCap?
CoinMarketCap is not an exchange, it isn't a platform to trade bitcoin or any form of cryptos.
What CMC does it to track and report on trading activities of crypto exchange but doesn't directly sell any crypto.
However, you can check the market section or check the list of exchanges and go to exchange's site to start your trading.
My Personal Experience with CoinMarketCap
On visiting Coinmarketcap.com, the landing page displays much information in different categories, with some sliders in the hero section.
Features on the homepage:
Each button mainly links to another page that displays specific information about certain cryptocurrencies, exchanges, communities, and products, and learns with the watchlist and portfolio buttons next to the search button for navigating particular search terms.
The upper part of the webpage displays Different Trending crypto, a category for cryptos with the highest number of searches, noticeable trading volume impact, or news.
Another category recently added next to the trending Cryptocurrencies categories displays the list of newly added cryptos on Coinmarketcap, often tracked by traders looking to catch the next gems early.
The next category is the top community accounts with the highlight button, which, when clicked, hides the trending, "Recently Added" and top community notification bar and helps make the landing page easier to navigate.
Other essential buttons in the top corner of the Coinmarketcap landing page include the half-moon icon, which represents the switch between day and night mode.
The blue diamond icon:
The blue diamond icon for collecting Coinmarketcap diamonds is the recently introduced rewards system by the aggregators, which serves as a reward to individuals who complete various tasks.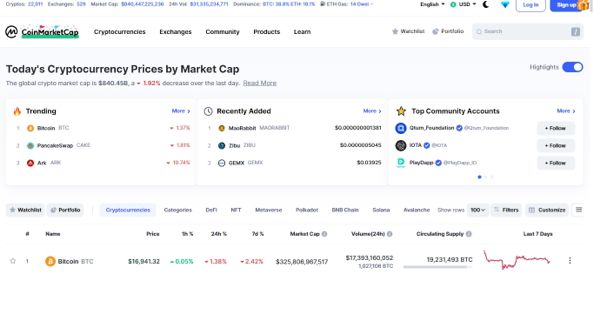 Usability:
To get started on Coinmarketcap, one might not need to signup to access basic functionalities of the aggregator, such as checking tokens prices, performances, and tokenomics.
One significant upside to owning an account in Coinmarketcap is collecting Coinmarketcap diamonds, which could be worth fortunes in the future.
List of different cryptocurrencies:
Scrolling down a little, the aggregator displays a list of different cryptocurrencies from 1 to  8964.
These cryptocurrencies are not arranged alphabetically, but the aggregator uses their market valuation, often regarded as their market cap, in a descending manner.
Bitcoin $BTC leads the list with over $329 billion in market capitalization, followed by other major cryptocurrencies such as Ethereum, Tether, BNB, etc.
Another unique feature of the Coinmarketcap is that users can design the preferences with which they prefer cryptocurrencies to be displayed or arranged via the customize button using different metrics such as price change, top gainers, market data, and classic.
Or flirted with search results and showed them using filters such as volume, circulating supply, audit, mining, and price.
Aggregator section:
The aggregator section, watchlist and portfolio allow users to track a preferential list of cryptos they hold or monitor and create and get notified on specific price impacts for such cryptocurrencies on their watchlist.
Although to use the watchlist, one must log in to an existing account on Coinmarketcap or create an account to access this feature.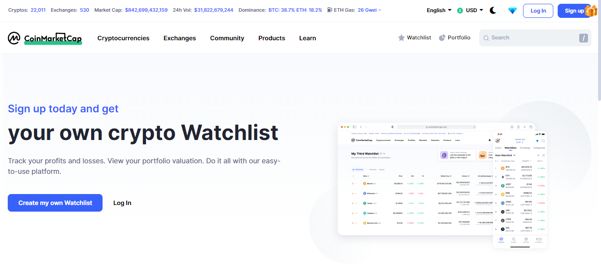 The cryptocurrencies tab displays the cryptocurrencies according to their market cap. In contrast, the categories tab displays different categories of cryptocurrencies such as marketing, remittances, retail, and move to earn according to their market cap.
This data help users determine which aspects of cryptocurrency are being most monitored, invested in or growing, which helps understand the current market narratives.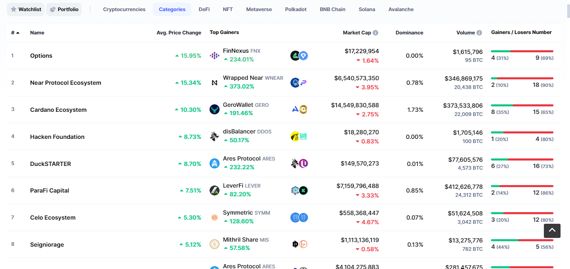 Other categories on the headers include Defi, NFT, Metaverse,  Polkadot, BNB chain, Solana, and Avalanche, displaying cryptocurrencies in these categories using their market cap in descending order.
For users looking to learn about a particular ecosystem, this helps in finding the native projects on such an ecosystem.
The number of listed digital assets on CoinMarketCap:
As of the time of writing of this review, there are 8958 cryptocurrencies listed on Coinmarketcap.com, with about 90 pages displaying tall tokens in a list form.
On selecting a coin from the varieties of cryptos displayed on the lists of the cryptos on the home page, more details about each cryptocurrency, such as current trading price, price action in intervals such as hours, days and a price chart, is displayed alongside other important information.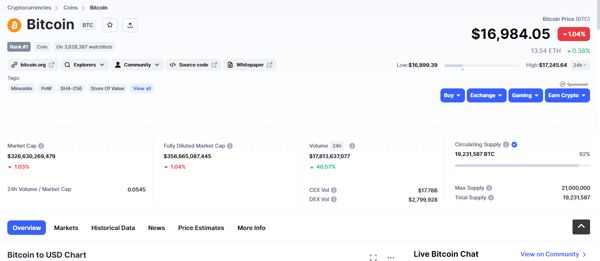 While using the platform, some cryptos report no current active data with issues related to tracking current information of such cryptos, such as NNSDAO $NDP token, with some comments and reviews from accounts that are likely to be spam accounts.
Other important details, such as links to the project, community, and whitepaper, need to be included.
While scrolling through the platform, short links to other important pages are spotted at the bottom part of the website and also a link to subscribe to the newsletter or install the Coinmarketcap app on the play store or AppStore.
Is it easy to use?
Ideally, the Coinmarketcap app looks easy to use for someone who is quite familiar with cryptocurrency trading and trading terms or is used to using some previous aggregators in the past.
The home page shows information in different categories and has four primary tabs; market, explore, portfolio and community.
The market tab display information about certain coins, watchlists, ecosystem, and exchanges.
The coin category displays different cryptocurrencies arranged based on their market cap, price and 24 hours volume in descending order.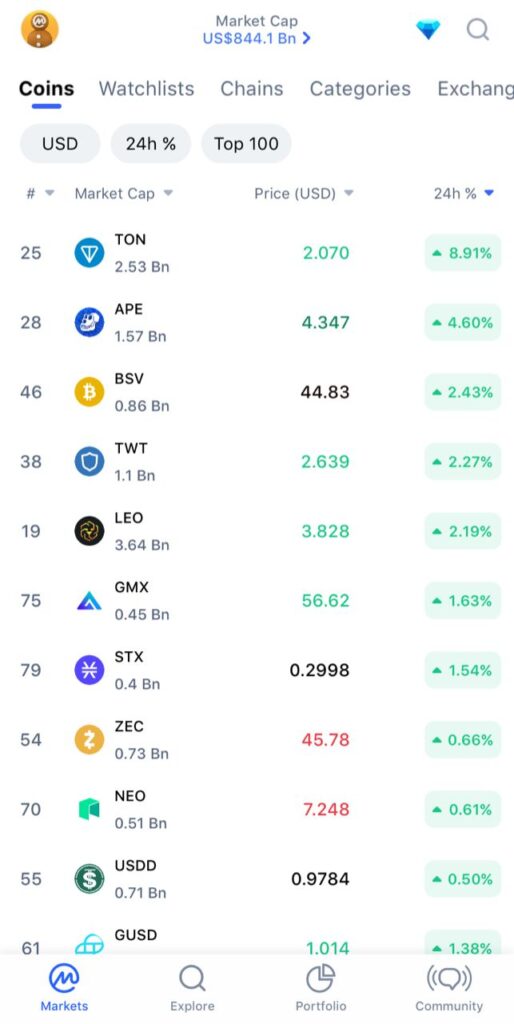 The watchlists category helps users to create a list of cryptos they will love to monitor and get notified of specific price impacts of such cryptocurrencies on their watchlist.
The chains category shows different blockchains arranged based on their 24 hours volume.
Ethereum leads the list with a TVL(Total Value Locked) of over $ 40 billion; the last on the list is Coti, with no TVL.
The explore tab displays the different popular coins, where there is a section for top gainers, top losers, trending and recently added.
Another category is the popular topics which display information about the coins with the biggest conversations.
The last category is the news section, and there is news based on portfolio and watchlist, latest updates and videos.
The portfolio tab needs to be set up to keep track of profits and losses. The community tab has three categories; following, recommended, and articles showing different posts, exchanges, and cryptos.
Nevertheless, developers need to make specific improvements to enhance the user experience and make it easy to navigate and utilize the aggregator, even for a beginner.
Area of improvement
Since this is a review of CoinMarketCap and based on the experience on the site, I honestly feel the developers need to improve in certain areas:
Design:
The design of the landing page can be with minimal text. However, in button-oriented designs, sometimes it takes effort to look for several features and buttons due to a large number of displays of buttons at the header.
User Education:
For first-time visitors, a tour guide on the basic functionalities of the platform, as well as navigating and finding buttons and features, will make it easy for no coiners or newbies visiting the platform for the first time.
Signup process:
For a Web3 aggregator, the signup process currently relates to more Web2 requests for an email address and other personal details.
The aggregator could deploy on a particular blockchain or cross-chain, allowing users to sign up as a full Web3 solution service provider with their wallet address.
Final Thought
CoinMarketCap is a widely cited crypto data aggregator that is also one of the oldest cryptocurrency reference sites.
The tool has been around since 2013 and has grown into a multi-million dollar business.
It offers reliable coin listings, market capitalizations and price histories for most coins, stablecoins and even ICOs.It tracks cryptocurrencies across hundreds of exchanges and in real-time.
Will you like to drop your views about Coinmarketcap?
Screenshot Credit: