Last updated on January 6th, 2022 at 01:13 pm
All the military coups in Nigeria were dramatic and deadly, expect two of such coups, in this post we'll tell you how Lt.-Gen Alani Akinrinade smartly blocked another ambitious soldier Lt. Gen. Theophilus Danjuma from succeeding the Late Gen. Murtala Muhammed who was assassinated during the February 13, 1976 coup led by Lieutenant Colonel Bukar Suka Dimka.
Murtala Muhammed was the Head of State at the time while Brig. Gen. Olusegun Obasanjo was the second in command.
If Alani Akinrinade and Late Sani Abacha had not played a powerful role during the coup, Dimka and his boys would have successfully overthrown the government of Murtala.
While Akinriade played a vital role, he actually saved the life of Gen. Olusegun Obasanjo who was almost killed by some junior soldiers.
In an elaborate analysis by Emeka Obasi which was published on Vanguard online platform in 2017, the 1976 Dimka Coup was among the top three deadliest coups in Nigerian history.
Quick fact about Akinriade's military career
Akinrinade rose steadily through the ranks when he was in service. He was promoted lieutenant on March 29, 1963, captain on Mar 29, 1965, major on June 10, 1967, lieutenant colonel on May 11, 1968, colonel on October 1, 1972, brigadier general on October 1, 1974 and major general on January 1, 1976.
He held various infantry appointments, becoming commander of the Ibadan Garrison (1970–1971) and GOC of 1 Infantry Division (1975–1979).
He was promoted to lieutenant general on October 2, 1979, and appointed Chief of Army Staff, and then became Chief of Defence Staff in 1980, during the civilian administration of Shehu Shagari.
He voluntarily retired from service with effect from October 2, 1981.
He was a member of the Supreme Military Council during the military regime of General Murtala Muhammed and Olusegun Obasanjo (1975–1979).
The powerful Danjuma's influence during Murtala's regime
According to Emeka Obasi, military strategists must devote quite some time to study Lt. General Theophilus Yakubu Danjuma.
There is something about this man that needs to be thrown up in the annals of leadership and power struggle. He did not rise to the rank of a Four-Star general yet he towers above some Heads of State.
Danjuma rose to power as Army Chief in the Murtala Mohammed regime. That is something that should be of interest to tacticians. He was not fully involved in the plot to topple General Yakubu Gowon.
The job was done by younger officers like Cols. Ibrahim Taiwo, Abdullahi Mohammed,Alfred Aduloju, Joe Garba and Lt.Cols. Ibrahim Babangida and Shehu Musa Yar'Adua.
As Head of State, Gen. Mohammed only had Iliya Bisalla, one of his course mates in the Supreme Military Council.
Their other Sandhurst Intake 27 mates, Mohammed Shuwa and Ibrahim Haruna were appointed ministers just like Bisalla. As members of the Federal Executive Council, the duo did not have any command position in the Army.
Danjuma made sure his Nigeria Military Training College ( NMTC ) course one mates controlled the Army. Alani Akinrinade, Martin Adamu and Emmanuel Abisoye were made General Officers Commanding (GOC).
At that time there were three divisions. Lagos Garrison Organisation was upgraded. John Obada joined the fray. Obada had joined the Army same day as Gibson Jalo on September 25, 1959 but was at Sandhurst, same set with Akinrinade, Adamu, Abisoye and Ben Gbulie(August 1960s December 12, 1962).
The Royal Military Academy, Sandhurst, England is one of the oldest and best military institutions globally.
The Officers Cadet School, Mons, Aldershot was a ground to train non professional officers and cadets who undertook a short course to officer rank but were considered sound enough to continue their training while in service.
Jalo went to  Mons and was commissioned in 1960. Obada moved to Sandhurst and became an officer in 1962. Danjuma was Mons trained from October 1960 to March 1961 alongside Samuel Ogbemudia and David Bamigboye. So they were commissioned a year before their NMTC mates who bagged Sandhurst honours.
Danjuma as the head of Army
Danjuma headed the Army, displacing all civil war GOCs except Gen.Olusegun Obasanjo and Brig. Benjamin Adekunle. The former was Chief of Staff Supreme Headquarters while the latter had been retired.
And both were mates. The difference was that while Obasanjo and Folusho Sotomi were Mons bound, Adekunle, Jacob Esuene and Humphrey Chukuka made it to Sandhurst.
Bisalla, IBM Haruna and Shuwa as well as Jalo who had been GOCs found themselves out of command. Danjuma was not one during the civil war. He was Bisalla's General Staff Officer (GSO) in One Division. In fact, Bisalla once served as Army Chief in 1967 before  Hassan Usman Katsina.
Danjuma became GOC in 1975.
Out of Nigeria, the Defence Attache in London, Ignatius Obeya, was Danjuma's NMTC mate. His wife was sister to Patrick Amadi 's wife. Obasanjo and Amadi joined the Army same day and OBJ would later find love in the same Amadi sisters Uratta,  Owerri home.
Danjuma's influence did not go down well with some of his former Middle Belt colleagues. They did not like his promotion to the rank of Lt. General while Bisalla was made a Major General with Shuwa and IBM.
As Defence Minister, the Chief of Army Staff was superior to Defence minister Bisalla. Danjuma's mates Akinrinade, Adamu, Abisoye and Obada became Two-Star generals with Murtala's course mates.
How Alani Akinriade blocked Danjuma from taking over
On February 13, 1976, a group of soldiers struck. Among the plotters were those Danjuma led to arrest Gen. Johnson Aguiyi-Ironsi in 1966.
Ibrahim Rabo, MacDonald Gotipb, Clement Dabang and Sabo Kwale. Led by Bukar Dimka, they killed Murtala but could not get Danjuma. Bisalla and Col. Abdul Wya were executed for their alleged roles in the coup.
From there Danjuma became even more powerful. According to another of his NMTC mates, Godwin Alabi -Isama, the Army boss would have taken control following the assassination of Gen. Mohammed.
He was checkmated by his pals, Akinrinade, who took a bold step from his One Division Headquarters, Kaduna by condemning the coup, and Alabi – Isama.
At that time, General Obasanjo was in a prominent Lagos millionaire's home having escaped death. The bullets meant for him were delivered to Col. Reis Dumuje of Army Ordnance.
Danjuma came out boldly to take charge sending Babangida to confront Dimka. That task was eventually accomplished by Col. Chris Ugokwe.
Akinriade's support
According to Emeka Obasi in his Vanguard publication, Obasanjo, encouraged by Akinrinade and Alabi -Isama, emerged as new Head of State. Danjuma's influence was still visible.
Shuwa should have been elevated to the No.2 position since Danjuma was not interested. That meant Shuwa would be promoted. The position went to a more junior officer, Lt. Col. Yar'Adua. The argument was that someone from the core North had to step in to assuage the feelings of that part of the country.
Shuwa was Murtala's mate and a Northern Muslim.  Possibly, his appointment would have threatened the Army Chief's power. Lt. Col. Buhari lost out. He had served under Obasanjo in Owerri as Acting Commander, 16 Brigade when Col. Utuk was on leave. Maybe, Buhari would have tilted towards the new Commander – in – Chief.
Surely, this Takum man who captained the cricket team of Provincial Secondary School,  Katsina- Ala is still waxing stronger. His wife was a senator. His brother-in-law is a minister. His man is a governor. And he is a billionaire. He really does have Nigeria in the back seat of his SUV.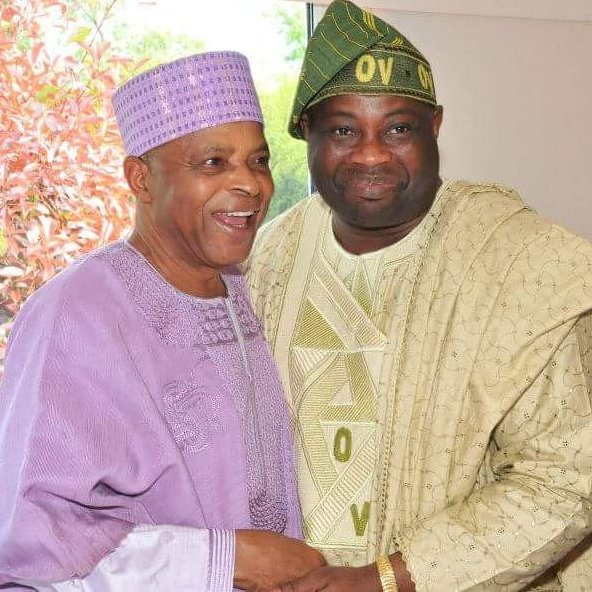 Final thought
Whatever the influence of Theophilus Danjuma was in the military at the time Murtala Muhammed was killed, Alani Akinriade used his influence in the military to stop Danjuma from taking over.
And that singular act made him one of the go-to former soldier who was got more appointments after retiring voluntarily.
After retirement, Akinrinade engaged in large-scale farming and was chairman of Niger Feeds and Agriculture Operations (1982–1985).
The military regime of Gen. Ibrahim Babangida later appointed him Minister of Agriculture, Water Resources and Rural Development (1985–1986), Minister of Industries (1988 – February 1989) and Minister of Transport (1989).
He became a member of the National Democratic Coalition (NADECO), a pro-democracy group, during the Sani Abacha regime.
Obasanjo will never forget him for his role in making him Nigeria's Head of State.
Akinrinade is still alive and continues to play a statesman's role in Nigeria. Unlike other old soldiers who still are lobbying for political appointments, you can only hear Akinrinade when he's consulted on national issues.
READ ALSO: How Titi Atiku Abubakar was duped of multi-million naira by an errand boy