Last updated on August 5th, 2023 at 09:22 pm
From being a private equity lawyer to a philanthropist without borders, Efe Ukala isn't a woman you would find dolling out cash to anyone that comes her way.
Rather, she travels across Africa with her team at ImpactHER to discover and identify women who have sound business ideas, support them morally, emotionally, technically, psychologically, and financially, and also help their digital presence.
One of the many beneficiaries is Victoria Okpanachi, who uses her product, Jodale Spices and Herbs, to fight the growth of stage one cancer.
Table of Contents
Through Efe's globally-recognised Non-Governmental Organisation dubbed ImpactHER, she has touched more than 20,000 business owners who are African women.
The goal of ImpactHER: to create wealth and job creators in order for them to also impact their community.
Who is Efe Ukala?
With a Nigerian origin, but Efe chose to be a "global citizen" through her NGO ImpactHER, an organisation that has found and supported over 20, 000 businesses owned by women.
Presently serving as the Vice President and Assistant General Counsel at JP Morgan Chase as a private equity lawyer, her roles include advising institutional investors how to get value from their money.
As tasking and time-consuming as her role at JP Morgan is, she finds time to give back to the world by lifting women out of poverty and limiting the challenges they face every day in a bid to implement their superb business ideas.
As a pro in private and public investments, Efe was at a time at Kuramo Capital Management (KCM) where she served as a Vice President and Chief Compliance Officer.
KCM is an independent investment management firm that focuses on alternative assets in emerging and frontier markets.
Education:
She had an IB Diploma at the British School of Lome in 2000, where she learned multi-tasking, her educational exploration took her to the United States of America.
Speaking on her experience at BSL in an interview with Richman Meto of BSL, she said:
"The IB program helped me to further hone my multitasking skills, basically, the art of balancing different obligations while also ensuring that you are doing a good job in all."
Efe Ukala was a Jeff Metcalf Fellow after receiving A.B. from the University of Chicago, USA. She proceeded to the Washington and Lee University School of Law both in the U.S. for her J.D.
Membership of Professional Body
Apart from her degrees and other international conferences and workshop she attended, the founder of ImpactHER is also a member of the New York State and New Jersey State Bars.
Her love for women course didn't start today. Her roles in several women initiatives and African courses earned her a membership of the board of the University of Chicago Black Alumni Association and Vice President of the Association of Black Women Attorneys in New York City.
Why ImpactHER?
African women population was 679,196,279 as of December 31, 2020, according to countrymeters.info
In 2020, South Africa was the leading African country for supporting women's entrepreneurship, the question is what happens to women in other African countries?
Even in South Africa, more are still needed to help businesses owned by women grow beyond just being a family business to a continental or global establishment.
There is no gainsaying the fact that male-owned businesses are prevalent in Africa and the rest of the world. Most times, particularly, women are left to take care of the home, to take care of the kids.
Even as women carry the homely responsibilities, what happens to their dream of being business owners or problem solvers to the world?
In other findings, women-owned businesses are well represented in the entrepreneurship space, "yet it is estimated that they only access between two and 10 percent of commercial bank finance.
"This reflects the huge potential SME women entrepreneurs have when we accelerate their access to financial and digital tools which will enable greater gender parity in the business ecosystem," Executive Vice President, Market Development, Middle East and Africa, Mastercard, Amnah Ajmal, said during the inaugural Mastercard MEA SME Confidence Index which was released in August 2021
Despite the fair performance of women in the research, there is still a wide gap between access to the necessary support and financing businesses owned by women.
This is a huge gap Efe and her team at ImpactHER is filling since its inception some years ago.
Strategically, Efe's role at Kuramo where she guides several cross-border investments deals across borders, particularly in Africa, is hugely helping in the management of the impacts of her NGO across the continent.
In terms of meeting the goals of impactHER, her incredible legal prowess in business matters will not allow dubious individuals to access financial supports from her NGO.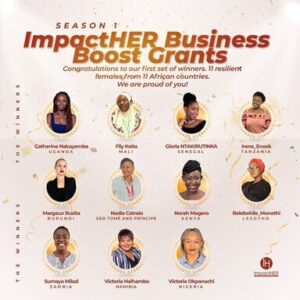 Beneficiaries of ImpactHER:
Through Efe's efforts, her organisation has produced thousands of beneficiaries, some of the latest (as of September 24, 2021) business owners that received support from across 11 African countries are:
Irene Enock from Tanzania
Relebohile Monethi from Lesotho
Norah Magero from Kenya
Gloria Ntakirutinka from Senegal
Victoria Okpanachi from Nigeria
Fily Kaita from Mali
Nadia Catraio from Sao Tome and Principe
Victoria Haihambo from Namibia
Sumaya Milazi from Zambia
Catherine Nakayemba from Uganda
Margaux Rusita from Burundi
They enjoyed Business Boost Grants, a brainchild of Efe's ImpactHER, business grant is rare in Nigeria and across many Africa countries.
https://www.facebook.com/plugins/post.php?href=https%3A%2F%2Fweb.facebook.com%2F192659084847184%2Fphotos%2Fa.482903462489410%2F1016910112422073%2F&show_text=true&width=500
Most times, even when credit facilities are made available by the government, they are given to the wrong people or use political influence to distribute wealth.
But ImpactHER (https://www.impacther.org) is created exclusively for women who have a genuine business, who have a business that can impact society, who have ideas that can solve the global problem.
What better way to derive joy by helping others not just to put food on their table, but to help in solving a global issue.