Last updated on August 5th, 2023 at 09:22 pm
In 2018, a Nigerian woman was diagnosed with cancer, chemotherapy became a financial burden. Instead of being dejected by the disease which has killed millions of people globally, Victoria Okpanachi refused to submit her dream to cancer.
She embarked on research on how to fight the growth of cancer organically. And her efforts paid off. Today, Victoria uses herbs and natural spices to suppress cancer, she uses the products she developed.
Note:
Cancer, if discovered on time, can be managed. And there are hundreds of people in Nigeria (e.g the former Minister of Petroleum Resources Diezani Alison-Madueke and around the world who have been managing the deadly disease.) Show them love whenever you see any cancer patient.
So, in this interview with InfomediaNG Business Solutions (IBS), Victoria shared her story and how she won the ImpactHER Business Boost Grant that's worth several thousands of naira.
After I was diagnosed with cancer in 2018. I began to search for diversification from chemical products considering the harmful effects it could increase on my health.
The inspiration behind Jodale Spice and Herbs
Victoria who never knew she was already living with cancer was shocked when she got to know her status in February 2018 during a cancer awareness session by a Non-Governmental Organisation.
In the process, her status gave birth to Jodale Spices and Herbs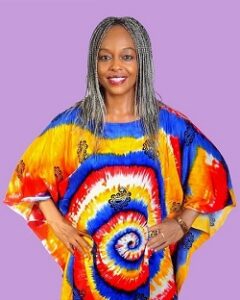 She said:
Healthy eating became a lifestyle, to be sure of the spices and herbs I include in my therapy. I had to produce the spices and herbs to maintain quality without synthetic chemicals. That way, I am sure of what I consume daily through fighting cancer and to help other women fighting cancer.
How did you overcome the truckload of challenges facing startups in Nigeria?
You are right by calling it a truckload of challenges mitigating startups in Nigeria. For me, it was a transition by way of diversification from my former business. It was easy to set up with prior knowledge in business.
I started with little funds and kept working at it. Developing strategies, marketing online, selling to friends and family members. Neighbours are not left out too. So far it has been a gradual success, slow but steady.
ImpactHer is an angel sent from above. I have often spoken to God in prayers to allow me the opportunity to write my name in a tablet of business for solving the needs of people.
Recently, you were announced as one of the 11 women in Africa who won the ImpactHER Business Boost Grants, how did you hear about the non-governmental organisation?
After I was diagnosed with cancer in 2018. I began to search for diversification from chemical products considering the harmful effects it could increase on my health.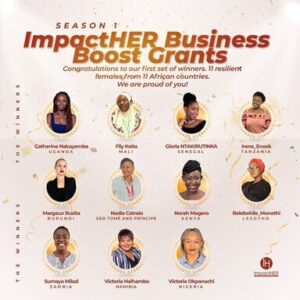 I went searching online for businesses then I came across ImpactHER with an announcement for business training and mentoring sessions for 50 women at no cost.
I jumped at it and signed up. After some days I got feedback from ImpactHer that I got a seat reservation. The time came, I went and we got trained. I had the opportunity of meeting successful women who taught, mentored, and shared their experiences with us.
The founder of ImpactHer Efe Ukala in her closing remarks asked us to go back to the drawing board and decide on a business that will meet the people's needs.
And I thought but Victoria Okpanachi has needs to be met. Let me make myself the first customer.
I started the research on using nature to reverse cancer growth. I discovered spices and herbs as the foremost, and that was it. In addition to the medicines, I was using, I added spices, herbs, and tea. I became my nutritionist. The rest is history.
What went through your mind when ImpactHER called to inform you that you've won a business grant?
To be honest, ImpactHER is God-sent at this time. I forgot about the application for the grant.
I don't even remember when I applied. On this faithful day, I got a mail for a scheduled interview online for the grant.
Reluctantly, I responded, the interview came and gone. I moved on then a call came through one morning that I got selected for the grant.
Tears of joy flow freely from my face. I was like is this true? In fact, I have never had such an emotional moment in my entire life.
It was surprising to me. Especially in a country where the government is giving out loans to people for the wrong reasons while genuine citizens that could create jobs are being neglected.
ImpactHER is an angel sent from above. I have often spoken to God in prayers to allow me the opportunity to write my name in a tablet of business for solving the needs of people.
And He answered this way. Through my short articles on social media, I have helped mentored women battling cancer and offered them free services and access to the spices, herbs, and tea I used for therapy. Including those who had surgery, chemotherapy, and radiation therapy and cancer came back again.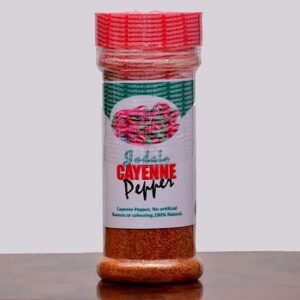 They would ask how did you manage to stabilize, control, and remain strong without any conventional treatment?
I replied, my only option is what I'm doing to stay alive because I don't have money for treatment in the hospital.
I had to use the available resources to stay alive. I even tried to raise money online for treatment but got no response.
Some people I asked for help were only interested when I'm frail, feeble, and weak in the hospital bed and were asking for my pictures in a sick condition.
But the superwoman in me kept me going on with the little resources available to me.
My only option is to use food to fight cancer. I'm also lucky it was at stage one. That's the reason it is important for early detection, it saves life. In addition to being fearless.
In addition, I'm fighting cancer my own way. Oncologists are not friendly, the ones I met through this journey aren't. Each time I visited they are only after the money if I had made payments for chemotherapy to start.
Statistics from the World Health Organization (WHO) in 2019 say "cancer is the first or second leading cause of death before the age of 70 years in 112 of 183 countries and ranks third or fourth in a further 23 countries,'" according to A Cancer Journal for Clinicians in a publication titled Global Cancer Statistics 2020, but Victoria says:
My response was I can't afford it and need a second opinion they wouldn't listen. I decided to be my doctor. Rebirth my lifestyle and doing my business.
What business lessons have you learned on your journey so far?
The thoughts of using available resources to build my vision gave me victory over procrastination.
It helped me realise I could start where I was not anticipating where I have to be before I start.
Could you please tell us more about your products and their nutritional values?
Jodale Spices & Herbs currently have few products, they include:
Jodale Spices & Herbs Cayenne Pepper – 500g & 100g.
Jodale Spices & Herbs Grains Of Selim – 100g.
Jodale Spices & Herbs Black Pepper – 100g.
Jodale Spices & Herbs Clove – 100g.
Jodale Spices and Herbs Ziziphus Leaves – Dried – 200g.
Jodale Spices & Herbs Ziziphus Leaves Powder – 100g.
Jodale Spices & Herbs Ziziphus Fruits – 1kg.
All the products have cancer-fighting properties.

Ziziphus Fruits – known as Sidr helps fight cancer and other diseases.

Add it to your snacks as you fight cancer.
We also have ziziphus fruits, leaves, stems, bark and roots.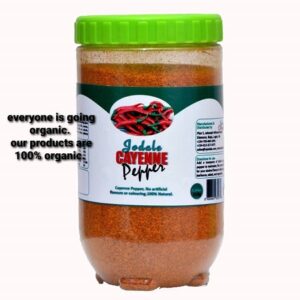 Every part of the plant is medicinal, they include
fighting insomnia
it lowers cholesterol
fights diabetes
enhances brain performance
delays greying of hairs among others
Jodale Cayenne Pepper is a special blend of flavour in a natural and organic state: No coloring, No additives, and 100% Cayenne Pepper with medicinal properties.
Scientific backed benefits of Cayenne Pepper with the following benefits:
boost metabolismVictoria Okpanachi
reduce hunger
lower blood pressure
aid digestion
relieves pain
improve psoriasis
reduce cancer risk
We have the best Cayenne Pepper at a giveaway.
Our products are created with love.
Other products available are Jodale Spices & Herbs Cinnamon.
Jodale Spices & Herbs Uziza.
Jodale Spices & Herbs Ginger.
Jodale Spices & Herbs Palm Kernel Oil.
How can those who would like to become the distributor of your products contact you?
Distributors can get in touch through email jodalespicesherbs (at) gmail.com or send messages to Jodale Spices and Herbs on WhatsApp at https://wa.me/message/VNN6GWFV5VLSC1
Social Media Handles:
Instagram: @jodale_spices_herbs
Facebook: @Jodaleentrepreneur
Jodale Spices & Herbs Shop is available at: vjodale.com
And finally, what business advice do you have for African women?
African women should help each other discover businesses and support them through finance. African women in the corridors of power through politics or appointments should remember to make laws that will create an enabling environment for women to do business.
Finally, African women should start training and developing the girl child in their own families by educating them properly.
Teach them to be self-reliant. And help them understand that marital relationships will not end poverty but intellectual intelligence built towards meeting the needs of people, in other words, innovation in businesses.
No matter how educated an African woman is, she should learn a trade.
This article is part of InfomediaNG Business Solutions' Project to inspire business owners across Africa. You can also send us a mail to share your story with the world. Contact us at infomediang19 at gmail dot com