A 38-year-old Frenchwoman Stéphanie Frappart makes history Thursday, December 1, 2022, as the first woman to referee a men's FIFA World Cup match when Germany takes on Costa Rica in Group E at the 68,000 capacity Al Bayt Stadium in Qatar.
Born in France on December 14, 1983, Stéphanie Frappart is a football referee who has been setting various records in the world of football since she started her professional career some years back. She sets another record at the Qatar 2022
Stéphanie started refereeing youth games at the tender age of 13 and has grown to become one of the best football referees in the world.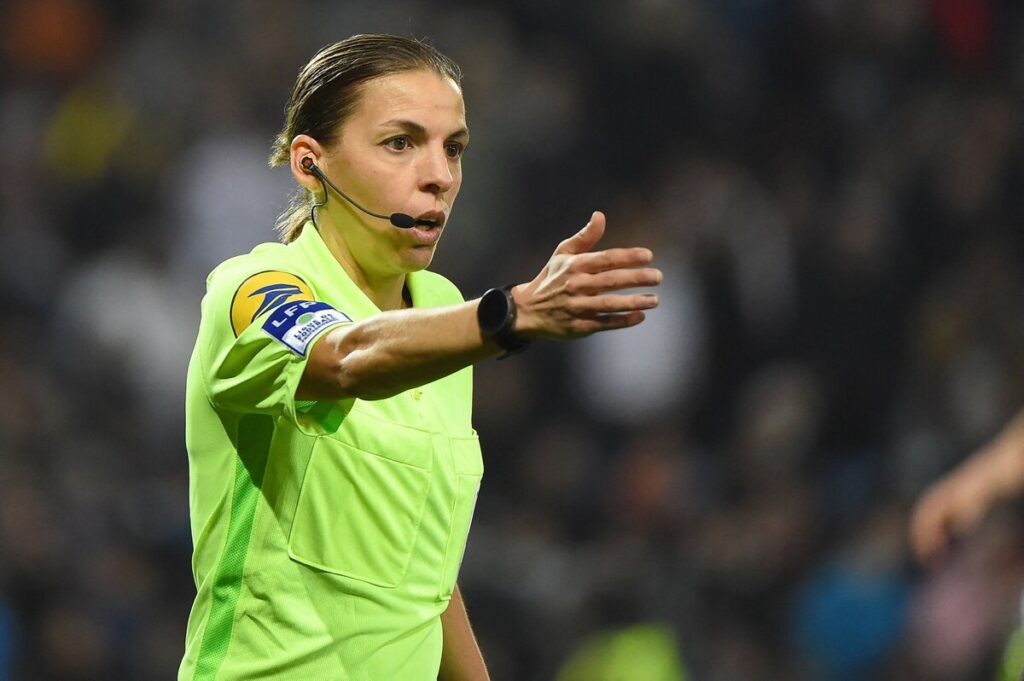 Her skills and passion have not only given her a place on the FIFA International Referees List since 2009, but she has been able to officiate several high-profile games.
Stéphanie Frappart's Impressive Rise As a Female Referee
At 18, the ambitious Frappart has broken through the local ranks and started refereeing football games at higher levels.
Moving past the stage of officiating national U-19 games and refereeing in the third tier of men's football in her country.
She broke into the second division of professional men's football in France (the Ligue 2) and made a name for herself as the first woman to referee in that level.
Along the lines, with soaring popularity, Stéphanie has been establishing herself as a vital figure in female football, planting her feet as an influential professional referee that can be relied upon for very big games.
In 2015, she officiated as a referee at the FIFA Women's World Cup in Canada. In the 2019 FIFA Women's World Cup in France, Stéphanie would proceed to referee the final of the competition between the United States and the Netherlands.
Stéphanie has been nicely consistent with flaunting her skills on the global scene, and more opportunities continued coming her way.
In 2019, Frappart became the first female referee in Ligue 1, the French professional men's football top flight.
The same year (2019), she took a step forward to become the first female to officiate in a major men's European match when she refereed the UEFA Super Cup game between Chelsea and Liverpool.
Having no problems with impressing football lovers when called upon in these men's games, she was still appointed in November 2019 to referee the second leg of the very first Champions Cup competition played between Dundalk (Republic of Ireland's league champions) and Linfield (Northern Ireland's league champions).
In December 2020, Stephanie's career ascended another height entirely when she was appointed by UEFA to officiate a Champions League game played between the duo of Juventus and Dynamo Kyiv, becoming the very first female referee to officiate in the Champions League.
Following her impressive officiating skills in the Champions League, she got the attention of the big guys at the FIFA level and was called upon to referee a FIFA World Cup qualifier game between the Netherlands and Latvia in 2021, becoming the very first woman to achieve that feat.
She has been consistent with proving herself as an exceptional female football referee that can take up great roles on a male-dominated pitch, and each game keeps opening up more opportunities for her.
In May 2022, Stephanie officiated the Coupe de France Final game played by Nice and Nantes in France.
Following her impressive records in the round-leather game, Frappart was considered one of the female referees that deserves being given a chance at the 2022 FIFA World Cup in Qatar, and she was eventually picked for the job. She will go on to become the first woman in history to referee a men's FIFA World Cup game.
Stéphanie At The Qatar 2022 FIFA World Cup
Stéphanie Frappart has always been an achiever but might not have imagined she would be called upon to the FIFA stage in 2022.
Fortunately, while the planning was ongoing, it was agreed that some women should be allowed to officiate this year's men's FIFA World Cup tournament in Qatar, for the first time in history.
But history is meant to be made, and records are meant to be broken, particularly by deserving people.
In an interview with CNN, she said she was surprised when she received the news that she would be officiating at the FIFA World Cup.
"It's a surprise, you cannot believe it and after two or three minutes, you realize that you are going to the World Cup. It's amazing, not only for me but also for my family and also for the French referees."  

CNN
Women at the World Stage
In May, Pierluigi Collina, who is the chairman of the FIFA referees committee, explained the decision of the body to choose female referees.
According to Collina, since FIFA has been making use of female referees in other men's tournaments before now at junior levels, the time is ripe to permit very competent women referees at the zenith, to pass the message across that FIFA is only interested in quality and not gender.
He expressed optimism for the future of seeing the practice of selecting women's referees to officiate big men's competitions as something normal.
Pierluigi Collina emphasized the fact that women like Stéphanie Frappart deserve to be at the FIFA World Cup this year since these elite women have constantly performed at a high level
Frappart is one of the three women referees selected to officiate at the FIFA men's World Cup tournament in Qatar.
Others include Salima Mukansanga from Rwanda and Yoshimi Yamashita from Japan. Salima Mukansanga from Rwanda.
In addition to the three, the football body also chose two women as assistants – Neuza Back (Brazil) and Karen Diaz Medina (Mexico).
38-year-old Stéphanie Frappart makes history as Germany takes on Costa Rica on Thursday night. The French is not only passionate about the game but is also competent and skilful in her job.
A Woman with Many Football Awards
Stéphanie Frappart won the IFFHS World's Best Woman Referee award three different times in a roll. She won first in 2019, another in 2020, and then in 2021.
It should be noted that the IFFHS(International Federation of Football History & Statistics) is a very reputable sports organisation, headquartered currently in Zürich (although it was founded in Leipzig in 1984).
Conclusion
Stéphanie Frappart has been an inspiration for many other female referees around the world as she keeps breaking the ranks, cementing her name in the good records of the beautiful game of football.
She is an inspiration for hard work, focus and consistency.
She has proven that any female referee can get to the very zenith in the world of football if they so desired.