On Thursday, January 12, 2023, El Salvador through 47-article law approved a cryptocurrency law that would regulate the issuance of digital assets in El Salvador.
The person behind the successful passage of the crypto law is President Nayib Bukele. 62 lawmakers out of 84 voted in favour of the new law.
Table of Contents
Who is Nayib Bukele?
Full name: Nayib Armando Bukele Ortez
Wife: Gabriela Rodriguez
Hometown: San Salvador
Date of birth: July 24, 1981
Place of birth: San Salvador
Political party: Nuevas Ideas
Parents: Olga Ortez de Bukele and Armando Bukele Kattán
Bukele is a Salvadoran businessman and politician is the 43rd and current president of El Salvador and a powerful influence in the cryptocurrency world.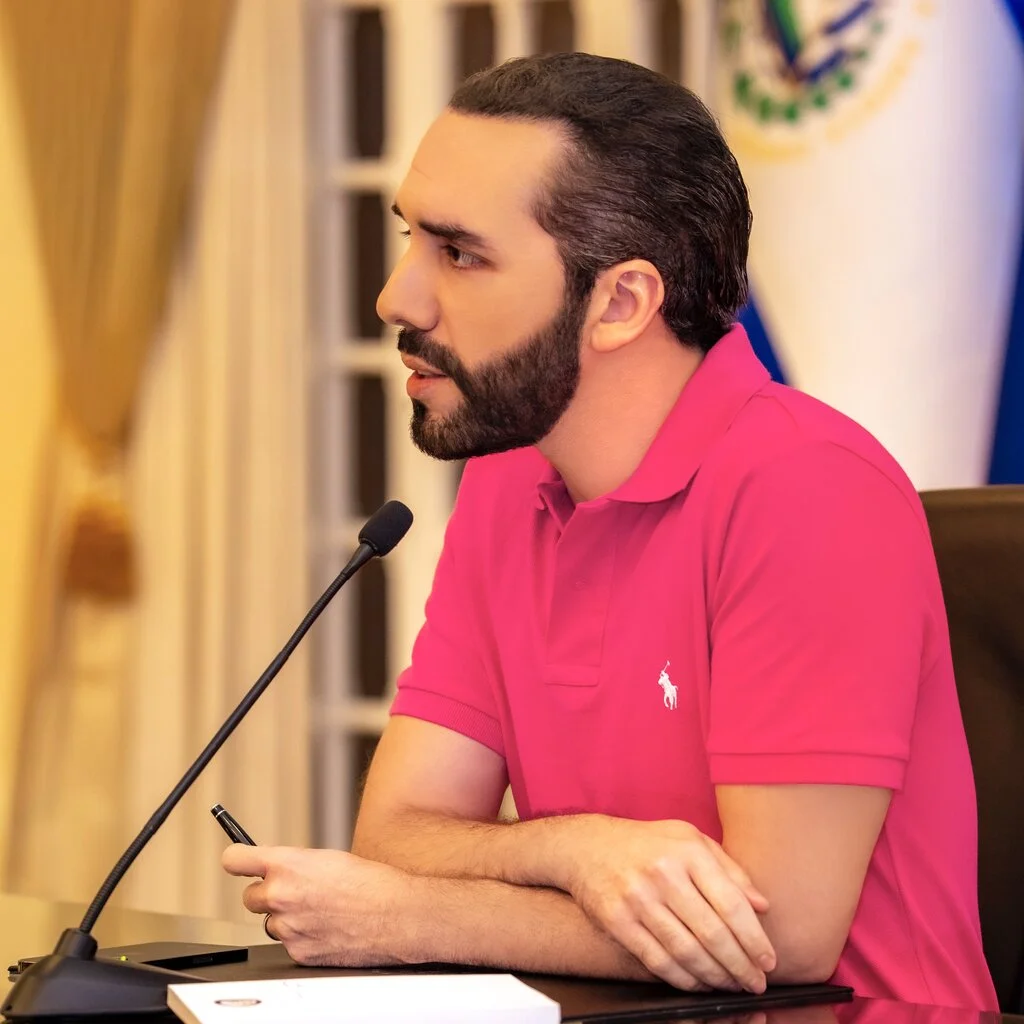 He founded the political organization Nuevas Ideas (NI). Before becoming president, he served as the Mayor of Nuevo Cuscatlán and as a member of the Legislative Assembly of El Salvador.
He rose to national prominence during his tenure as mayor of Nuevo Cuscatlán, where he implemented many social and economic development programs.
Education
Bukele attended Central American University, where he majored in law before quitting at 18 to launch his first business.
Bukele was sworn in as mayor of Nuevo Cuscatlán on May 1, 2012, after winning the March 11, 2012 elections.
Nayib Bukele's first Digital Coin in El Salvador:
During his tenure as mayor of Nuevo Cuscatlan from 2012 to 2015, he was responsible for creating the first municipal digital currency, the Colon Digital.
This digital currency was created to allow citizens to pay local taxes and fees with a digital currency backed by the Salvadoran Colon.
His role in the adoption of Bitcoin in El Salvador
One remarkable step Nayib Bukele took to promote the use of Bitcoin in his country was that he deployed his political influence on El Salvador's Legislative Assembly to get approval for the use of BTC as legal tender on September 8, 2021, becoming the first country in the world to use adopt Bitcoin as legal tender.
The adoption of Bitcoin in North America country is hinged on the belief of Nayib Bukele that cryptocurrency will boost foreign investment and the country's economy by making banking more accessible to Salvadorans.
Barely a year after BTC was adopted as the country's second legal tender, an African country, Central African Republic adopted Bitcoin as a legal tender on April 27, 2022, saying BTC would "secure an independent financial future", reported BBC Africa.
His Stance at Bitcoin Conference 2021
At the Bitcoin Conference in Miami on June 5, 2021, Bukele, made an English-language video announcement about a measure that would make bitcoin legal cash in El Salvador.
Bukele asserted that accepting Bitcoin will make it simpler for Salvadorans who live overseas to remit money to family members in the nation.
Additionally, underbanked individuals would have easier access to digital transactions through the usage of bitcoin.
The administration of Bukele has so far spent $107 million of taxpayer money on these transactions, totalling the purchase of 2,381 bitcoins, according to The Tico Times.
Even at a time Bitcoin in April 2022, when Bitcoin was terribly crashing, Bukele announced that he bought 50 Bitcoins to add to the country's BTC vault.
He has also been instrumental in setting up a crypto-friendly regulatory framework in the country, attracting numerous international crypto companies.
He has also established a government-backed cryptocurrency exchange and a blockchain-based national ID system.
His Influence in the Crypto World
Nayib Bukele has advocated for using cryptocurrency and blockchain technology in El Salvador.
His government has announced that they will work with the Bitcoin Foundation to develop infrastructure that will make it easier for people to use cryptocurrency in the country.
In May 2022, Bukele invited apex banks of over 40 countries for BTC conference including Ghana, Nigeria, and Paraguay.
The meeting afforded him the privilege to show visitors his bitcoin infrastructure in El Salvador.
Though the list was dominated by African countries, the message was clear that Bukele was serious about his country's role in crypto influence.
Role of Nayib Bukele in the development of Bitcoin infrastructure
This plan includes building a network of ATMs allowing people to buy and sell bitcoin and creating a "Bitcoin Law" to regulate its use in El Salvador.
Bukele's approach to the crypto space is controversial because of the volatility of the cryptocurrency and the high energy consumption of the Proof-of-Work consensus mechanism used by Bitcoin.
However, he has promoted blockchain technology for other applications, such as voting and real-estate registration.
The move from the 41-year-old president is considered bold and unconventional since no other country had legally adopted bitcoin as a form of currency until he took the bold steps in September 2021.
His decision attracts much attention and interest from the crypto community worldwide.
Nayib Bukele has significantly impacted the cryptocurrency industry by making El Salvador a crypto-friendly nation.
He has helped increase cryptocurrency adoption while providing a safe and secure transaction environment.
What impact has El Salvador's president had on Bitcoin?
Nayib Bukele achieved his goal of making Bitcoin a legal tender in El Salvador by working with a group of Bitcoin enthusiasts and entrepreneurs.
He worked with government officials to develop a comprehensive set of laws and regulations for the use of Bitcoin in his country.
These laws and regulations will ensure that Bitcoin transactions in El Salvador will be safe, transparent, and compliant with international anti-money laundering and counter-terrorism financing regulations.
He also leveraged the support from the International community like Jack Dorsey, the former CEO of Twitter, who provided financial aid and technical assistance to help the government of El Salvador develop a secure infrastructure for Bitcoin transactions.
Bukele also tried to educate the public about the benefits of Bitcoin – how it can help improve the country's economy and financial inclusion.
His visionary and proactive approach enabled him to overcome the regulatory and technical challenges and obstacles that his team faced along the way and thus made El Salvador a major stakeholder in crypto adoption.
Future Projects of Nayib Bukele
His plans include a proposed metropolis, which would be erected on the Gulf of Fonseca on El Salvador's southern coast, would be funded by the issuance of a Bitcoin bond and powered by geothermal energy from the nearby Conchagua volcano.
The projected city is a component of Bukele's ongoing support for bitcoin, which was first mentioned at the Latin American Bitcoin and Blockchain Conference in 2021.
In contrast to the golden hue of the photographs posted on Twitter, Bukele predicted that Bitcoin City would be covered in greenery.
In addition, it will have an airport, a viewing point over the volcano, monuments, and business and residential zones. The president stated that Bitcoin City would be tax-free in most cases when the idea was first announced in 2021.
What the crypto community expects him in 2023
In 2023, the crypto community expects him to continue to promote the adoption of blockchain and cryptocurrency technology by encouraging its citizens to take advantage of its many benefits.
Many are also expecting that Bukele's efforts will lead to increased investment in El Salvador and tourism and business opportunities.
Some also hope his efforts will serve as a model for other countries to follow and improve the mainstream adoption of cryptocurrency and blockchain technology.
The community is also keenly observing the effectiveness of Bukele's plan on the challenges of high volatility and energy consumption of the Bitcoin network and other economic challenges that may arise from such a bold move.
What is the Nayib Bukele's Net Worth?
Most times, it is extremely difficult to ascertain the net worth of a politician, but a source – cryptoinfobase – claimed that President Nayib Bukele's net worth is over $2 million.
There is a possibility he is richer because he is also a businessman before venturing into politics.
A report that appeared in a digital newspaper, El Faro, in 2017 says Bukele is the founder of Yamaha Motors El Salvador, a sole Yamaha products distributor in El Salvador.
Official Social Media Profiles of Nayib Bukele
Twitter: @nayibbukele
Facebook: facebook.com/nayibbukele
Instagram: @nayibbukele
YouTube: @nayibbukele
References:
AFP (November 18, 2022). "El Salvador Continues to Bet on Bitcoin Despite its Drastic Fall". ticotimes.net
BBC (June 6, 2022). "Why the Central African Republic adopted Bitcoin". bbc.com