Last updated on January 12th, 2023 at 11:14 pm
Amidst the volatility rocking the cryptocurrency market for the past eight weeks or more, President Faustin-Archange Touadéra of the Central African Republic (CAR) says there is no regret in choosing Bitcoin as one of the legal tenders in his country.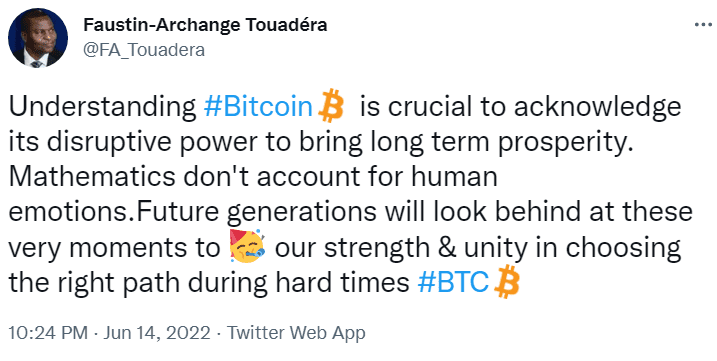 His tweet message of hope is believed to be directed at his critics who opposed the adoption of Bitcoin, in a tweet, he said:
"Understanding bitcoin is crucial to acknowledge its disruptive power to bring long-term prosperity. Mathematics doesn't account for human emotions. Future generations will look behind at these very moments to our strength & unity in choosing the right path during hard times."

@FA_Touadera
CAR was the first African country to adopt the volatile crypto in April 2022 as one of the legal tenders of the poorest country on the continent, becoming the second to do so after a North American country El Salvador announced its Bitcoin adoption in September 2021.
The action of both presidents in collusion with their lawmakers was highly criticized by the foreign organizations including the International Monetary Fund (IMF).
Specifically, most of Touadéra's critics said the 65-year-old president erred by signing into law the adoption of bitcoin in CAR, a country that has low and poor telecommunication networks.
Only 10% of residents of the Central African Republic has access to the internet connection, International Telecommunication Union ( ITU ) World Telecommunication/ICT Indicators Database of the World Bank in 2020 revealed.
Cryptocurrency trading and adoption require superb internet connectivity because trading is basically online, meaning those who do not have access to the internet will be cut off from the crypto 'fever'.
Apart from the abysmal telecommunications system in the country, the 2020 World Bank Ease of Doing Business also rated the Central African Republic as one of the top five worst countries to start a business on the continent.
Touadéra's latest remarks came a few days after his counterpart in El Salvador inspired crypto investors not to be anxious even as the Bitcoin and altcoins continue their downward momentum.
President Nayib Bukele who earlier invited more than 40 countries for a cryptocurrency summit, boasted that bitcoin would bounce back and said they should "stop looking at the graph and enjoy life."
Though some international traders in Central African Republic hailed the action of their president, saying bitcoin would make easy to transact with less headache about foreign exchange which is hard to access.
At the time of writing, Bitcoin was $20,246.49, it dipped below $19k during the day. Data on coinmarket shows that it had gained 5.25% in the last 24 hours, but the gain is not in tandem with the loss it recorded on April 26, 2022, when it went from $40,448.42 to below $40K and dipped further below $30k