Last updated on September 25th, 2023 at 11:04 am
Michael Saylor isn't a strange name in the cryptocurrency and blockchain space. His belief in the power of Bitcoin, is unrivalled, pronouncing himself the "bitcoin maximalist."
Who is Michael Saylor?
Born: February 4, 1965
Source of wealth: Tech, cryptocurrency, and self-made
Alumni: MIT
Citizenship: United States
Occupation: Chairman, MicroStrategy
Non-profit learning organization: saylor.org
Wealth history: $7 Billion (2000); $2.3 Billion (2021); $1.6 Billion (April 5, 20222)
Saylor is an American tech entrepreneur and philanthropist. He was born on February 4, 1965, in Lincoln, Nebraska, United States.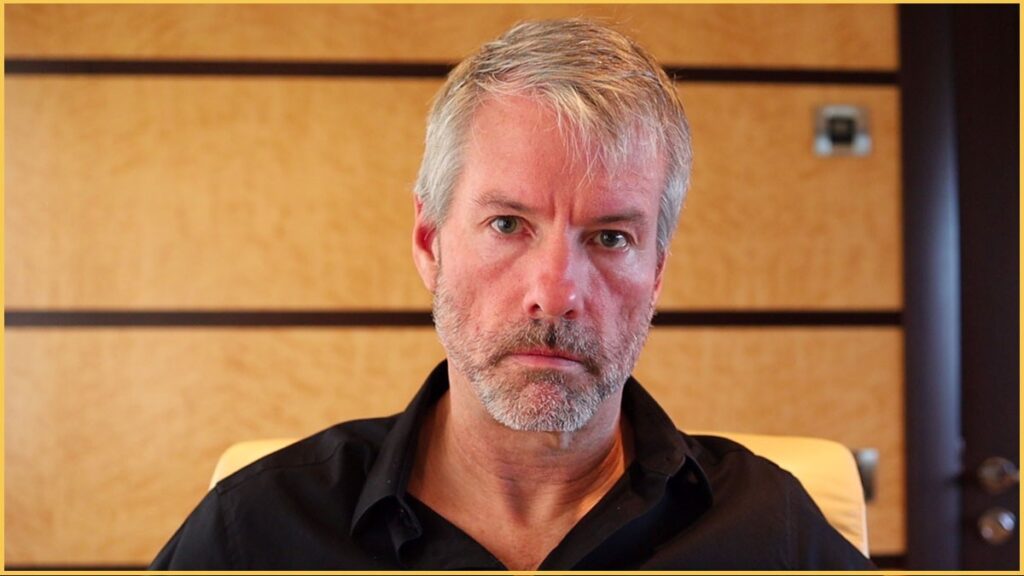 His father was in the military, so he spent most of his childhood living in various U.S. Air Force bases worldwide.
His family moved to Wright-Patterson Air Force Base near Dayton, Ohio, during his teenage years.
He was the class marshal and valedictorian of his high school. Saylor went on a scholarship to the Massachusetts Institute of Technology (MIT).
He joined the Theta Delta Chi fraternity when he met Sanju Bansal, the future co-founder of MicroStrategy.
Founding MicroStrategy
In 1987, Saylor graduated with the highest honors from MIT and received double degrees in aeronautics and astronautics.
After college, he became a consultant to companies such as DuPont, Dow, and Exxon. He developed computer simulations to predict changes in key markets and support strategic decision-making.
In 1989, Saylor created MicroStrategy by combining his interests in technology, business, and computer simulations.
The company's vision is to help businesses deliver intelligence everywhere. MicroStrategy has been the leading company in mobility and enterprise analytics, serving thousands of businesses around the world.
What major projects have Michael Saylor been involved in?
As explained above, he is the co-founder and CEO of MicroStrategy, a software company that provides business intelligence solutions to organizations.
Business intelligence uses data from multiple sources to gain insights into the business. This information is used to help companies make decisions and visualize their data.
MicroStrategy makes this process easier by providing different types of software that can be used by every kind of business, from small businesses to large companies all over the world.
Microstrategy offers a variety of features, including Advanced Analytics, Data Discovery, Data visualization, Embedded BI and detailed reports and statements.
Another major notable project Saylor was involved in was creating Alarm.com (NASDAQ: ALRM). This company provides home security and automation services, and Angel.com ( which was later sold to Genesys Telecommunications Laboratories for $110 million in 2013) is one of the first cloud-based interactive voice response service providers.
Saylor authored the book" The Mobile Wave: How Mobile Intelligence Will Change Everything" and "The Intelligence Paradox: Why the Intelligent Choice Isn't Always the Smart One." The Mobile Wave appeared on The New York Times and The Wall Street Journal Best Seller lists.
In 1999, Saylor started The Saylor Foundation. Since then, the Foundation has given a lot of money to good causes, like helping children, helping refugees, helping the environment, and helping the arts.
The foundation runs the Saylor Academy (Saylor.org), which provides free online college-level courses to students worldwide.
In the early 2020s, Microstrategy got the media's attention after buying significant amounts of bitcoin.
This strategy has helped the company's stock price recover from losses. The company lost a lot of money during the dot-com crash in the late 1990s.
In addition to his work with Microstrategy, Saylor is also a co-founder of the Bitcoin Mining Council. This group was made because people were worried about the energy use of Bitcoin mining. The group's goal is to make mining more sustainable and to make the industry more transparent.
Michael Saylor's influence in the crypto world
One of the well-known Bitcoin influencers in the cryptocurrency space is Michael Saylor. With over 2.4 million followers on Twitter (at the time of this report).
He has become well-known in the cryptocurrency world for his strong advocacy of Bitcoin and his company's decision to invest billions of dollars in the cryptocurrency, which has brought about significant attention to bitcoin and helped to mainstream its adoption.
Saylor has been a vocal advocate of Bitcoin as a store of value and as a hedge against inflation.
He has also been an influential figure in promoting the use of bitcoin by other companies to diversify their assets and protect against currency devaluation.
As of September 19, 2022, MicroStrategy owns almost 130,000 bitcoins worth $3.98 billion.
Saylor, in an interview with Forbes, said:
"I'm a bitcoin maximalist; I happen to believe that bitcoin is an instrument of economic empowerment, it'll be beneficial to eight billion people," "I also happen to believe that bitcoin is unique," he continues, because of "the Immaculate Conception, decentralization, and its commodity status." All of these things make it the greatest asset in the space."

Forbes
In December 2020, Saylor also contributed to the institutional bitcoin surge when MicroStrategy's ownership surpassed the $1 billion mark. Overall, Saylor has significantly influenced the cryptocurrency world and is widely respected.
How was Michael Saylor able to achieve what he did in the crypto space?
Some of the factors that have contributed to Michael Saylor's success in the cryptocurrency industry:
Business acumen:
Saylor is a highly successful entrepreneur and business executive. He co-founded MicroStrategy in 1989 and has served as its CEO since then, growing the company into a leading provider of business intelligence software.
This experience has helped him understand the potential of Bitcoin as a new asset class and to make informed investment decisions about it.
Vision:
Saylor has been an early and vocal proponent of Bitcoin and has consistently argued that it has the potential to become a global reserve asset.
He has been willing to take bold action to support this belief. MicroStrategy, for example, has bought a large amount of Bitcoin as a reserve.
Communications skills:
Saylor is known for his ability to clearly and effectively communicate his ideas and vision. He has given numerous interviews and presentations on Bitcoin and has used social media to share his thoughts and engage with the cryptocurrency community.
Leadership:
Saylor's leadership and willingness to take bold actions have contributed to his influence in the cryptocurrency industry and helped to inspire confidence.
He has also taken on leadership roles in organizations such as the Bitcoin Mining Council. The council wants to improve transparency in the industry and promote sustainable mining.
Future Project of Michael Saylor
Michael Saylor shared that MicroStrategy is working on software and solutions that use the Lightning Network In a Twitter Spaces event on December 28, 2022. These solutions will enhance enterprise marketing and cybersecurity for institutional clients.
The Lightning Network is a second-layer protocol that operates on a blockchain. It enables fast, cheap and private transactions between participating nodes and can be used to make transactions that are not possible on the base blockchain. He said the company aims to promote the Bitcoin ecosystem by launching Lightning Solutions.
According to Saylor, the software firm wants to push the Lightning Network to become an enterprise technology. As part of the solution, they will provide enterprises with tools for Bitcoin and Lightning ecosystems.
What the crypto community expects from Michael Saylor in 2023
It is difficult to say what the crypto community expects from Michael Saylor. However, Saylor has been a prominent figure in the crypto industry mainly because of his massive investment in Bitcoin.
Some crypto communities may look to Saylor for guidance and leadership on Bitcoin-related issues.
Others may be interested in hearing his thoughts on the future of the cryptocurrency market or the use of blockchain technology in business.
What are Saylor's Social Media Handles?
Twitter: @saylor
Facebook: michaeljsaylo
LinkedIn: MJSaylor
What is the net worth of Michael Saylor?
After taking MicroStrategy public in June 1998, owing at least 39,521 shares worth over $14,482,075.
The spectacular performance of his company on the exchange plus his investment in other businesses helped. His wealth boomed.
By early 2000, Saylor's net worth reportedly reached $7 Billion. But fast-forward to 2022, Forbes says he is worth $1.6 Billion. The decline might be attributed to his penchant in crypto investing in other profit-yielding ventures.
Undoubtedly, Michael Saylor made his fortune from his company which is one of the biggest business intelligence software industries in the United States.
And he is believed to be one of the Bitcoin Billionaires or Bitcoin Whale, if you like, in the world today, making the list of Forbes' list of billionaires cashing in on BTC's wild rise.
At a time, Washingtonian, a monthly distributed magazine based in Washington D.C says Michael Saylor was the wealthiest man in the Washington D.C. area.
His belief in Bitcoin is unrelenting as he tweeted on January 7, 2023, that "Bitcoin is hope for Africa".
References:
Jeff Kauflin (Feb 2, 2021). "Meet The 11 Billionaires Cashing In On Bitcoin's Wild Rise". forbes.com
Wikipedia (January 7, 2023). "Michael J. Saylor". wikipedia.org
MICHAEL J. SAYLOR. "Biography: Michael J. Saylor". michael.com