Since the launch of the extraordinary artificial intelligence chatbot, ChatGPT, in November 2022, users across major sectors have deployed it as an assistant.
The AI programme can answer any question including writing codes with guidance from human experts, but machines are not perfect, they need input from humans.
We tested the knowledge of the AI-powered answering machine about Nigeria, unfortunately, ChatGPT is either unaware of Nigeria's history or outputted wrong information.
What is ChatGPT?
Officially released by OpenAI on November 30, 2022, ChatGPT means Chat Generative Pre-trained Transformer (GPT) which is a large language model that is trained on a massive dataset of conversational text capable of generating human-like text in response to a given query.
Capabilities:
The chatbot can be used for a variety of natural languages processing tasks such as language translation, conversation generation, and text summarization.
Other uses of the ChatGPT include:
It can be used for creative writing
Craft marketing materials
Outline your content marketing strategy
Coding for games, apps, and website
Advice and guidance
Study partner
Straight-to-the-point answers to queries.
ChatGPT Limitations
ChatGPT does not have knowledge of the happenings beyond 2021. And could outputs wrong answers to queries. The chat machine doesn't deny its limitations which it summarizes thus:
Limited knowledge cut-off:
"The model's knowledge is based on the text that was available to it during its training, which has a cutoff date, so any events or information that have occurred after that date is not known to the model."
Lack of context:
"The model can generate text based on the input it receives, but it doesn't have the ability to understand the context of a conversation or situation."
Lack of common sense:
ChatGPT says it is capable of answering factual questions "but it doesn't have the ability to understand common sense, so it may not be able to answer more complex questions that require an understanding of the real world and human behavior."
Lack of creativity:
The model is designed to answer questions based on what it has been trained to do, but "it does not have the ability to generate completely new ideas or unique perspectives."
Limited ability to understand certain languages and accents:
Ability to understand and generate text in multiple languages but "its performance may vary depending on the complexity of the language and the accent."
How much of Nigeria does ChatGPT know?
So, I inputted random questions about Nigeria into ChatGPT to test how 'brilliant' the AI-answering question was. Despite its capabilities, ChatGPT fails the questions about Nigeria.
Question 1: Who killed General Sani Abacha?
I asked ChatGPT, "Who/what killed General Sani Abacha?"
While we can't dispute the fact this is one of the most controversial questions in Nigeria's political history, the chatbot based its answer on the popular claim that the late military dictator died of a heart attack on June 8, 1998.

But that's wrong!
But those who were close to power during the sudden death of Abacha knew that his death was questionable.
According to his former Chief Security Officer Major Hamza Al-Mustapha, Sani Abacha collapsed on June 7, 1998, after shaking hands with one of the security personnel of former Palestine President Yasser Arafat at the Abuja International Airport.
On the same day Al-Mustapha revealed the long-held top secret about the actual cause of Sani Abacha, Femi Fani-Kayode came open to reveal that the Sani Abacha was poisoned through handshake by one of the security guards of Yasser Arafat.
Fani-Kayode, a former Aviation Minister, stated that the killing of Abacha by poisoning was executed with the knowledge of the United States, Central Intelligence Agency (CIA) and two former Nigerian heads of state.
Question 2: Who is the first military governor of Ondo State?
The chatbot got it wrong and could possibly confuse someone who is first learning the political history of Nigeria.
It outputted a wrong answer, "The first military governor of Ondo State, Nigeria was Colonel Adekunle Ajasin, he was appointed on February 3rd, 1976."

This is wrong!
Group Captain Ita David Ikpeme was the first military administrator of the Old Ondo State from 1976 to 1978 while Adekunle Ajasin was the first executive governor of Ondo State from 1979 to 1983 and he was never a military man.
Ajasin was a member of the United Party of Nigeria (UPN). He was elected through a general election and not appointed.
Question 3: Who is the incumbent traditional ruler of Lagos?
ChatGPT simply concludes that "Lagos does not have a traditional ruler or King" even as I rephrased the same question several time.

Again, the ChatGPT got it wrong!
Lagos has a traditional ruler. He is Oba Rilwan Babatunde Osuolale Aremu Akiolu, he ascended to the throne on May 24, 2003, till date.
Question 4: When did Nigeria take its first loan from the world bank?
ChatGPT erroneously says, "Nigeria took its first loan from the World Bank in 1961." this is the wrong answer.
Correct answer: According to the World Bank's archives, Nigeria obtained its first loan from the World Bank on June 17, 1964, during the government of Sir Abubakar Tafawa Balewa for the construction of the Kainji Dam project. The world bank granted his $82 million loan.
An article by Nigeria's most trusted business news, Business Day, confirms that Nigeria got its first loan in 1964 and NOT 1961 as claimed by ChatGPT.
Question 5: What was Lagos' population in 1872?
ChatGPT has no idea about the population of Lagos in 1872. It however assumed that it was around 11,000.
Correct answer: According to civil rights advocates Perry Brimah the population of Nigeria in 1872 was 60, 000. Today, Lagos is the most populated state in Nigeria, though it is the smallest state in Nigeria by land area.
Question 6: What is the name of a Nigerian who hid Nelson Mandela in his apartment to evade his arrest by the apartheid regime?
After rephrasing the questions more than five times, it says, "Nelson Mandela did not stay in any private apartments while he was in Nigeria".
However, in a Vanguard report of December 7, 2013, the former nationalists and former Minister of Aviation in the first republic, Chief Mbazulike Amaechi revealed how he hid the former South African nationalist and former president of South Africa, Chief Nelson Mandela for six months in Nigeria.
Question 7: Who killed Sardauna of Sokoto?
While ChatGPT has no idea of who killed the Sardauna of Sokoto, Sir Ahmadu Bello, premier of the defunct northern region in the ill-fated January 15, 1966 coup, the personal secretary to the late premier of Northern region, Gidado Idris in 2015 revealed how the leader of Nigeria's first coup Major Chukwuma Kaduna Nzeogwu killed Sir Ahmadu Bello.
Nigeria's notable online news platform, TheCable, confirmed its report in its 2017 edition.
So, ChatGPT's claim that "It is not clear who specifically killed Ahmadu Bello, also known as Sardauna of Sokoto" is absolutely wrong.
Test 8: What year did it become a requirement for a Nigerian to get a Travel Visa to enter the United Kingdom?
The United Kingdom House of the Lords record of visa bans on some countries shows that until 1986, Nigerians could enter the UK without a travel visa.
But ChatGPT's reply is even more confusing, claiming, "It became a requirement for Nigerian citizens to obtain a travel visa in order to enter the United Kingdom in 2003." This is not TRUE it is 1986!
Question 9: When did the Biafran soldiers capture the Midwestern region?
Again, ChatGPT fails to correctly answer this question, it rather concludes that the exact date was not available.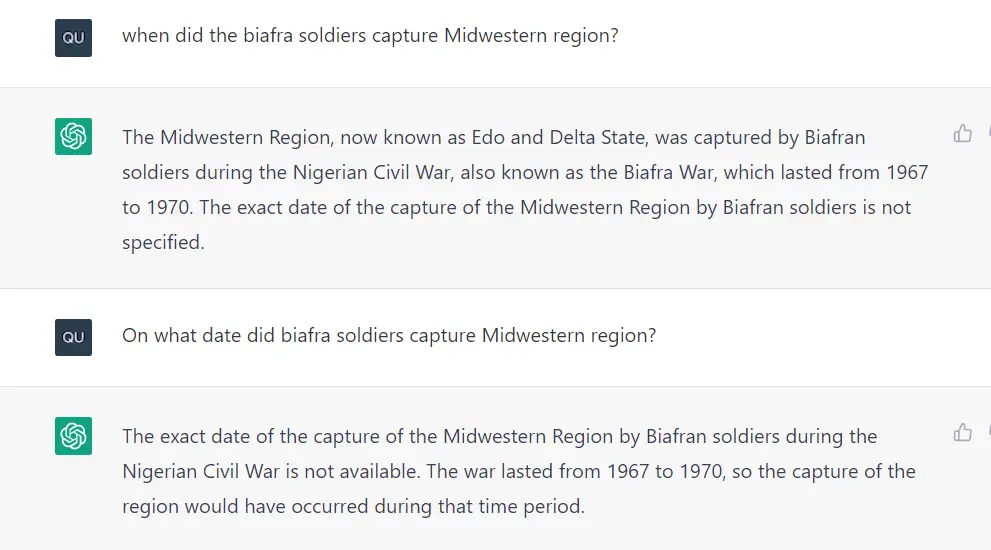 Correct answer: According to Gen. Olusegun Obasanjo in his book (page 25), "My Command" which chronicles the account of the Nigerian Civil War, "On 9 August 1967, the rebels (Biafran Soldiers) advanced into the Mid-West and took over completely the machinery of government".
And by August 10, 1967, the military head of state at the time, Gen Yakubu Gowon announced that what he had previously described as a police action turned into a full-scale military operation.
So, ChatGPT has not been properly fed information about the Civil War in Nigeria.
Question 10: Who led the arrest of Aguiyi Ironsi in Ibadan?
In a revealing interview published by the Sunday Guardian (one of Nigeria's dailies) on February 17, 2008, Lt. Gen. Theophilus Danjuma admitted that he led the arrest of the military head of state Gen Johnson Aguiyi Ironsi in Ibadan.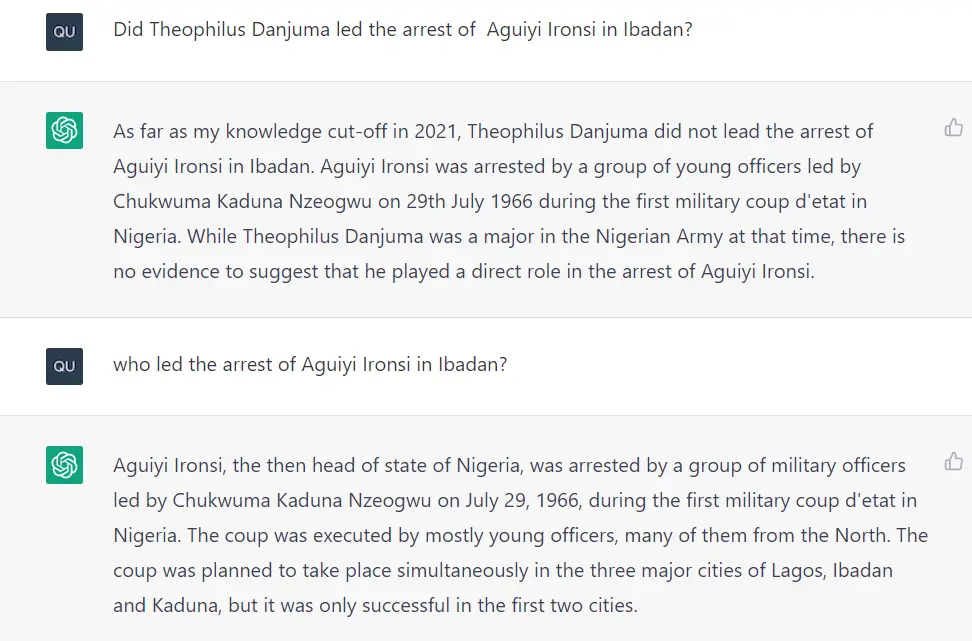 Ironsi and his host Lt. Col. Adekunle Fajuyi the military administrator of the western region were arrested and killed by a group of young Nigerian soldiers led by T.Y Danjuma.
But in what can be described as a mutilation of fact, ChatGPT says Aguiyi Ironsi was arrested by a group of military officers led by Chukwuma Kaduna Nzeogwu. This is not true!
The first military coup in Nigeria – January 15, 1966 – was orchestrated and led by Chukwuma Kaduna Nzeogwu and NOT the July 'rematch' coup.
Conclusion:
It is indisputable that ChatGPT will most likely redefine search results, we shouldn't forget that it can make mistakes, or even provide misinformation.
Unarguably, ChatGPT is an assistant, it needs fact-checking and human input to perform optimally.
While ChatGPT fails to provide an accurate answer to some of the questions about Nigeria, it is also important to note that you have to learn how the tool works for you to take advantage of the innovation possibilities in these AI technologies.
References:
Seun Opejobi ( June 16, 2021). "Fani-Kayode names those who killed Abacha, Abiola after Al-Mustapha's claims". dailypost.ng
Vincent Ujumadu (December 7, 2013). "How Mbazulike Amaechi hid Mandela from apartheid regime in Nigeria". vanguardngr.com
Olusegun, Obasanjo. My Command. Nigeria: Kachifo Limited, 1980. Print.
Chidi Chima (December 17, 2017). "FLASHBACK: How Nzeogwu killed Ahmadu Bello and wife, by Gidado Idris". thecable.ng
OpenAI "ChatGPT: Optimizing Language Models for Dialogue". openai.com
1986 Lords Sitting (October 21, 1986). "Visas: HL Deb 21 October 1986 vol 481 cc181-90". parliament.uk
Lola Akinmurele (March 30, 2022). "Kainji to subsidy: How Nigeria's debt drifted from grace to grass". businessday.ng