Last updated on January 14th, 2023 at 04:57 am
The most turbulent time in the history of Nigeria after Independence was between 1966 to 1970 and one man that played a prominent role during the time is Theophilus Danjuma, who was 28-year-old when he led mutinous soldiers to Ibadan to kill two of his seniors in the Nigerian Army.
Table of Contents
Who is Theophilus Danjuma?
Full name: Theophilus Yakubu Danjuma
Date of Birth: December 9, 1938
Town: Takum
State of origin: Taraba State
Wife: Daisy Danjuma
No of Children: 5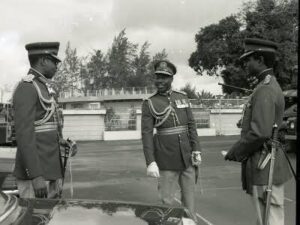 Early life
Kuru Danjuma and Rufkatu Asibi had Theophilus Danjuma in Takum, Taraba State (formerly Gongola), Nigeria, as their first child.
Takum was mostly an agricultural village, and yams, rice, cassava, and beniseed were grown predominantly by families and clans in the area
His father was an industrious peasant whose forefathers were all well-respected members of the village. It is believed that Kuru Danjuma was a farmer who also exchanged metal components for farming equipment.
Academic career
The retired Lieutenant General in the Nigerian Army began his schooling at Wusasa's St Bartholomew's Primary School before proceeding to Katsina-Benue Ala's Provincial Secondary School, where he served as captain of the school's 1st XI cricket team and earned his Higher School Certificate in 1958.
In 1959, Danjuma joined the Nigerian College of Arts, Science, and Technology in Zaria (Ahmadu Bello University) to study history on a Northern Nigeria Scholarship. Danjuma, on the other hand, had already left the institution by the end of 1960 to join the Nigerian Army. He was 22 at the time.
Military career
Danjuma served in the Congo as a Nigerian Army second lieutenant and squad leader. In 1963, he was enlisted on a UN peacekeeping unit in Sante, Katanga Province in the Congo, and was promoted to captain three years later.
Major Role in July 1966 Counter Coup
Captain Danjuma led a group of "blood-sucking" soldiers in the counter-coup of July 1966 with the 4th Battalion in Mokola, Ibadan, during which two prominent Nigerians were brutally murdered.
The July 29, 1966 coup which was later labelled as a "July rematch" would be described as the bloodiest coup in the history of Africa's power tussle.
At the time, the military head of state Gen. Johnson Aguiyi-Ironsi was at Ibadan and was hosted by the Western region military administrator Lt Col. Adekunle Fajuyi.
Aguiyi-Ironsi was the target of the gun-bearing soldiers.
The July 1966 coup was a deadly reaction from major Northern soldiers who saw the first coup of January 15, 1966, as an Igbo well-planned mutiny against Northern prominent politicians.
Major Patrick Chukwuma "Kaduna" Nzeogwu and other majors had executed the first coup which led to 22 prominent casualties, out of which over 10 of them were Northerners
The Prime Minister, Abubakar Tafawa Balewa, Northern Premier Ahmadu Bello, Brig. Zakariya Maimalari, Col. Kur Mohammed were some of the unlucky Northerners who were killed.
In reaction, a July rematch was planned and mostly executed by Northern soldiers. Major Theophilus Danjuma led his team to Ibadan overpowered Johnson Aguiyi-Ironsi security men and arrested him but his host who was obstructing them was also arrested.
Some hours later the lifeless bodies of Adekunle Fajuyi and Aguiyi-Ironsi were found in a nearby bush.
Yakubu Gowon, a Northern soldier who wasn't the most senior officer at the time was inaugurated. The terrible situation at the time laid the foundation for the Civil War that followed a few months after.
After the coup, Danjuma was abundantly rewarded with a juicy promotion in the Army even though he would later play another role that overthrew Gowon in 1975.
Role in Biafra War:
The two coups of 1966 metamorphosed into Civil War and Danjuma was at the forefront and he rescued Jaja Wachuku, the first Speaker of the Nigerian House of Representatives and the country's first Ambassador to the United Nations and Foreign Affairs Minister from Ojukwu's cell in the Eastern region
The Nigerian 1st Infantry Brigade was under his command from December 1967 till July 1968.
A failed coup attempt in Trinidad and Tobago in 1970 led to Danjuma's appointment as president of the International Court Martial in Trinidad and Tobago, where he represented Nigeria.
As a Colonel in 1971, he was responsible for the court-martials of Army commanders who were convicted for corruption and indiscretion.
As a Brigadier in 1975, he rose to the rank of General Officer Commanding (GOC) and was elevated to Chief of Army Staff under Olusegun Obasanjo in the following year.
In 1976, he was a key ally in the president's fight against the Dimka coup. In 1979, at 41 he announced his retirement from the Nigerian army. Meaning in less than 20 years in the Army, TY Danjuma had risen to the rank of Lt. Gen and pulled out of service to start a personal business.
T.Y Danjuma's Business Empire
A few months after his retirement from the Army he established the Nigeria American Line (NAL), the first Nigerian shipping company to operate in the South American market, leasing a ship called 'Hannatu' to trade between Lagos and Santos.
The Nigerian National Supply Company (NNSC) chose NAL to supply government supplies. DICON Salt (Nigeria), project cargoes for Iwopin Paper Mill, ANNAMCO, and Volkswagen Nigeria were just a few of NAL's expanding list of clients.
NAL joined the AWAFC (American West African Freight Conference), the Brazil-Nigeria Freight Conference, and the Mediterranean Line (MEWAC).
Because of the NMA's promotion of indigenous operators demanding their share of Nigeria's foreign commerce in cargo, NAL's prominence rose significantly in 1987/88. Staff at NAL-COMET in 2009 totalled over 250, with roughly 12 expatriate employees.
Founded in 1984 by Danjuma, COMET Shipping Agencies Nigeria Limited is principally a representative of Nigeria American Lines (NAL).
The company was one of Nigeria's leading independent freight forwarders and have handled a wide variety of boats and cargo throughout the years.
In 2009, Comet handled approximately 200 cargoes in the ports of Lagos, Port Harcourt, Calabar, and Warri. When NAL-COMET purchased a roll-in/roll-out port in Lagos in 2005, the company became Africa's largest independent port operator.
Danjuma's Oil Bloc
He founded Nigeria's South Atlantic Petroleum (SAPETRO) To Venture Into oil and gas exploration. 
Oil Prospecting License (OPL) 246 was sold to Theophilus Danjuma through his company SAPETRO by Nigeria's Ministry of Petroleum Resources in February 1998 during the regime of Late Sani Abacha.
Over 2,590 square kilometres of land is devoted to the development of this one block (1,000 sq mi). OPL246 has been the focus of a joint venture between SAPETRO, Total Upstream Nigeria Ltd. (TUPNI), and Petrobras. The first exploration well (Akpo 1) on the Akpo Block was drilled in April 2000, discovering a condensate field (Akpo 1)
Return to Political Scene:
20 years after retiring from the Army, the founder of SAPETRO would come back on the invitation of Olusegun Obasanjo (who were in government between 1976-1979).
This time, Obasanjo was just coming out of prison had been endorsed and won the general election. He appointed his former colleague in the Army as the Minister of Defence from 1999 to May 2003.
He had also held several positions in the political terrain since he left office as the minister of defence.
His Life As a Philanthropist
The Nasarawa State University received a brand new medical facility from SAPETRO in December 2009. The medical facility, which will be called the South Atlantic Petroleum Medical Centre, will service the University as well as the surrounding area.
The TY Danjuma Foundation was established in Nigeria in December 2008 and is based in Lagos.
The foundation's primary goal is to create long-term advantages for its beneficiaries through implementing development activities. Instead of just being a charitable organization, however, the Foundation intends to act more as an institution of charitable giving.
There are many worthy causes and Non-Governmental Organizations (NGOs) that the foundation potentially collaborates with and offers funding to.
US$500,000 had so far been distributed to non-governmental organizations (NGOs) in Danjuma's native state of Taraba as grants to empower the people targeted at eradicating poverty
Today, his foundation is working with more than 50 non-governmental organizations (NGOs) across Nigeria.
Controversies:
History will not forget some of the actions of the retired Army General (directly or indirectly) which led to the brutal assassination of prominent Nigerians in the July 1966 coup.
During the Jukun-Tiv wars of the late '80s and '90s, his name also came up. He was mentioned as one of the persons that incited the uprising that led to the loss of many lives and destabilised hundreds of families to date.
The latest controversy around TY Danjuma was the call in March 2018 that Nigerians, most especially Taraba residents, should protect themselves.
His call came as a result of incessant killings of innocent people in his home state due to communal clashes.
And he accused the Nigerian military of having hands in such deadly attacks when he spoke at the maiden convocation of the Taraba State University, Jalingo, Danjuma in 2018.
He said:
"Everyone of us must rise up. The armed forces are not neutral. They collude with the armed bandits that kill people, kill Nigerians. They facilitate their movement, they cover them.
"If you are depending on the armed forces to stop the killings, you will all die one by one.
"I ask everyone of you to be alert and defend your country, defend your territory, defend your state. You have nowhere else to go."

icirnigeria.org
Social media commentator Kayode Ogundamisi specifically faulted the comments by the ex-Chief of Army Staff, saying such calls would lead to arms proliferation.
"T Y Danjumas role in Jukun-Tiv wars of late '80s & '90s claimed thousands of life is still fresh. If you go to Wukari you will homes with marks of bullet holes for many decades – legacy of the endless Jukun-Tiv war. Danjuma insighted war then, he was safe in Abuja mansion. Bewise" Ogundamisi said in a series of tweets on March 25, 2018

Twitter
Danjuma's Children:
Hannatu Gentles
Isi Omenai 
Theo Danjuma
Ishaya Danjuma,
Some of his properties include:
Kings Arm Hotel in the UK which he bought in 2019 for NGN1.2 billion
Properties in Esher and Wimbledon
Exotic boutique hotel in Lagos
Timeline of Theophilus Danjuma in the Nigerian Army (1960 to 1979)
At 22, TY Danjuma abandoned university education to join the military
At 25, he was a member of UN Peace-keeping force in Sante, Katanga Province in Congo
At 28, he was promoted to the rank of Captain in the Nigerian Army.
At 28, he led other soldiers to kill Nigeria's first military head of state Aguiyi-Ironsi in Ibadan, the seat of Western region at the time. The invasion also led to the killing of the host military governor Adekunle Fajuyi.
At 29-year-old, Danjuma was promoted to Lieutenant Colonel and led forces to Enugu during the Biafra War
At 32, he represented Nigeria and was appointed president of the International Court Martial in Trinidad and Tobago 
At 33, TY Danjuma he was promoted to Colonel
At 37 years, he was promoted to Brigadier General and occupied the position of General Officer Commanding (GOC)
At 38, he was appointed Chief of Army Staff to the Military Head of State Olusegun Obasanjo. 
He 41-year-old, Danjuma had reached the rank of Lt General and retired from the Army to establish his business empire
T.Y Danjuma's Net Worth:
TY Danjuma is one of the extremely wealthy Africans whose businesses cut across juicy investments like oil bloc, real estate, marine and shipping and stocks and equities in the UK, USA and across the world.
In 2019 Bloomberg revealed that he has an investment in at least three continents with not less than 30 properties in UK, California, Singapore and Nigeria
As such the net worth of Theophilus Danjuma was estimated at $1.2billion (as of 2019). Today, $1.2billion is NGN497.7 Billion ($/NGN414.76)
References:
Featured Image by TheCable.ng
Cambridge University Press (December 22, 2008). "Death, National Memory And The Social Construction Of Heroism". ambridge.org. Retrieved November 1, 2021
Iloegbunam, Chuks (July 29, 2016). "July 29,1966 counter-coup: Africa's bloodiest coup d'état". Vanguardngr.com. Retrieved January 10, 2022
DY Danjuma Foundation. "About the foundation". tydanjumafoundation.org. Retrieved January 29, 2022