Last updated on August 21st, 2023 at 09:56 pm
The new Minister of Marine and Blue Economy, Gboyega Oyetola, was the former governor of Osun State. He exhausted all the legal means to prove that there was over-voting in the election that brought the incumbent governor Ademola Adeleke into power. Here is the biography of Oyetola.
When President Tinubu assigned portfolios to his 46-member ministerial nominees, the former governor was assigned to the Ministry of Transportation before he was deployed to the new ministry of Marine and Blue Economy on Sunday, August 20, 2023.
Overview:
Full Name: Adegboyega Oyetola
Date of Birth: September 29, 1954
State: Osun
Education: University of Lagos
Area of specialisation: Insurance, Taxation
No of Children: 4
The Supreme Court upheld the ruling of the Appellate Court on Tuesday, May 9, 2023, that Ademola won the July 16, 2022 governorship election in the state.
On Friday, January 27, 2022, the Justice Tetsea Kume-led Osun State Election Petition Tribunal overturn the victory of Ademola Adeleke premising his victory on over-voting during the July 2022, governorship election.
The tribunal, therefore, deducted the over-voting and declared that the APC candidate Oyetola was the winner, having polled 314, 921 (as against INEC's 375,027 votes), while Adeleke's scored 290, 266 after extra votes were deducted as against 403,371 votes declared by INEC.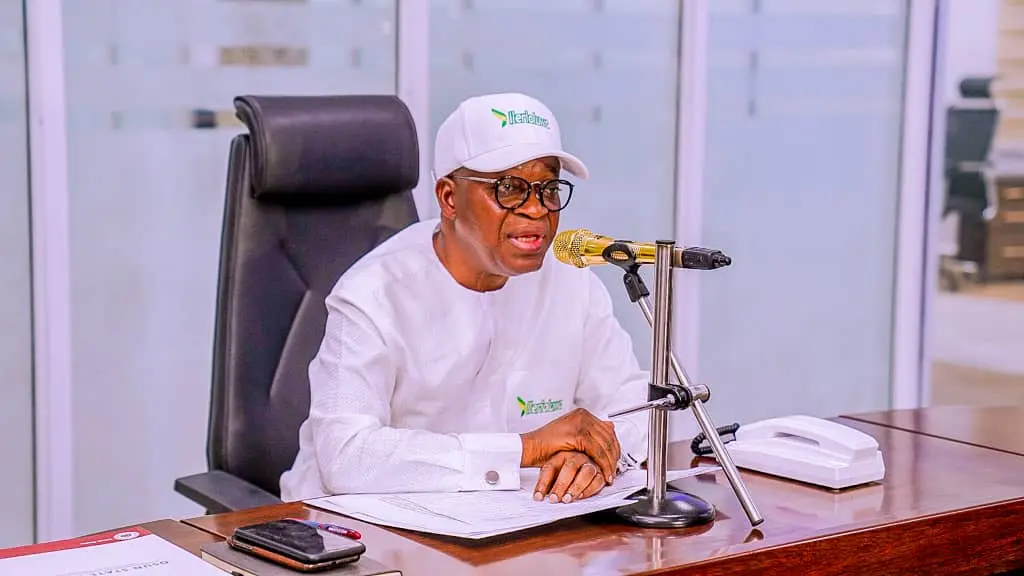 So, who is Oyetola, how did he begin his political career? We will tell you more about the Iragbiji-born politician.
Table of Contents
Background:
Adegboyega Oyetola was born on September 29, 1954, in Iragbji, Boripe Local Government Area, Osun State, to the family of Hammed Oyetola, the present Imam of Egbeda, Iragbiji.
He is a Nigerian politician, technocrat, and manager. He is now Osun State's Governor. He serves as the state's ninth governor.
Education
He began his secondary school in 1972 at Ifeoluwa Grammar School in Osogbo, in the Old Oyo State.
He then enrolled at the University of Lagos (UNILAG), where he earned a BSc in Insurance in 1978. He completed his one-year National Youth Service Corps (NYSC) in Potiskum, where he lectured at the Staff Training Centre from 1978 to 1979.
He also earned a Master of Business Administration (MBA) degree from the same university in 1990.
Oyetola's Family:
The insurance expert turned politician is happily married to Mrs Kafayat Olaitan Oyetola and they are blessed with four children (3 daughters and a son).
His career as a Businessman
Before joining Crusader Insurance Company Limited as Underwriting Manager from 1987 to 1990, Oyetola served as an area manager for Leadway Insurance Company Limited from 1980 to 1987. As a Technical Controller, he was employed at Alliance and General Insurance from 1990 to 1991, to start his company.
After leaving Alliance and General Insurance, he establish Silvertrust Insurance Brokers Limited in the same year which was his own company. Before being named Chief of Staff to the former Osun State Governor Rauf Aregbesola in 2011, he had been Managing Director of the company since its inception.
Until 2011, Oyetola was the Paragon Group's Executive Vice Chairman. Furthermore, he was the CEO of Ebony Properties Limited.
Also, coupled with all these portfolios he is the former director of Pyramid Securities Limited. He is also a member of the Nigerian Institute of Management (NIM).
Oyetola's Entry into Politics
The Iragbiji-born insurance expert isn't a novice in Nigeria's politics. He had been playing a behind-scene as far back as 1999. When Oyetola first joined the Alliance for Democracy (AD), he was part of the party's transformation into the Action Congress (AC), then the Action Congress of Nigeria (ACN), and the All Progressives Congress (APC)
He ran as the All Progressives Congress (APC) candidate in the Osun State Governorship Election which was held on September 22, 2018 governorship election.
Prior to the governorship, he competed against other APC candidates, including Deputy Speaker of the House of Representatives, and Speaker of the Osun Assembly, Nojeem Salaam, as well as Publisher Nigerian NewsDirect Newspapers, Adelere Oriolowo and Moshood Adeoti which he won.
Post-Election Tribunal
On March 23, 2019, a tribunal declared him to have been illegally returned and ordered INEC to issue a letter of return to his main challenger during the election, Senator Ademola Adeleke aka "The dancing Senator" of the PDP.
Oyetola challenged the pronouncement of the tribunal at the Election Petition Tribunal, where his victory was upheld.
But the dancing senator approached the Supreme Court where Oyetola's victory was sealed. Ademola came back in 2022 governorship election in the state to defeat Oyetola.
Oyetola handed over power to him on Sunday, November 27, 2022 in an elaborate ceremony in the state capital.
Although he challenged the victory of Ademola from the Election Petition Tribunal to the Apex Court, he lost the battle.
Rumour That He Bought £9 MillionIn London
There were reports that Gboyega Oyetola bought a mansion in London from a firm owned by Kola Aluko, a businessman now on trial for money laundering. He denied the report.
In light of the reports in the Pandora Papers that indicted hundreds of heavyweight politicians around the world including politicians in Nigeria, the governor was accused of purchasing the London home while serving as Rauf Aregbesola's Chief of Staff.
A Pandora Papers investigation, coordinated by the International Consortium of Investigative Journalists (ICIJ), obtained and published the confidential documents acquired from offshore service providers all around the world (ICIJ).
Documents obtained from the UK property register show that Aluko sold the house for £9 million to Aranda Overseas Corporation, an offshore company incorporated in the British Virgin Islands by two of Bola Tinubu's most trusted surrogates – Adegboyega Oyetola, formerly chair of Paragon Group and current governor of Osun State, and Elusanmi  Oyetola's successor in the Paragon company.
Oyetola referred to the claim as "unfounded and incorrect" in a statement released by his Chief Press Secretary, Ismail Omipidan.
The governor said that he had no connection to Aluko, the putative owner of the property in question, and denied ever doing business with him.
A firm called 'Aranda Overseas Corporation' is reported to have been utilized to acquire the property in question in 2011 when Oyetola was appointed as the CoS to Aregbesola.
Oyetola claim that he had not infringed the law of the nation because he had resigned from the board of directors of Global Investments Offshore Limited before he became the governor's chief of staff in 2011.
Power Tussle Between Oyetola and Aregbesola
There were reports of power tussle between Oyetola and his former boss incumbent Minister of the Interior. Loyalists of the governor claimed that Aregbesola wanted his structure to remain in the state even after eight years as a governor.
Ogbeni is said to be the brain behind The Osun Progressives while Ileri Oluwa is another group working for the governor.
Several times, both of them denied the report. But those who are familiar with the matter have called on prominent sons and daughters in the state to intervene before the 2022 gubernatorial election.
One of them who confirmed the feud between the two political heavyweights were some lawmakers in the House of Assembly.
They called on the General Overseer of the Redeemed Christian Church of God (RCCG), Pastor Enoch Adeboye to intervene in the matter.
Efforts by their political godfather Asiwaju Bola Tinubu and Chief Bisi Akande proved abortive.
Awards and recognitions
African Students Union Parliament (ASUP), Pan-African Distinguished Leadership Honour as Icon of Nation Building in Nigeria 2018
Distinguished Award of Excellence in Public Administration by Nigeria Union of Journalists, Osun State Council, August 2015
Distinguished Merit Award by his alma mater, Ifeoluwa Grammar School, Osogbo, February 2014
The Guardian Award for Exceptional Chief of Staff in the Federation 2017
Award of Excellence by Osun State University, College of Law, Ifetedo, January 2016
Grand Patron of the Local Government Chapel of Osun State NUJ, November 2016
Leadership Award for Outstanding Performance by the Nigerian Society of Engineers (NSE), Osogbo Branch, March 2016
Award of Excellence as ICON of Good Governance by Network of
Non-Governmental Organisation (NETNOS) State of Osun Branch. November 2017
Award for Exemplary and Exceptional Support and Fellow of Osun State College of Technology, Esa Oke, January 2017
Award of Excellence in Public Administration by Rotary Club of Osogbo, Rotary International, July 2016
Leadership Award by International Association of Lions Club, District 404B2, Nigeria, February 2016
NAOSS-NHQ Award of Excellence in Administration and Good Governance, May 2016
Meritorious Award by NAOSS, Obafemi Awolowo University Chapter, February 2017
Oyetola's Net Worth:
The net worth of Gboyega Oyetola isn't known as similar to every politician in Nigeria, but he was a successful businessman and investor before joining politics. He's a wealthy man, however, the value of his wealth isn't in the public domain.
Final Thought:
On January 11, 2022, the governor picked a nomination form of APC to re-contest for a second term in the forthcoming election. Will the feud between Oyetola and Aregbesola affect his chances in the election?
Featured Image