Last updated on September 7th, 2023 at 09:07 am
The winner of the 2023 presidential election, Bola Tinubu is the 12th Governor of Lagos State. He ruled Lagos from 1999 till May 29, 2007. He was sworn in as the president of Nigeria on May 29, 2023.
Table of Contents
He was the national leader of the All Progressives Congress and helped form the ruling party before the 2015 presidential elections, helped it win the 2015, and 2019 elections, and was declared the winner of the February 25 Presidential election by the Independent National Electoral Commission (INEC) and also won the case filed against him at the Presidential Election Petition Court on Wednesday, September 6, 2023.
In this biography of Jagaban of Borgu, we take a look at his political success and the controversies he has garnered since his foray into Nigeria's political landscape.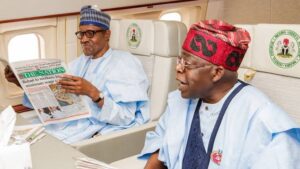 Brief Profile:
Full Name: Bola Ahmed Tinubu
Nationality: Nigerian
Date of Birth: 29th March 1952
Birth Place: Osun state
State of Origin: Lagos State
Marital Status: Married
Spouse: Oluremi Tinubu
No Children: 6
Occupation: Accountant, Politician, Businessman
Political Party: All Progressives Congress (APC)
Net Worth: $7.3 Billion (using Osun GDP, a state he boasted he's richer than)
March 29 1952 was the year this influential personality, Bola Ahmed Tinubu was born. No information regarding his father but his mother, late Abibatu Mogaji was a popular trader in Lagos and she occupied the position of Iyaloja of Lagos State until her death. The position her granddaughter would later occupy.
This goes to say royalty is in the blood of the former governor going by his historical background. Tinubu was raised in the traditional Yoruba way.
Academic Qualification:
He was also not denied the right to western education which he began by attending St. John's Primary School, Aroloya, Lagos and later Children's Home School in Ibadan, both in the South-western region of Nigeria.
Travelling abroad to study is a dream for most Nigerian students who believe that the quality and speed of education abroad is better than what is obtainable in the country.
Completing his primary and secondary education, in 1975 Tinubu was privileged to attend Richard J. Daley College in Chicago, Illinois, and later transferred to Chicago State University.
His stay in America during his undergraduate studies was not a bed of roses as the young energetic Tinubu had to engage in menial jobs including dishwashing, night-guard and cab driving to overcome the initial challenges of school.
In the end, Tunubu's hard work and that of his mother paid off as he graduated with a B.Sc. in Accounting in 1979. Also, he displayed his brilliance by graduating among the honours student of both colleges he attended. More so, he was awarded the Outstanding Student's Award, The University Scholar's Award and the Certificate of Merit in Accounting and Finance.
This goes to show that Tinubu was an excellent student during his schooling days and impressed his fellow students, tutors and even his mother who had laboured so much on him.
Although, there was a report that the academic qualifications of Tinubu are questionable.
About Tinubu's Family
Ahmed Bola Tinubu is married since 1987 which is over 3 decades to the love of his life Oluremi Tinubu, the incumbent senator of the Lagos Central senatorial district.
Tinubu's children are 6, according to Answers Africa, they are
Jide,
Seyi,
Shade,
Zainab
Habibat
Olayinka
The first three are from the previous marriage while the rest are from his marriage to Oluremi. All of the children are fully grown and excel in their respective careers. More so, Tinubu is also family to Adewale Tinubu (Nephew), the CEO of Oando.
Days of Humble Beginning
As the saying goes in Nigeria "who no like better thing", even though Tinubu had completed his degree program, he did not return home but picked up a job in the United States.
He worked with several American companies including Arthur Andersen, Deloitte, Haskins, & Sells, and GTE Services Corporation.
During his working days at Deloitte, Haskins, & Sells, Tinubu displayed his intellectual prowess putting the knowledge he has gathered over the years in school to practice by participating in the auditing and management consultancy services of several firms such as General Motors, GEC and other Fortune 500 firms, International Harvester, First National Bank of Chicago, Procter and Gamble.
Fast forward to 1983, Tinubu eventually relocated back to Nigeria. Banking on the wealth of experience he has gathered over time working in the United States, he wasted no time picking up a job with Mobil Oil Nigeria as a senior auditor and later rose to the executive position of the company.
He worked tirelessly contributing his best quota to ensure the company's growth. His hard work at the company was highly recognized and rewarded. In the end, he retired from the organization as the company's treasurer.
The Dawn of a New Career Path
Tinubu is a man who believes in society. He was a visionary man and believed the society he was in at the time can be better than what it was. This propelled him to be involved in community service as a veritable tool for social development.
I believe this is a factor that stimulated him to nurse the idea of running as the governor of the state someday so that he can give more to the state than he was currently doing.
So, Tinubu was actively involved in several political activities including spearheading several financial contributions and fund-raising programmes geared towards community development in Lagos State.
In addition, he led a political action organization known as Primrose Group. The group was known to push for fundamental changes in the politics of Lagos State.
Fast forward to 1992, Tinubu was fully active in Nigerian politics as a founding member of the now-defunct Social Democratic Party (SDP) during the regime of Gen Ibrahim Badamosi Babangida (IBB).
In the same year, he was elected as an Honourable Senator of the Federal Republic Nigeria to represent Lagos West Senatorial District.
While at the National Assembly, he was the Chairman of the Senate Committee on Banking, Finance, Appropriation and Currency.
Activities Against June 12 Annulment
During the military government in Nigeria, Tunubu was a founding member of the National Democratic Coalition (NADECO), a famous pro-democracy group known to engage the military government.
The regime of IBB had annulled the election which the SDP candidate MKO Abiola had won overwhelmingly.
His political activist activities during the military regime got him in a lot of trouble which led to his arrests and detention, harassment and even persistent life threats to force him to eventually leave the country for his personal safety.
Knowing that Tinubu is a fighter and not a runner, he continued to fight for the progress and betterment of the country while abroad through NADECO.
As the 12th Governor of Lagos
Even though he relocated abroad, Tinubu's heart remained in Nigeria and his passion to contribute his quota to the nation's growth, he eventually returned to the country in 1998 after the death of Sani Abacha, the military dictator who had locked up MKO Abiola.
As soon as he returned, he joined the National Reconciliation and Development.
Ahead of 1999, Tinubu was a founding member of the defunct Alliance for Democracy (AD) and he was voted as governor of Lagos state, ruling from 1999 till 2007. He was in charge for eight years from 1999 to 2007.
During his eight-year tenure in office as governor of Lagos state, he invested largely in the education sector in the state.
In addition to some of his projects is new road construction which is aimed at meeting the needs of the fast-growing population of the state.
However, he faced some challenges during his tenure notably with the federal government led by Chief Olusegun Obasanjo because he created new Local Council Development Areas (LCDAs) to meet the needs of the state's large and growing population.
The ruckus caused the Federal government to seize the funds meant for local councils in the state. Obasanjo's plan was to ground the management of the state, but Tinubu was able to look for other sources of revenue to manage the affairs of the most populated Nigerian state.
Also, he was engaged in constant clashes with governors and other influential personalities of the People Democratic Party (PDP) which was back then the largest and strongest political party in the country.
Bullion Van Controversy
Politics in Nigeria is believed to be dirty and filled with corrupt politicians. However, there is an exception to that because there are good politicians. The perception that most Nigerian politicians are corrupt is often associated with money laundering, election rigging, among other corrupt practices.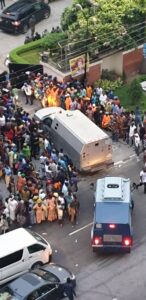 It is almost a belief that Nigerian politicians don't have a legit means of making money and that's why most of them grow cold feet when they are invited to declare their assets public.
The same is believed of Tinubu as well and that brought about the Bullion van controversy which happened sometime back in 2019 when two Bullion van was spotted entering the mansion of the former governor on the eve of the presidential election.
When asked about the two-bullion van, whether it was filled with ballot papers? Tinubu replied that the vans were not carrying ballot papers, but money, which belongs to him, and not for any government agency.
He further stated that the accusation is a conspiracy stating that those watching his house must be mischievous.
When he was asked about the purpose of the money, Jagaban replied:
"Excuse me, if I don't represent any agency of government and I have money to spend, if I have money, if I like, I give it to the people free of charge. As long as not to buy votes".
Apart bullion-van issue, Tinubu has many other controversies. For instance, five days after assuming office as the president, he announced his political godson Femi Gbajabiamila as his Chief of Staff (CoS). Some Nigerians criticized him for appointing picking another Muslim in his cabinet.
Is Tinubu Richer than Osun State has He Claimed?
It looks like Tinubu is a man who to an extent loves controversy. He made a bogus statement during the campaign for one of the APC governor aspirants, particularly the present governor of Osun State, Gboyega Oyetola back in 2018. He admitted that he is richer than the State of Osun.
The statement raised a lot of dust becoming the song on the lips of individuals and the media as well all in the bid to know how much Asiwaju is worth.
He made this bold statement when he visited the Ataoja of Osogbo, Oba Jimoh Olanipekun. Furthermore, he said in his speech that the sitting president Muhammadu Buhari also did not possess the kind of money worthy of him stealing.
He made the statement trying to counter the fact that he brought a Lagos state indigene to rule the state. He countered the thought by saying explicitly:
"If we train your children, and they become experts in their fields, won't we ask them to come home to make things better?" The Punch quoted him as saying.
It was after this defence that he added that the state of Osun does not possess a matching wealth to what he has. Likewise, the incumbent president does not in any way possess the kind of money he can steal. He feigned the knowledge of being recorded that he was not aware that a recording of his speech at the oba's palace was ongoing.
As of 2020, Osun State Gross Domestic Product (GDP) was $7,319,461,128, according to kingmakers, data-driven website.
Going by the claim by the former Lagos State governor that he's richer than Osun State, then the net worth of Bola Tinubu can not be less than $7.3 Billion. Osun GDP was also confirmed by the Canback Consulting and the Global Income Distribution Database, data publication of Economic Intelligence Unit.
If Osun state GDP is $7.3 Billion and Tinubu boasted that he's wealthy than the State of the Virtue, then it goes without gainsaying that Tinubu is richer than Osun State a state with 3,416,959 population, according to the 2006 census.
Sources of Wealth
Bola Tinubu is undoubtedly one of the wealthy and influential men in Nigeria. He is indeed a wealthy man and the source of his wealth includes business, investment and importantly a politician because it has its benefits.
There is a belief that Tinubu owns several companies in Nigeria and abroad, investments as well. Regarding his actual net worth, there are rumours that Tinubu net worth is $4billion.
However, this can't be confirmed since the wealth of Nigerian politicians can't be measured. It's believed that they acquire wealth through state treasury.
However, we are yet to verify whether this is his exact net worth as of this moment.
How Bola Tinubu 'Made' Buhari The President in 2015
Today, Tinubu is recognized as the National Leader of the ruling political party, All Progress Party (APC).
He didn't assume the position overnight but took quite an effort to assume the position. The political career of this remarkable politician took a new turn.
He began as a senator and then became governor under the Alliance for Democracy (AD). Later on, he was actively involved in the creation of the Action Congress (AC) and later Action Congress of Nigeria (ACN) political party in place of the Alliance for Democracy (AD).
After he left office, he took on a new role, travelling across the country and negotiating with members of other fragmented political parties to create a mega-party that will rival and challenge the dominance of the PDP which was a force back then that had been in power since Nigeria returned to democracy.
At the time, PDP was boasting that he would rule Nigeria for the next 60 years even as lawlessness, political assassination and mismanagement ravaged the country.
His political campaign didn't stop there as he also called the need for the implementation of electoral reforms spelt out in the Uwais report. This was in the bid to ensure that the 2011 elections were as free and fair as that of the 1993 elections.
Eventually, in his bid to satisfy his desire to clip the wings of the PDP, Tinubu persuaded other political parties like CPC, a fragment of APGA, ANPP, a fragment of PDP to form a new party alongside Muhammadu Buhari and came up with All Progressive Congress (APC). He was also instrumental in nominating Prof. Yemi Osinbajo as Buhari's running mate.
Dreams do come true when you don't give up, in 2015 Tinubu's aim to overrule the PDP became a success when his anointed candidate, Muhammadu Buhari of the APC won the presidential elections
His strategies led to the "overthrow" of the PDP government through the ballot. It was the first time an incumbent president would be defeated.
He repeated the feat in 2019 presidential elections as he campaigned vigorously in the Southwest and across Nigeria to make sure that Buhari and Osinjo were returned as president and vice president.
How Obasanjo Was Involved
In his book, "My Participations", which was launched on December 9, 2021, former governor of Osun State Bisi Akande revealed how Tinubu persuaded the former military head of state and president, Olusegun Obasanjo, to support the candidacy of Buhari in the 2015 presidential election.
Although, oppositions claimed that the book was one of the political strategies ahead of Tinubu's presidential ambition
"It got to a point when Bola Tinubu had to confront him (Obasanjo) thus; 'It is not fair sending me to Buhari. Buhari was a soldier and he was one of your junior officers in the army. Why don't you call Buhari and let him know how you feel about his intention to be president? Akande said in his book.
The former governor stated that some forces were not in support of Buhari as APC candidate for the 2015 election, but Jagaban never relented to work for Buhari, winning souls for the former military dictator in the North and other parts of the country.
"A prominent aristocratic leader from the North stayed several nights in Osogbo, persuading Governor Aregbesola to prevail on us not to field Buhari. He threatened that if we did, there would be trouble in the North.
Tinubu's harsh critic and a chieftain of the Peoples Democratic Party (PDP), Bode George, would later describe Akande's book as part of the plans to promote Bola Tinubu's 2023 presidential ambition, describing it as "shameful"
"All he said in the book, the only man he was praising and didn't condemn was Bola Tinubu. Do you think that is not political?
Declaration for 2023 Presidential Election:
Popularly called "Jagaban" the former Lagos state governor on January 10, 2022, visited the Presidential Villa where he formally informed President Buhari of his ambition to contest the 2023 Presidential Election.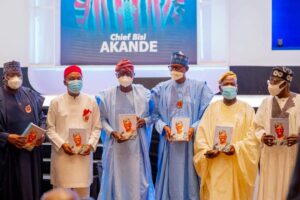 On Wednesday, June 8, 2022, Tinubu was announced as the winner of the primary election of the party in Abuja, beating more than 10 other aspirants.
Official Result of APC primary Election
The official result of the election announced at Eagle Square, Abuja, showed that Asiwaju pulled 1,271 votes out of 2,202 accredited delegates. This shows that the former Lagos State Governor received approximately 58% of the total vote cast.
Below is the compilation of votes:
Bola Tinubu: 1,271 votes
Romiti Amaechi: 316 votes
VP Yemi Osinbajo: 235 votes
Ahmad Lawan: 152 votes
Yahaya Bello: 47
David Umahi: 38
Ben Ayade: 37
Sani Yerima: 4
Chukwuemeka Nwajiuba: 1
Ogbonnaya Onu: 1
Rochas Okorocha: 0
Tein Jack-Rich: 0
Tunde Bakare: 0
Pa Ikeobasi Mokelu: 0
A Payback Time:
While some Nigerians say the former governor of Lagos was as old as the incumbent president and has health challenges like Buhari, Tinubu's fan base which is largely from the Northern part of Nigeria believed that he must be compensated for working for their candidate in both the 2015 and 2019 presidential elections.
Specifically, most of the cardinal positions in the Tinubu Support group (TSG) are held by Northern politicians and they didn't hide this fact as they conveyed on Abuja Monday, January 17, 2022.
For instance, a former governor of Borno State, Senator Kashim Shettima, who chaired a nationwide conference of the TSG pointed out that none of the 2023 presidential aspirants has made sacrifices to the growth of Nigeria's democracy than Tinubu.
He called on their party APC and Buhari to compensate Tinubu for his political contributions to the formation of the APC and the victory of the Buhari 2015 elections.
Shettima who premised his points on "equity, fairness and justice" said:
"In 2015, some aspirants with very huge war chests were itching to clinch the ticket of the APC, but like the Rock of Gibraltar, Asiwaju and his progressive team stood solidly behind the candidacy of President Buhari"
He asked, "where were the new members of what I call 'the Buhari's church of latter days' saints'; where were they?
Also, on Wednesday, March 16, 2022, the former governor paid a visit to the APC caucus in the House of Representatives and all the APC members in the House of Reps endorsed Tinubu's candidacy for the 2023 presidential election as they all said, "Aiyes".
Although another group rooted for Osinbajo, we're most likely to see the scenario of 1999 play out again. That was when the South-West "refused" to cast their votes for Obasanjo while the North overwhelmingly voted for him.
After a tough battle within his party, Tinubu went to the general election polling 8,794,726 votes to beat Atiku Abubakar of the Peoples Democratic Party (6,984,520 votes), Peter Obi of Labour Party (6,101,533 votes), and Rabiu Kwankwaso of NNPP (1,496,687 votes).
Awards and Achievements
Tinubu is a man who worked hard to get to the position he is today. The successful politician remained active in the political arena and has been awarded and honoured on several occasions.
His excellent performance as the Executive Governor of Lagos State of Nigeria (1999 – 2007 earned him several awards.
These include:
Best Governor in Nigeria for 2000 by the Nigerian-Belgian Chamber of Commerce
Best Practices Prize in improving the living environment, awarded by the Federal Ministry of Works and the UN-Habitat Group in 2002
In the year 2000, he was awarded the Best Computerized Government in Nigeria Award by the Computer Association of Nigeria.
Also, Tinubu was conferred with the Honorary Doctor of Law Degree by the Abia State University in recognition of his enormous contribution to democracy, good governance and development of Nigeria.
In addition, he is recognized as the proud recipient of numerous several chieftaincy titles and a patron of many professional and social organizations.
Tinubu's Certificate Scandal
Whenever the list of prominent Nigerians with certificate scandal comes up, the name of the former Lagos state pop up prominently.
And one of Nigeria's most respected investigative journalists Festus Adedayo who has been investigating the scandal since 1999 in his opinion on the Premium Times stated with facts "Why Bola Tinubu must never be Nigeria's president"
One of his major critics who was also the former Deputy National Chairman of the Peoples Democratic Party, Bode George, boldly disclosed that Tinubu has no school certificates to tender to Nigerians.
It was also alleged that there were discrepancies in the INEC form he submitted before the 1999 elections while he refused to have received such certificates in the same INEC form before the 2003 election when he was planning to run for a second term.
Late Chief Gani Fawehinmi, a human rights activist, in 1999 had instituted certificate forgery against Jagaban
It was alleged that the details Tinubu filled in form F001 of the Independent National Electoral Commission (INEC) were either fake or misleading.
In a suit instituted by Dr Dominic Adegbola in 2003 to reopen the case Fawehinmin started stated thus:
Tinubu had claimed that he attended St. Paul's School, Aroloya, Lagos, which school never existed.
Tinubu claimed that he attended Government College, Ibadan between 1965 and 1968, a claim which the authorities and Old Boys Association of Government College, Ibadan debunked as false.
He claimed that he attended Richard Daley College, Chicago, between 1969 and 1971, which he also alleged was false.
Another one is the claim that he attended the University of Chicago in the U.S. between 1972 and 1976 and obtained a B.Sc degree in Economics from the same University, which was described as misleading.
But on June 4, 2013, Justice Saliu Saidu of the Federal High Court in Lagos dismissed the application, ruling that by Order 34, Rule 4 of the Federal High Court Civil Procedure Rules, the applicant failed to satisfy the mandatory requirements of the law.
It was a victory of the man who has been described as the landlord of Lagos and South-west politics.
Prior to the 2003 ruling, Supreme Court had on May 10, 2002, ruled that Tinubu could not be prosecuted by the police for alleged certificate forgery because of the immunity he enjoyed as a governor.
Chicago State University Reacts To Tinubu Certificate
In what could be a victory for the presidential hopeful and his supporters, The Punch reported on January 27, 2022, that one of the universities which Tinubu said he attended attested to his claim.
The Chicago State University disclosed that Tinubu attended the university between 1977 and 1979 where he was awarded a Bachelor of Science Degree in Business and Administration with honours on June 22, 1979.
Sources:
Featured Image by The Punch
Princeton University (August 7, 2009). "Bola Tinubu". princeton.edu. Retrieved January 10, 2022
Akinkuotu, Eniola (January 27, 2022). "Tinubu graduated from our school, says Chicago university". Punchng.com. Retrieved January 27, 2022