Last updated on January 27th, 2023 at 06:39 am
The former Head of the Public Relations Unit of the Nigeria Police Force Frank Mba was on Thursday, January 26, 2023, appointed as the Ogun State Commissioner of Police
The eloquent orator was the 24th Force PRO of Nigeria Police. Muyiwa Adejobi succeeded Mba as the Force Spokesman.
His letter of appointment was dated January 24, 2023, and signed by the Assistant Inspector-General of Police to the Police Service Commission (PSC), Hafiz Inuwa.
Who is Frank Mba?
Full Name: Frank Mba
Home town: Ezimo
State of Origin: Enugu
LGA of origin: Udenu Local Government Area
Course of study: Law
Current rank: Commissioner of Police (CP)
Former school: University of Lagos, Akoka; University of Dundee, Scotland.
Handing over to Adejobi as Force PRO
On Saturday, February 12, 2022, the Police Headquarters announced that Force Public Relations Officer, CP Frank Mba, will be proceeding on a professional course at the National Institute for Policy and Strategic Studies (NIPSS) in Kuru, Jos.
This followed the nomination of the eloquent Mba for a Senior executive Course in Kuru by the Inspector General of Police Usman Alkali Baba
Mba handed to his deputy Olumuyiwa Adejobi, a Chief Superintendent of Police (CSP).
Frank Mba As A Police Commissioner
The former Force Public Relations Officer, Frank Mba, is now a Commissioner of Police, he was among other officers whose promotions were announced on December 19, 2020, in Abuja.
On Wednesday, December 30, 2020, he was decorated with the new rank at the Force Headquarters in Abuja by the Inspector General of Police Muhammed Adamu.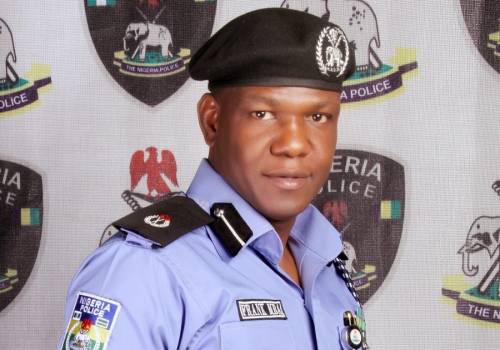 Below are some of the things we know about Frank Mba, the incumbent Force PRO, who was appointed on January 16, 2019, to replace Jimoh Moshood.
Frank E. Mba As Ogun Police Commissioner
Frank Mba studied law at the University of Lagos and was called to the Nigerian bar in 2002.
He also has a Master's Degree in Law from the University of Dundee, Scotland, and a Certificate in National and International Security from Harvard University, USA.
Frank Mba State of Origin: The new force spokesman hails from Ezimo in Udenu Local Government Area of Enugu State.
During his set at the police cadet college, he graduated as the best cadet inspector in academics at the Police Academy, Kano, in 1993. His diligence and brilliance have been paying off ever since he joined the law enforcement agency as he rose up the police ladder.
Timeline of Frank Mba's rank in The Police:
Below is how Mba climbed the police ladder in ascending order:
Assistant Superintendent of Police (ASP) in 1999,
Deputy Superintendent of Police (DSP) in 2003,
Superintendent of Police (SP) in 2006
Chief Superintendent of Police (CSP) in 2012,
Assistant Commissioner of Police (ACP).
Deputy Commissioner of Police (DCP) in March 2019
Commissioner of Police (CP), the rank he was decorated with on December 19, 2020
He replaces erstwhile Force Public Relations Officer, Jimoh Moshood,
Previous role
Frank Mba was a former police PRO in Lagos before he was moved to the force headquarters where he acted as the force PRO between 2012 to 2014.
When he was the force PRO, he addressed critical issues confronting the country. One of such issues he spoke on was, "Why Boko Haram use female suicide bombers in attacks" at the National Information Centre, Abuja
He was apt on the issue, according to him female suicide bombers are less suspicious.
He said:
"Established international terror organisations use female suicide bombers, the major reason is that women generally raise fewer suspicion, particularly when there are security layers.
"If you have been following the trend of terrorism worldwide, you will understand that the use of a female suicide bomber is not new.
"But, it is a new trend in our own part of the world", he said.
The force spokesperson, however, said a new counter-terrorism strategy was being developed to address the new trend in the country.
"We are developing counter-terrorism strategies to deal with that.
"By our rules of engagement and by our culture too, male security operatives generally are not allowed to search females.
"You will see an increase in female security personnel on roads and in other places where stop and search exercises are being carried out.
"Nigerians should be prepared to see more female police officers, bomb disposal experts, DSS operatives and soldiers in combat operations'', he said.
Congratulations to Frank Mba, one of the most brilliant police officers Nigeria has ever produced.
Schools attended:
CP Frank Mba is one of the most accomplished force public relations officers the Nigeria Police Force has ever produced.
When we say, "most accomplished" we know exactly what we're talking about. The fact that most Nigerians believe that the NPF has such an ugly reputation, when Mba comes on national TV everyone falls in love with him and the institution he represents.
Frank Mba's Contact Details:
Email: doublefrank2000@yahoo.com
Phone number: 08038375844
Reputable schools/training institutes he attended:
University of Lagos where: studied Law.
Nigeria Police Academy, Kano: Police training
University of Dundee, Scotland- United Kingdom: Masters Degree in Law
FBI National Academy, Quantico, USA
Harvard University, USA: Certificate in National and International Security
What IGP said about him:
An ex-IGP Adamu sounded thrilled to appoint Mba as the image-maker of the NPF. During his appointment, the police boss charged him to bring his wealth of experience to bear in revamping the image of the Force.
Law Enforcement Trainings he attended:
2008: Middle Management Course on Global Peace Operations in Vicenza, Italy.
2009: General Criminal Investigation Course at the International Law Enforcement Academy (ILEA), Botswana.
2010: US-sponsored International Visitor Leadership Program, with special focus on International Crime Issues, Washington DC
2013: Crisis and Disaster Management Course, Israel.
2013: Managing the Media in Crisis Situations, School of Media and Communications, Pan Atlantic University, Lagos
2017: Strategic Leadership and Command Course, Police Staff College, Jos, Plateau State
2018: Countering Violent Extremism and Police Leadership Course at the International Law Enforcement Academy (ILEA), Roswell, New Mexico, USA.
Previous engagements:
Frank Mba was the former Public Relations Office of Lagos State Police Command. He distinguished himself in the most populated commercial city notorious for crime. During his reign as the state Police PRO, crime subsided.
Ex-member, Nigeria Police Contingent to the United Nations Peace-Keeping Mission in Liberia between 2006 and 2007. He won the prestigious UN Medal.
He has been trying his best to shape the image of the force, unfortunately, the bad eggs among them on the streets where they collect bribes from motorists may never make his efforts to yield any positive result SOON.
He is among police officers who have been appointed more than one time as Force PRO. You may want to check our post on "Past and Present PRO of Nigeria Police Force."
Mba is a future Police IG