Last updated on December 19th, 2021 at 09:55 pm
On Friday, July 23, 2021, the social media was agog about the photo of James Manager, Delta South Senator, who knelt before his benefactor, James Ibori, former governor of Delta State, South-South Nigeria.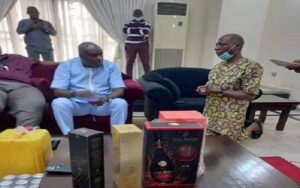 What makes it news is the fact that James Ibori was an ex-convict, who served jail term in the United Kingdom for embezzling several billions of dollars.
So, who is the senator who knelt before an ex-convict?
Full Name: James Ebiowou Manager
State of origin: Delta
Senatorial District: Delta South
Term in Senate: 2003 till date
Date of birth: July 7, 1960
Education:

Ahmadu Bello University; Nigerian Law School, Lagos; and University of Lagos

Political Party:

Peoples Democratic Party (PDP)

Political godfather

: James Ibori
To the larger population of Nigerians, Ibori must be saviour and messiah of Jame Manager, one of the longest-serving serving senators of the Federal Republic of Nigeria.
How James Manager Became A Senator
He attended the Epiekiri Primary School Ogbeinama in 1974. Manger later became a school teacher at River Ramos Grammar School Oriagbene in 1980 before passing his West Africa School Certificate Examination at the School of Basic Studies, Port Harcourt, Rivers State.
From Rivers, he proceeded to the prestigious Ahmadu Bello University, Kaduna State, where he bagged a degree in Law in 1986.
For his LLB, he proceeded to Nigerian Law School, Lagos State, and in 1987, he joined Legal Practitioner NYSC Derin Ogundeji & co.
In 1988, he joined another law firm, Legal Practitioner Broderic Bozime & Co where practiced from 1988 till 1990.
His Relationship With James Ibori
Manager-led PDP in Delta perfected the emergence of Delta's most powerful politician James Ibori to become Delta State governor in 1999.
It was time to pay back.
On assumption of office on May 29, 1999, James Ibori who would later become his benefactor,  appointed Manager as the Commissioner for Works, Housing and Transport, the position he held from 1999 till 2003.
While his boss was warming up for a second term as Delta governor, James Manager struck a deal with his boss to deliver his constituency to Ibori.
At the same time, the trained lawyer was given the ticket under PDP to contest for the Delta South Senatorial District.
While Ibori remained a governor, James Manager headed to the National Assembly. Since then, he had won elections back to back: 2003-2007, 2007-2011, 2011-2015, 2015-2019, and 2019-till date, making him one of the longest-serving senators in Nigeria.
Political Career
During the military diarchical system of government invented by Gen Ibrahim Badamosi Babangida, the young aspiring James Manager joined the political train and became the Chairman of Bomadi Local Government Area.
He held the position of a council area for a few months before he was appointed as the Commissioner for Social Development between 1992 to 1993, he was 32 years old at the time of his appointment.
He would later rise to become the Chairman of Grassroot Democratic Movement (GDM), a political movement between 1996 to 1998.
GDM was one of the five Nigerian political parties permitted to exist during the military junta Late General Sani Abacha to participate in state assembly elections held in December 1997, and in parliamentary elections held in April 1998.
As the Military regime of Gen Abdulsalami Abubakar was warming up to hand over power to the democratically elected leaders after the sudden death of Sani Abacha, the Peoples Democratic Party (PDP) was formed and James Manager became the pioneer state chairman of the party in 1998 till 1999.
Legislative functions:
Member works committee,
Member, Niger Delta committee
Member, Judiciary committee
Member, Human Rights, and Legal Matters committee
In September 2009, Senator Manager urged President Umaru Yar'Adua to appoint someone familiar with the region as Minister of the newly created Ministry of Niger Delta.
Controversy:
Niger Delta Comment
The same manager who urged the Later Yar'adua to appoint someone who is familiar with the Niger Delta terrain as a minister who later say any qualified Nigerian can be picked as Minister of the newly-created Ministry of Niger Delta.
"The Niger Delta Ministry is a creation of the Federal Government and it is, therefore, the prerogative of the President to appoint anybody he thinks will serve his purpose in the ministry," he stated during his visit to Calabar.
He was the Chairman of Senate Committee on Niger Delta at the time
Alleged Involvement In Non-Implementation of Niger Delta Contracts
Despite the existence of the Niger Delta Development Commission (NDDC) and the creation of the Niger Delta Ministry, the oil-rich region continue to live in developmental degradation while elites in the region live in super affluence.
The National Assembly called for the probe of NDDC officials and the Minister of Niger Delta Godwill Akpabio was invited to give details of how monies budgeted for the region were spent, most especially non-implementation of projects in Niger Delta.
Akpabio who was almost ridiculed by his former colleagues broke the silence by naming and shaming senators who were awarded contracts but failed to execute the projects.
James Manager was one of the many senators indicted by Akpabio for the nonexecution of projects in the region that had cried of marginalization for several years.
Senator James Manager was said to have got 19 contracts, the allegation he denied on July 27, 2020
Others indicted along with him include former Chairman, House of Representatives Committee on the NDDC, Mr Nicholas Mutu; the Chairman of the Senate Committee on Niger Delta Affairs, Senator Peter Nwaoboshi among others.
In a reaction, he said:
"That NDDC never awarded any contract to any company owned by me. That I do not know of any company owned by me, that has ever gone into bidding for government jobs anywhere in the world."
Kneeling Before An Ex-Convict and His Benefactor, Ibori
On July 23, 2021, an online media platform Sahara Reporters published a photo of James Manager where he was kneeling before James Ibori, a man who once served jail term in the United Kingdom for embezzlement of money meant for the development of Delta State.
In 2007, Ibori's corruption allegations led the United Kingdom courts to freeze his assets, valued at about £17 million ($35 million).
He was also notorious for attempting to bribe EFCC boss Nuhu Ribadu during corruption allegations against him in Nigeria.
Ribadu alleged that Ibori attempted to bribe him to drop the charges with a cash gift of $15 million, which Ribadu claimed he immediately lodged in the Central Bank of Nigeria CBN as an exhibit.
But one of his associates said it was just a sign of respect in Urhobo culture, saying the picture was taken on Wednesday, July 21, 2021, when he paid Ibori a courtesy visit.
"Ibori is a senior, a king, and an elder to him, being his former boss. Whenever you go to pay homage to an Urhobo elder or someone you hold in high esteem, you kneel down," the source was quoted as saying by The Nation.
Is the act of kneeling before someone new in Nigeria?
No. Most times, a typical Nigeria would kneel before someone who is older than him, or when he is in need of something crucial.
And it's rumoured that James Manager is aspiring to become governor of Delta State in 2023.
To make his journey to Delta government house a smooth one, he had to pay homage to his benefactor.
Despite his jail term and other embezzlement activities, Ibori remains a godfather in the politics of Delta.
References:
web.archive.org/web/20110714182238/http://www.nigerianobservernews.com/7102008/7102008/news/news2.html
saharareporters.com/2020/07/27/senator-manager-denies-receiving-19-contracts-nddc
vanguardngr.com/2021/05/delta-2023-gbagi-and-other-aspirants-in-the-public-eye/
thenationonlineng.net/why-senator-manager-knelt-before-james-ibori/
web.archive.org/web/20151113003826mp_/http://www.nassnig.org/mp/profile/70
en.wikipedia.org/wiki/Nuhu_Ribadu