Last updated on September 30th, 2023 at 06:49 pm
Among school dropouts that turned out to be inventors, Mustapha Gajibo is one of them. He began the production of electric vehicles in Nigeria, even without a degree. We'll tell you how his determination led to a resounding success.
Table of Contents
When we were growing up, our Dad told us the importance of education: how it could open doors of opportunities for us. He was right.
But I've come to realise that some of those who dropped out of school are not pushovers. They are resilient and determined to make a change through their innovations. Mustapha Gajibo is one of them.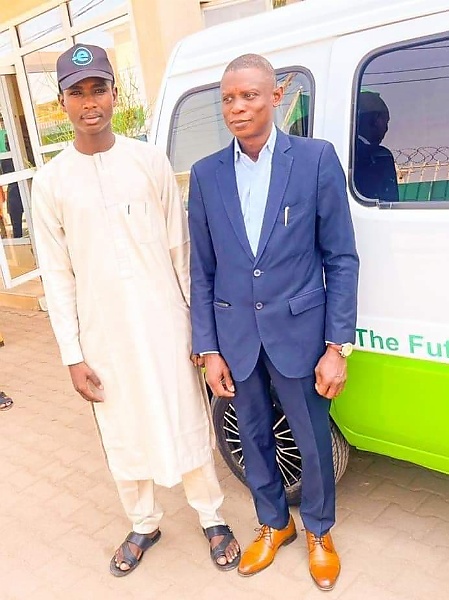 Despite his inability to complete his course at the University of Maiduguri, Borno State, Northeast, Nigeria, the Kanuri man has joined the list of prominent people in history to create something of significance to change society and the world at large.
The buses he built can comfortably cover a 200-kilometre before refilling the energy. The buses are already operating in the city of Maiduguri and he plans to cover more areas soonest, becoming the first homemade electric vehicle in Sub-Sahara Africa.
So…
Who is Mustapha Gajibo?
Full name: Mustapha Abubakar Gajibo
Age: 29-year-old
Country: Nigeria
State of origin: Borno State
Geopolitical zone: Northeast
Interest: Renewable energy and technical creativity
Breakthrough: Built electric buses using a renewable energy source
School attended: University of Maiduguri but dropped out at level 3
Growing Up
Mustapha Gajibo was born with no silver spoon, but his determination and long-held dream to change his immediate environment and the world paid off through the breakthrough he made in turning the gasoline-powered vehicle into a completely electric vehicle.
He was born in Sokoto state, though hails from Dikwa Local Government Area of Borno State.
How He Dropped Out of the University
When he gained admission at the University of Maiduguri in 2012, he was offered admission to study General Agricultural Science instead of Electrical Engineering.
He had to apply for a change of course. Despite the stress, he was offered Mechanical Engineering instead of Electrical Engineering which he accepted.
But as fate would have it, he abandoned his undergraduate studies which would have earned him a degree in mechanical engineering.
He didn't join banditry or Boko Haram which is prevalent among the youth in the Northern part, the energetic young man pursued his dream in renewable energy and technical creativity.
Life after leaving school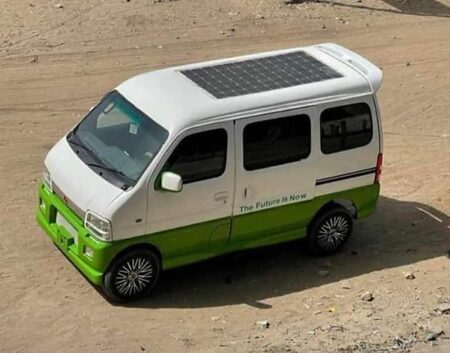 Some of his innovations had given him enough confidence to fully embrace the renewable energy programme.
He took the bold step in 2014 by registering his company with the Corporate Affairs Commission (CAC), one of Nigeria's agencies that issues certificates to qualified individuals and companies.
"It was a very tough decision. In fact, some of my close friends told me that it was madness on my part," he told one of the national dailies.
Some of his family members were not happy with his decision, except his father who believed he knew what he was doing; some of his friends despised him, and some lecturers including the head of his department taught he was out of his mind.
Mustapha Gajibo Major Challenges
Mustapha would have expanded the coverage of electric buses in Nigeria, but the activities of Boko Haram in the Northeast, especially in Borno State where his factory is located were deterrent.
Boko Haram terrorists have killed hundreds of Nigerians, displacing thousands of people from their homes and businesses.
It caused a humanitarian crisis within and outside Nigeria. Some affected individuals had to flee to neighbouring countries like Niger, Cameroon, and Chad among others.
Despite the activities of one of the deadliest terrorist organisations, Mustapha was still able to manoeuvre even risking his life in the process.
His motivation behind production of electric vehicles
The activities of insurgents in Borno state caused transit problems and challenges, making the state capital Maiduguri, overcrowded.
People in the villages who couldn't escape into neighbouring countries fled to the city. The Transit system became insufficient.
"We identified potential problems. At the same time, we came up with electrical minibuses, which can cover 150 kilometres on a single charge. We designed the vehicles to be charged with solar power because this is the future of this country."

Daily Trust
On the future of renewable energy and electric vehicles in Nigeria, the creative young man is optimistic that the planned removal of fuel subsidy by Nigeria's government would not cause huge economic hardship if Nigerians begin to embrace electric vehicles as means of transportation.
Advice for Nigerian Youth
The first producer of electric vehicles in Nigeria said young Nigerian youths should find a problem in their community that needs a solution just like "I was able to identify problems in the power and transportation sectors and try to solve them."
Mustapha Gajibo who boasted of more than 10 workers and many casual workers said producing electric buses isn't his only innovation.
He is also using solar power to light up some mega schools and health facilities in Maiduguri and other towns.
One of his projects can be found in Owerri, the Imo State capital, where he built 80 kilowatt systems to power the Federal University's e-libraries in the city.
His Vision
His electric vehicles are not on sale in Nigeria at the time of publication, he said he could be more than 50% expensive more than fuel-powered vehicles.
He believes that in the next five years, he would start exporting electric vehicles made in Nigeria to other African countries and the rest of the world.
Would he go back to school?
He said he had enrolled on the National Open University, Maiduguri Study Centre so that he could have enough time to research and do other things.
Other Inventors, who made history after dropping out of university?
Some prominent innovators who dropped out of college include Bill Gates, Mark Zukerberg, Richard Branson, and Diana Spencer (Princess of Wales) among others.
They are all in the global history book for their inventions to solve global challenges, according to howstuffworks.com.
For instance, Bill Gates, the world's former richest man, dropped out of Harvard, but along with his friend Paul Allen, invented Microsoft after reading an article about the Altair microcomputer in Popular Electronics magazine.
The same is applicable to Richard Branson, one of the self-made billionaires in the world who founded Virgin Atlantic Airways and several other multinational companies. Branson was a poor student before dropping out of school
As such, Mustapha Gajibo's name can also be boldly written on the list of inventors who dropped out of school.
What's Nigeria's government doing about Mustapha Gajibo?
He saved little profits he made from his project and invested it into electric bus manufacturing.
He called on the Federal and the Borno State governments to support "young entrepreneurs that are actualising their dreams, especially by introducing favourable policies, as well as stable exchange rates."
According to him, inventors in Nigeria need favourable government policies that would help indigenous companies to grow and reduce the unemployment rate in the country.
For instance, little was heard about him until German public international broadcaster Deutsche Welle (DW Africa) did a special documentary about him and his innovations in the city of Maiduguri
He also wants the FG to emulate China in subsidising electric vehicles to speed up the transition from gasoline-powered vehicles to electric mobility in the country.
Although, Mustapha Gajibo's creativity has received commendations from Nigeria's Vice President Prof Yemi Osinbajo; Borno State Governor, Babagana Zulum, and Director-General of the National Automotive Design and Development Council Jelani Aliyu, inventions need government policies to make it successful.
Nigeria's Ministry of Science and Technology needs to step in to provide guidance and financial assistance to the innovative Mustapha.
Sources:
Featured image by Borno Community Watch
Olatunji Omirin (January 29, 2022). "'I Dropped Out Of University To Pursue My Passion In Tech". Dailytrust.com. Retrieved April 26, 2022
Editors of Publications International, Ltd. "15 Notable People Who Dropped Out of School". howstuffworks.com. Retrieved April 26, 2022