Last updated on August 5th, 2023 at 10:14 pm
For someone like me who has been following the practical economic track records of Charles Soludo, the Governor of the industrial state of Anambra, I can't express how happy I was when he clinched his party ticket and rode to win the Saturday, November 9, 2021 guber election. He assumed office as Anambra State governor on Thursday, March 17, 2022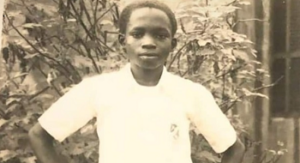 Profile:
Full name: Charles Chukwuma Soludo
Date of Birth: July 28, 1960
Home town: Isuofia
LGA: Aguata, Anambra State
Occupation: Economic professor
Former office: CBN Governor
Party: All Progressives Grand Alliance
Education: University of Nigeria, Nsukka
Wife: Nonye Chukwuma
Number of children: 6 (4 girls and 2 boys)
Soludo at swearing-in ceremony
On Thursday, March 17, 2022, during the swearing-in of Charles Soludo and his deputy Onyeka Ibezim in Awka, the former CBN governor said they've had enough celebration since he emerged as the winner at the poll.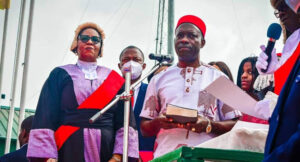 He said:
"Today is my first day at work. I just reported for duty at 8:55 am to be precise and will work for at least eight hours today.

"We had more than a month since the election to celebrate our historic victory. Now is the time to work and there is no minute or kobo to waste in funfair.

"Within the next few weeks, the list of commissioners will be laid before the House of Assembly", saying God ordained the moment
Soludo, a former governor of the Central Bank of Nigeria (CBN) is a man I've always adored though from afar, I felt his radical economic policies at Nigeria's apex bank between 2004 to 2019. That was a moment for the first time, everyone who uses a bank can be confident that their monies are in safe hands.
Before former President Olusegun Obasanjo invited the former World Bank consultant to head the CBN, there were dubious microfinance banks here and there that would operate for three to five years simply to gain the confidence of their customers and disappear at will when they'd accumulated millions of savings from their customers to enrich themselves.
In this article, InfomediaNG Business Solutions who has been following the eloquent and realistic economic policies of Charles Soludo takes a deep look into 15 economic facts and achievements of Isuofia-born economist who lost his mother at a tender age.
1) He graduated at 24-year-old with First Class Honours in Economics winning several awards and laurels at the University of Nigeria at the time.
2) His extremely starling performance in his first degree earned him the honour to run Masters and PhD concurrently in Economics and at 27, he was awarded MSc Economics.
3) The brilliant, vibrant, visionary, and young "bongo" who would later become a number one citizen of a state in Nigeria's southeastern state bagged PhD at 29-year-old in Economics, thereby making him a sought-after economic expert within Nigeria and abroad.
4) His research in microeconomics and practical economic development research, teachings, seminars, workshop, and publications catapulted the Anambra Governor-elect to the post of Professor of Economics at the age of 38, the youngest in that discipline at UNN at the time. I'm not sure if anyone has achieved that feat since then.
5) From then on, Charles Soludo became "hotter" globally as more foreign universities in the United States, United Kingdom wrote him special invitations letters to come to offload some of his heap load of economic knowledge
6) While Chukwuma Soludo continued to tour the world advising and guiding some of them on how to be economically sufficient by using what they had, his home country, Nigeria, was winding down on the devilish rule of the military rule.
And by the time President Olusegun Obasanjo (aka OBJ) assumed office in 1999, it took him some months to know that a Nigerian was somewhere helping other nations, he was invited to resume as the Chief Economic Adviser to Obasanjo. Soludo was 43-year-old at the time.
7) As if OBJ was keeping him for another top post, Soludo was his first choice as a replacement for Joseph Oladele Sanusi Nigeria's apex bank who bowed out in 2004, and on May 29, 2004, the economics prof assumed office, he assumption of office as CBN governor coincide with Nigeria's 5th Democracy day celebration.
8) For many years even before he joined the government, Soludo had been worried about Nigeria's economic problems and some of the policies that made Nigerians lose their investment or hard-earned money.
As the governor of CBN, he was a man that could only work behind the scene. As such, he embarked on banking policies thereby ending "mushroom" microfinance banks and making banks in Nigeria stronger, making only microfinance banks that had the financial capacity to play the role of which they were founded.
9) On July 25, 2006, Chukwuma Soludo delivered a lecture at Obafemi Awolowo University, Ile-Ife, Osun State, in honour of Justice Kayode Esho, a retired Justice of the Supreme Court, he proffered solutions on how Nigeria economy could get more revenue from oil palm export like Malaysia that got its first oil seedlings from Nigeria in the 1960s.
Specifically, he said,:
"By the 1990s, it was estimated that Malaysia export of palm oil produce earned it more than Nigeria eared from petroleum export, and Nigeria had become net importer of oil palm produce".
Entitled, "Law, Institutions And Nigeria's Quest To Join The First World Economy," Soludo who always believes that Nigeria can get out of its economic challenges:
"it need to make rapid progress in quest to join the First World Economy, it has to run at an extraordinary speed in the creation, adaptation and enforcement of relevant institutions and possibly reconstruct the basic institutions of the state (political-legal and administrative arrangements as embodied in the constitution) to enhance the allocative and operational efficiency of the state." (page 25)
10) If you've ever read the template that could make Nigeria gain economic independence and stoppage of today's loans and debts by Nigeria's government, Charles Soludo was the head of the team that drafted the National Economic Empowerment and Development Strategy (NEEDS). NEEDS contains every solution to Nigeria's development challenges.
Unfortunately, succeeding governments have turned blind eyes to the template while the problems Soludo and his team volunteered to solve persist.
11) Most of his papers and publications are centred on economic liberation for developing economies, "Macroeconomic Policy Modelling of African Economies" is one of his many publications.
12) Born on July 28, 1960, Charles Soludo is a member of the British Department for International Development's International Advisory Group.
13) Soludo is the second person to be a CBN governor and later become a governor of a state. The first person was Clement Isong who later become the governor of old Cross River State in the second republic. The economic policies of Isong opened up Cross River and Akwa Ibom states for investments, some of which the two states are seeing today.
14) He's the first former CBN governor from the Southeast geopolitical zone to also become a governor (elect) of a state in Nigeria.
15) He believes that restructuring is key to setting every state in Nigeria on economic prosperity. And he didn't hide when he was on The Platform in the commemoration of Nigeria's 59th independence celebration when he said
"Let Zamfara keep its gold and pay taxes to the government. Let Kaduna and Kogi keep their solid minerals. Most states have their own resources. Concentrating power in Abuja won't help us develop our resources."
15) Charles Soludo took over the management of the apex bank from Sanusi (from the southwest) and was succeeded by another Sanusi (from the North, Sanusi Lamido Sanusi)
Soludo's Emergence As CBN Governor
It was a long way to victory, from the Peoples Democratic Party (PDP) to All Progressives Grand Alliance (APGA), the never-relenting spirit in Charles Soludo saw him coming victorious beating other major contenders like Valentine Ozigbo of PDP Emmanuel Nnamdi Uba of All Progressive Congress (APC).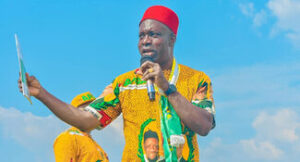 Although there was a large apathy due to the insecurity caused by the sit-at-home order by IPOB members, that would not stop the brilliant economist from beating his opponents.
In fact, he beat the closet contender Ozigbo with 58,422 votes, according to the Anambra 2021 Governorship Election results that were announced by the Independent National Electoral Commission (INEC).
When will Charles Soludo be sworn as Anambra governor?
Soludo will be sworn into office on March 17, 2022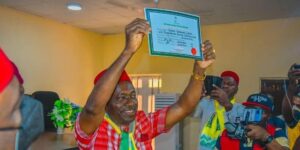 In an interview on Arise TV in the early morning of Tuesday, November 2021 after being declared the winner, he promised to hit the ground running immediately.
Managing CBN is going to be completely different from being a state governor, I hope Chukwuma will not join the likes of some professors, PhD holders, and educationists who have been swept away by Nigeria's "corrupting" political system.
Transition Committee
On Thursday, January 13, 2022, a transition committee was constituted by the governor saddled with the responsibility of ensuring a hitch-free change of baton from the administration of Governor Willie Obiano to Soludo on March 17.
The committee comprises 80 members including:
Dr Obiageli Ezekwesili – Head
Prof Pat Utomi
Prof Chidi Odinkalu
Chief Osita Chidoka
Dr Alex Otti
Dr Olisa Agbakoba (SAN)
Chief Leon Mezue
A statement from Soludo Media Office and signed by Joe Anatune said:
"This is to announce the constitution of a transition committee, which will liaise with a team set up by the Government of Anambra State to ensure a seamless transition from the Governor Willie Obiano's administration to a Chukwuma Charles Soludo-led administration as from March, 17 2022."
He rejected the traditional title of "His Excellency", saying he prefers "Mr Governor" or "Charlie Nwangbafor" during the inauguration of his 80-member transition committee on Thursday, January 20, 2022
He said that there was not going to be any ceremony on his inauguration day, stating that "Not even 10 Kobo will be spent. So the people who are saying N20million has been budgeted should go and tell us where they will get that money. It is going to be work, work, work, and that is what we epitomize."
Promoting Local Content:
On Wednesday, January 26, 2022, during an interaction with the 80-member transition committee, the former CBN governor made a great announcement regarding local content, saying official vehicles will be locally made by Innoson Vehicle Motors.
"Igbo land is one and we must protect it. We want to bring back the zeal of patronizing our own. I have said it even during campaigns, and I meant it, that if I win, the official car of the governor of Anambra State will be Innoson motors.
Soludo's Family
Married on December 26, 1992, his marriage to Nonye (a holder of Computer Science and Accounting&Finanace degrees) is blessed with six children (four girls and two boys).
Challenges Ahead
Expectations are high with many promises by the former CBN governor. His promises show that he is ready to change the status quo in Anambra political landscape.
Not just that, if he gets it right, his style of governance may likely be a model for electorates in future elections to determine who deserves their votes.
This doesn't come without challenges. He must be ready to step on toes if those promises are to be fulfilled just he did when he was the governor of Nigeria's apex bank between 2004 to 2009.
His 5-year term at the CBN was later referred to as "Nigeria's banking revolution " by economists and financial analysts.
During his reign at CBN, his family members were put at risk that they went into exile after the attempted kidnap of his children and his life.
It's expected that his planned economic policies in Anambra WILL not go down well with some people whose major source of income is defective governance and endemic corruption that has ravaged Nigeria's governance since 1960.
Soludo's Official Social media handles:
Twitter: @CCSoludo
Instagram: @ccsoludo
Facebook Page: @ProfCharlesSoludo
I also hope that Charles Soludo knows that Anambra people, Nigerians, and the world are watching to see him deploy his practical economic policies to transform the industrial state of Anambra into a world-class economy, turning the state into an example for Aso Rock and other states of the federation to emulate.
References:
Soludo Solution. "About Prof. Charles Chukwuma Soludo". Soludosolution.org. Retrieved November 11, 2021
Shibayan, Dyepkazah (January 21, 2022). "EXTRA: Soludo rejects 'His Excellency' title, opts for 'Mr Governor'". thecable.ng. Retrieved January 27, 2022
Obianeri, Ikenna

(January 14, 2022). "

Soludo appoints Ezekwesili, 79 others into transition committee". punchng.com. Retrieved January 27, 2022