The economist, entrepreneur, and philanthropist Tony Elumelu is one of Africa's most prominent business leaders, he is the chairman of Heirs Holdings and a founder of the Tony Elumelu Foundation.
Overview:
Full name: Tony Onyemaechi Elumelu
Date of birth: March 22, 1963
State of origin: Delta
Wife: Awele Vivian Elumelu
No of children: 7
On March 22, 1963, Elumelu was born in Jos, Nigeria, to Suzanne and Dominic Elumelu from Onicha-Ukwu in Aniocha North Local Government Area of Delta State. He has four siblings, one of which is Ndudi Elumelu, a minority leader in Nigeria's Federal House of Representatives.
Education
He attended the Bendel State University (now Ambrose Alli University), where he earned a BSc in Economics and a Master of Science in Economics from the University of Lagos.
Early Career
In 1985, Elumelu served as a Youth Corp member of the National Youth Service Corps at the Nigerian Union Bank while beginning his career as a salesperson. A few years later in 2005, Elumelu moved to Allstates Trust Bank, which went on to purchase United Bank for Africa (UBA).
As a young salesperson, he remarked, "I was hungry, youthful, and industrious, but the fact was that I was just one of the hundreds of young Nigerian graduates who were all eager to succeed."
To save a troubled bank called Crystal Bank in 1997, Elumelu joined a group of investors in a takeover effort (later renamed Standard Trust Bank). A few years later, he was able to turn it around and lead one of the greatest bank mergers in Sub-Saharan Africa by purchasing United Bank for Africa (UBA).
United Bank for Africa
Standard Trust Bank merged with UBA in 2005, creating a pan-African banking business with subsidiaries in 20 African nations, as well as France, the United States and the United Kingdom. Elumelu served as the company's Group Managing Director until he stepped down in 2010.
The United Bank for Africa's board is now chaired by Elumelu, who serves also as its president.
Heirs Holdings
Heirs Holdings is Elumelu's family-owned investment holding business, and the Tony Elumelu Foundation is his philanthropy arm.
A family-owned investment holding company was established by him and named it Heirs Holdings in 2010. Tony Elumelu Foundation was created to promote African entrepreneurialism and was also founded by Elumelu in the same year.
In addition to diverse assets, Heirs Holdings also has holdings in banking, financial services, real estate, natural resources, oil and gas, and a range of other industries such as healthcare, hospitality, and insurance.
Transnational Corporation, a multinational corporation with corporate interests in Power, Hospitality, and Energy, is owned by Elumelu's Heirs Holdings.
Heirs Holdings has a 45 per cent ownership in an oil-mining licence known as Oil Mining Lease 17 from the likes of Shell, Total, and ENI for more than $1 billion.
His Philanthropic activities
Tony Elumelu launched the Tony Elumelu Foundation in 2010 after retiring from United Bank for Africa. The foundation encourages African business people to take their ideas to the next level.
Africapitalism, the economic philosophy introduced by Tony Elumelu, is the foundation of the Tony Elumelu Foundation's belief that the private sector's role is critical for Africa's development; "that the African private sector has the power to transform the continent through long-term investments, creating both economic prosperity and social wealth."
A Pan-African entrepreneurial initiative, the Tony Elumelu Foundation Entrepreneurship Programme, was launched in 2015 with a $100 million commitment from Elumelu to teach, invest, and mentor 10,000 new African entrepreneurs over the next decade.
Recognition and Awards
In the business and entrepreneurial community, Elumelu has been lauded for his work and achievements. And some of them include:
In 2003, the Federal Government of Nigeria honoured Elumelu with a national title of Member of the Order of the Federal Republic (MFR),
In 2012, he was awarded the National Honour of Commander of the Order of the Niger (CON) for his service in promoting private enterprise.
He was awarded the 'Daily Times, Nigerian man of the year in 2016.
The Business Council for International Understanding Global Entrepreneurship award in 2017.
In 2018 and 2019 he was awarded the All-Africa Business Leaders' Awards (AABLA), Philanthropist of the Year Award,
Bayero University Kano (BUK) – Honorary Doctor of Business degree in 2019
He was honoured with the National Productivity Order of Merit Award in 2019.
TIME magazine 's 100 Most Influential People of 2020.
Marriage and children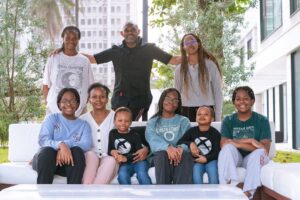 In 1993, Elumelu married Dr Awele Vivien Elumelu, a medical doctor, and they are blessed with seven children: (five girls, 2 boys). They are:
Ogor Elumelu,
Oge Elumelu,
Ugo Elumelu,
Onyinye Elumelu,
Nneka Elumelu and
Two boys
Does Elumelu have a private jet?
Tony Elumelu, the former Group Managing Director of United Bank for Africa (UBA), has a private plane touring around the world for business exploits.
Featured Image: