Last updated on August 5th, 2023 at 10:13 pm
Six decades after the establishment of the University of Lagos (UNILAG), Professor Folasade Tolulope Ogunsola emerged as the first female Vice Chancellor of the prestigious institution on Friday, October 7, 2022.
She will assume office on Saturday, November 12, 2022, while her tenure comes to an end on Thursday, November 11, 2027.
Ogunsola, a Professor of Microbiology at the College of Medicine succeeds Professor Oluwatoyin Ogundipe after beating seven other erudite scholars: Professors Mathew Ilori, Imran Smith, Timothy Nubi, Ayo Olowe, Abayomi Akinyeye, and Adeyinka Adekunle to emerge as favourites.
Having been a VC in an acting capacity in 2020, Mrs Ogunsola officially joins the list of women VCs in Nigeria's higher institutions.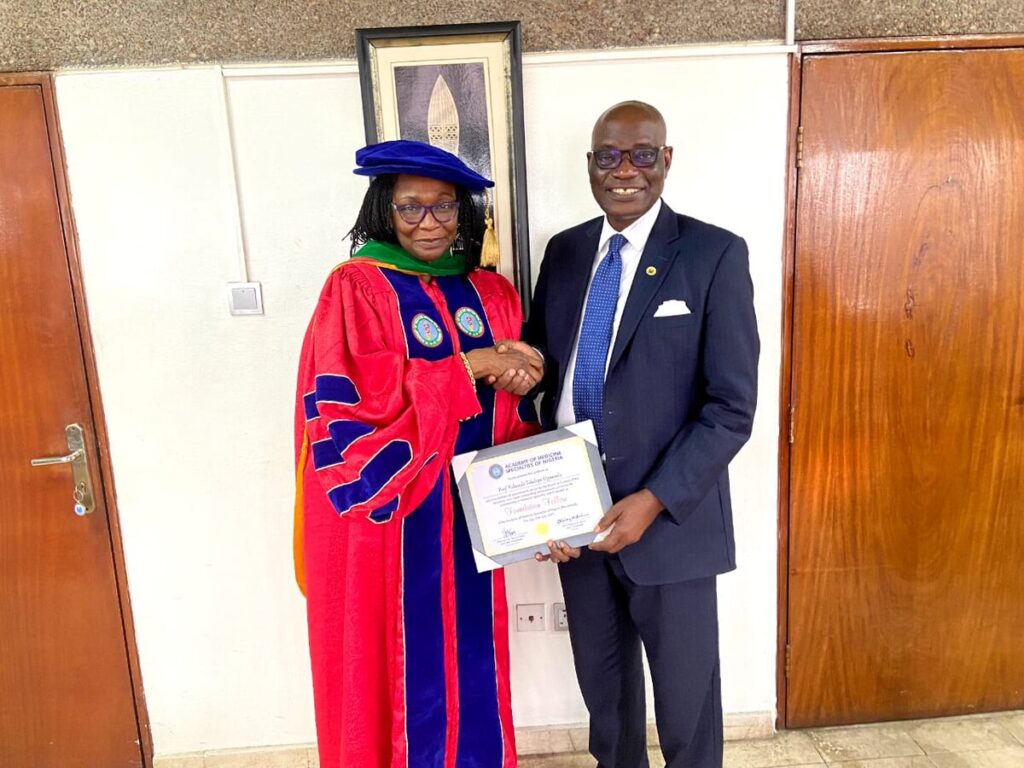 The first female professor in a Nigerian university was Professor Grace Alele-Williams when she was appointed as the VC of the University of Benin in 1985.
Folasade Ogunsola Makes History in UNILAG
Folasade, a specialist in microbiology and a mother isn't the first female VC in Nigeria, but she has broken the jinx by becoming the first woman UNILAG Vice Chancellor since its creation in 1962.
Beginning on November 12, 2022, when the outgoing VC Professor Oluwatoyin Ogundipe is expected to bow out of office, the disciplinarian professor will lead the institution till at least 2027.
What do you know about her?
Some people came to know Ogunsola when she was in an acting capacity in 2020, but her record was more than just an acting VC of UNILAG during the trying moment of Ogundipe.
Below are the 10 interesting things about the First UNILAG Female Vice Chancellor
1) Folasade Ogunsola is the daughter of the globally renowned geographer Professor Emeritus "Akin" Mabogunje.
Her father was a Geography lecturer at the University of Ibadan (UI) and a visiting lecturer at some universities around the world including the United Kingdom.
For those who do not know who Akinlawon Ladipo Mabogunje is: He led a committee of scientists who provided vital information (which has now been documented) about Abuja when the military regime of General Murtala Mohammed disclosed in 1975 that Nigeria's Federal Capital Territory (FCT) would be moved from Lagos to Abuja.
2) She is a former student of UNILAG which she will now lead for a 5-year term. Her exploit in education is quite similar to the academic exploit of the second female VC at the University of Benin (UNIEBN), Prof. Lilian Salami.
3) During her appointment as the Acting VC of UNILAG on August 24, 2020, following the power tussle between the outgoing VC and the chairman of the Governing Council, Folasade Ogunsola combined her academic prowess and motherly role to reduce the tension till the issued were sorted by the Federal Government.
4) She would become the 13th VC of UNILAG on Saturday, November 12, 2022, when she assumes office.
5) Her appointment came a year (three months) after she was inducted as a Foundation Fellow of the Academy of Medicine Specialties of Nigeria (AMSN) on July 29, 2021.
6) The first female UNILAG joins the list of 31 women professors in Nigeria's universities. 11 female VCs at the time of this report and 20 former female VCs, according to a report by TheCable.
7) Folasade Ogunsola attended the best universities within and outside Nigeria. She grew up in an academic environment at U.I
Ogunsola was raised at the University of Ibadan where her father, Akin Mabogunje lectured.
After her post-elementary education at Queen's College, Lagos, she proceeded to the University of Ife (now Obafemi Awolowo University) for her first degree between 1974 and 1982.
For her master's degree, she was at the College of Medicine, the University of Lagos and the University of Wales between 1992 and 1997 for a doctorate.
8) She had always wanted to make an impact in the medical profession even as a child at the U.I where her father was a lecturer.
It was reported that Folasade mimicked medical practitioners by using dolls as patients and offering medical care to them.
She would later become the provost of the College of Medicine, the University of Lagos where her research on viral diseases has been phenomenal in making impacts on human well-being.
9) She is a firm believer in the application of knowledge in reducing the high rate of unemployment among Nigerian graduates. She is more likely going to push for applied entrepreneurship programmes during her reign at UNILAG.
10) She has more than a dozen medical publications to her name.
Final thought
On a lighter note, it would be a case of 'Ogun' handing over to another 'Ogun' on November 12, 2022 (Ogundipe outgoing VC and the incoming VC Ogunsola)
"In deed and in truth", Prof Ogundipe will bring to bear her administrative and academic qualities in one of Nigeria's first-generation universities from November 2022 to November 2027.
We wish the first female VC at UNILAG Prof. Folasade Ogunsola the best as she steers the affairs of the institution for the next five years.
References:
The Punch (October 8, 2022). "BREAKING: UNILAG gets first female Vice Chancellor". punchng.com
Wikipedia "Folasade Ogunsola". wikipedia.org.
Daily Trust (05 Sep 2021). "Why FCT Should Celebrate Prof. Mabogunje At 90". dailytrust.com
 Stephen Kenechi (October 12, 2021). "202 Nigerian varsities, 11 female VCs — case for gender inclusion in HE headship". thecable.ng
UNILAG (August 3, 2021). "UNILAG VC Celebrates Prof Ogunsola On Her Induction As Fellow, AMSN". unilag.edu.ng