Last updated on May 9th, 2023 at 08:29 pm
Ademola Adeleke is the current Governor of Osun State. He took the oath of office on Sunday, November 27, 2022, after defeating a sitting governor Gboyega Oyetola.
With the victory and swearing, The Adelekes becomes the first family in Osun State to produce two governors from the same family.
His elder brother, Late Isiaka Adeleke (aka Serubawon) was the first executive governor of Osun between 1992 to 1993.
Table of Contents
In the keenly contested election, the 2022 Osun Governorship election result showed that Ademola Adeleke won by a margin of over 28,000 votes, winning 17 out of 30 council areas.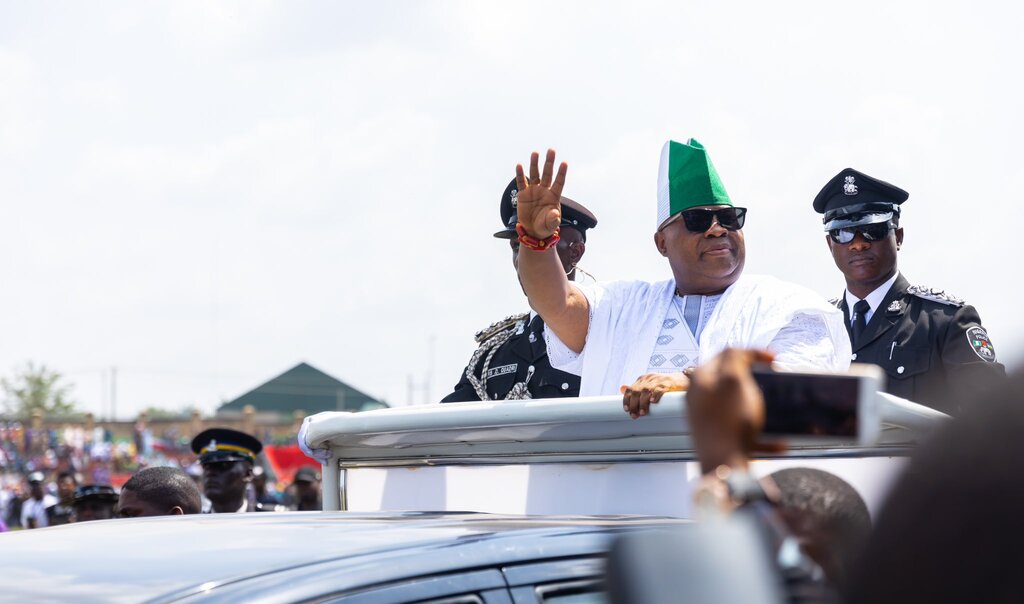 When it comes to the political sphere, one man has been credited with reducing the sense of angst that people feel.
For his frequent and unplanned dancing in public after big victories or just for laughs, Senator Ademola Adeleke has earned the moniker "dancing senator" representing the Osun-West senatorial district until June 2019.
Profile:
Date of Birth: May 13, 1960
Place of Birth: Osun State
Nationality: Nigerian
Education: Atlanta Metropolitan State College, United States
Discipline: Criminal Justice
Profession: Politician
Academic Qualifications:
Until June 2019, he served as a senator for Nigeria's Osun-west senatorial district. His family hails from Ede in Ede Local Government Area.
Adeleke began his elementary education at Methodist Primary School in Surulere, Lagos State, and later transferred to Nawarudeen Primary School in Ikire.
He went further at Ede Muslim Grammar School Ede, completing his secondary education before moving to the US to join his two elder brothers.
He claimed to have attended Jacksonville State University, Alabama, in the United States, where he studied criminal justice and political science.
But during and after the 2018 Osun State Governorship election, his political rivals went back to dig into his past. They accused him of obtaining a degree from the US in a questionable manner.
This prompted him to go back to the U.S, this time he enrolled at Atlanta Metropolitan State College, where he earned a Bachelor of Science in criminal justice in 2021.
Working Experience:
Ademola Adeleke is a successful businessman and administrator who served as Pacific Holdings Limited's group executive director from 2001 to 2016.
Pacific Holdings Limited was his brother's company as at then. From 1985 to 1988, Ademola worked as a service contractor for Quicksilver Courier Company in Atlanta, Georgia, the United States.
From 1990 to 1994, he served as vice president of Origin International LLC, a flavour and fragrance manufacturing company in Atlanta, Georgia, US.
Net Worth
Unlike Aliko Dangote, Femi Otedola, and other Nigerian businessmen whose sources of wealth are known, the net worth of Ademola Adeleke isn't specifically known except some guesses because of the influence of his billionaire brother Adedeji Adeleke.
However, the dancing senator is wealthy and can conveniently afford the luxuries of life. For instance, he once bought a Mercedes GLB 250 worth NGN20 million as a gift for his daughter during her graduation from Oakland University in Alabama.
Controversy over Ademola's academic qualifications
In a build-up to his guber ambition, some of his rivals sued him for certificate forgery. He was accused of faking his secondary school testimonial and WAEC results to terminate his gubernatorial campaign in the election.
The Testimonial Adeleke submitted to INEC dated July 20, 1988, with the heading of Ede Muslim Grammar School in Osun State, which was not yet a state at the time raised hundreds of questions about how that came about.
Osun State was carved out of Oyo State on August 27, 1991. Furthermore, as evidenced by the SSCE results in the testimonial, the mode of examination was not in existence as of 1981.
According to a 2018 testimonial with the Heading Ede Muslim High School, the principal who signed the 1988 testimonial also signed the 2018 testimonial.
This led Adeleke's lawyer to arrest the principal in his defensive effort to assert his secondary school hasn't come out to refute his testimonial asking the court to dismiss the case.
The court threw out the case because the plaintiff had failed to provide evidence of Adeleke's forgery; therefore, it was dismissed.
Witnesses said that they did not see Adeleke in the examination room. One of the witnesses stated that he would have recognized him because he is a well-known public figure.
Davido and Ademola
The dancing senator is an uncle to Davido, a well-known Nigerian singer. Nobody knew this fact until Ademola Ade rose to notoriety in politics when his brother Isiaka Adeleke, who served as a senator for Osun-West, passed away in April 2017. He chose to run for the Senate soon after his uncle Isiaka died and won the seat gallantly.
Political Career
Death is a horrible thing, but for Adeleke, it was a harbinger of things to come in politics. Isiaka Adeleke, the head of Adeleke's empire, died on April 23, 2017.
Ademola was relatively unknown in politics before then. It's impossible to deny that Late Isiaka had a remarkable career and a legacy to be proud of. He was the first executive governor of Osun State.
His life was a shining example of goodness and patriotism. None of us could deny his status as an outstanding representative for his country in the international arena.
Osun West Senatorial District and other party powerful men agreed to return the ticket to the Adeleke's empire, as such, Demola stepped in to fill Isiaka's vacancy in the Senate since it is required to do so by the constitution.
It was a shock win in the by-election for Adeleke. Nine of the ten local governments in the senatorial district elected him, and he received 97,280 votes in total. He dedicated his victory to his late brother.
Governorship Battle
On September 22, 2018, Adeleke ran for governor of Osun State as a member of the People's Democratic Party (PDP) against APC's Alhaji Gboyega Oyetola and Iyiola Omisore, candidates of the Social Democratic Party (SDP)
The Independent Electoral Commission (INEC) ruled the election inconclusive and scheduled a rerun for September 27, 2018. Oyetola, a candidate for the APC, won the run-off election.
Adeleke called the election a "coup" and opposed the outcome. On March 22, 2019, a Tribunal proclaimed Adeleke, the election's winner.
But Gboyega Oyetola approached the Court of Appeal to uphold his victory. In a lead judgement delivered on May 9, 2019, in Abuja, Justice Hannatu Sankey set aside the entire proceedings of the Tribunal because of its 'faulty composition' and therefore declared Oyetola the winner.
But the unsatisfied Ademola Adeleke who believed that he was robbed, approached the Supreme Court, unfortunately, the apex court upheld the judgement delivered by the Appeal Court on Friday, July 5, 2019.
But the unrelenting Ademola was cleared by his party (PDP) along with Akin Ogunbiyi and four others to contest the party's primaries ahead of July 16, 2022, Osun State Governorship Election
As Governor-Elect In Osun State
Ademola Adeleke who contested July 16, 2022 governorship election in Osun State was declared the winner of the election after winning the PDP primaries held in Osogbo on March 8, 2022.
The Independent National Electoral Commission Returning Officer in the election, Professor Oluwatoyin Ogundipe pronounced Adeleke as the governor-elect having satisfied the requirements of the law.
Adeleke defeated an incumbent governor by a 28,344 vote margin. Oyetola of APC got 375,027 while Ademola Adeleke received 403,371 votes.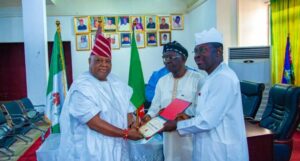 Ademola Adeleke (by the left) received a certificate of return from PDP headquarters in Abuja. Photo credit: TheCable"We are all winners. Let's come together and rescue the state. People are suffering under the current APC government. PDP will win by a landslide and reclaim our stolen mandate."
Before the primaries, Vanguard Newspapers reported that his major contenders in the primaries withdrew from the election.
Those who bowed out of the race are: Dr. Akin Ogunbiyi; Fatai Akinbade and Dele Adeleke and Mr Sanya Ominrin.
Despite that, the election went ahead and Ademola Adeleke polled 1,887 votes.
In another location, one of the contestants Dotun Babayemi was declared the winner of the poll organised by another faction led by Olagunsoye Oyinlola.
At the end, Ademola was sworn in on November 27, 2022, as the governor of Osun State and issued his first Executive Order reverting the name of the state from The State of Osun to Osun State.
He also reverted the state slogan of state from "Land of Virtue" to "State of the Living Spring"
Overturn of Ademola's victory by the tribunal
In what seemed to be a short-lived victory, the Osun State Election Petition Tribunal on Friday, January 27, 2023, sacked Ademola Adeleke as the state governor.
The Justice Tetsea Kume-led tribunal declared Gboyega Oyetola as the winner of the governorship election of July 16, 2022.
The tribunal ruled, ruled that there was over-voting in favour of Adeleke and berated the Independent National Electoral Commission (INEC) for not complying substantially with the Constitution and the provisions of the Electoral Act.
The tribunal, therefore, deducted the over-voting and declared that the APC candidate Oyetola won the election, having polled 314, 921 (as against INEC's 375,027 votes), while Adeleke's score was depleted to 290, 266 as against 403,371 votes declared by INEC.
Vows to challenge the Tribuna's ruling
Ademola Adeleke who swiftly reacted to the unfavourable ruling of the tribunal vowed to appeal.
He tweeted:
"I want to use this opportunity to call on our people to remain calm. We will appeal the judgement and we are sure justice will be done. "Let everyone be reassured that we will do everything possible to retain this widely acclaimed mandate. God bless Osun!
On March 24, 2023,  a three-member panel of Justices at the Appeal Court vacated the ruling of the tribunal, thereby affirming Ademola Adeleke's victory.
Unsatisfied by the ruling, Mr Oyetola approached the Supreme Court. Again, the Apex Court affirms the victory of Ademola, putting to rest the legal battle between him and the Iragbiji-born former governor.
What the Electoral Act says:
Adeleke shall remain in office for the period of 21 days within which he is entitled to file an appeal against the judgement of the Tribunal.
Ademola Adeleke Family
Ademola Adeleke is a married father of three. His two sons, Shina Rambo and B-Red are well-known artists in Nigeria. Adenike Adeleke is the name of his little daughter.
Collection of Cars
Understandably, a guy of Ademola Adeleke's stature and riches would not lack the means to travel in style. Before running for governor of Osun State, Ademola Adeleke said that he already had mansions, vehicles, and everything else, so he didn't see the need to steal from the state's funds. Here is What Ademola Adeleke garage looks like:
Range Rover Sport
G-Wagon Mercedes-Benz
The Adeleke Family's Empire
God's blessings, austere discipline, hard labour, and smart use of resources helped the Adeleke family build their financial empire. Unconditional favours have been extended to a huge number of people due to the family's selfless generosity.
Because their brother, late Senator Isiaka Adeleke, governor of Osun State from January 1992 to November 1993 (during the regime of Ibrahim Babangida) set a firm foundation for the family politically, the Adeleke family will continue to be relevant in Osun State political history.
Would the dancing senator unseat Oyetola come July 16? Wait till then, but one thing is sure: Nigerians would be entertained again with his dancing skills. But he isn't the only dancing politician in Nigeria as reported by Sahara Reporters in this video:
Sources:
Featured Image By Daily Post
Sahara Reporters (September 20, 2018). "EXCLUSIVE: The Documents That Exposed Adeleke's Fake O'Level Results". Saharareporters.com. Retrieved January 18, 2022
Channels Television (March 8, 2022). "Ademola Adeleke Declared Winner Of Osun PDP Gov Primary". Channelstv.com. Retrieved March 10, 2022