Last updated on August 5th, 2023 at 10:17 pm
Popularly called "Gucci" because of her opulent lifestyle, Gace Mugabe, the wife of Zimbabwe's late hero and dictator built and acquired property around the World worth ZWD360 billion ($1 billion) empire, according to a report.
Before Mugabe died on September 6, 2019, in Singapore, it was gathered that Grace bought multi-million dollar property for her sons in faraway South Africa.
The net worth of the Late Rober Mugabe could be difficult to evaluate, but the late dictator left behind for Grace and her children multi-million dollars.
According to SABC, Mugabe made sure that he lavishly built mansions around the World, but the late dictator enjoyed staying more in Singapore where he had his last breath.
Mugabe left behind a shamble economy, though he was reputed to have built the country from the scratch.
According to a report by Mail Online, the late former Zimbabwe President, Robert Mugabe and his wife, Grace accumulated wealth at more than ZWD361,900,000,000 ($1billionUSD).
The property includes six residences and a series of farms within and outside Zimbabwe. One of such properties is the famous Mugabe's Blue Roof mansion in Harare's Borrowdale suburb.
The Blue Roof mansion is worth several billion of Zimbabwe dollars. With 25 bedrooms with en-suite bathrooms and spas, massive reception rooms, and a series of offices, Blue Roof Mansion is an architecture edifice to behold.
Worth of Mugabe's Blue roof Mansion: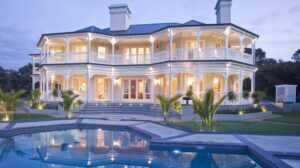 According to another report, the Blue Roof mansion alone exceeds $1billion in value' back in 2001.
Robert Mugabe's property in Hong Kong
To his name is far away Hong Kong is a Villa worth £4million which he acquired in 2008. He also acquired 15 farms through the controversial land reform programme in Zimbabwe when he was in power.
At a time, Gucci Grace was rumoured to be nursing the ambition of taking over power from her husband at the tail end of her husband's presidency before he was forced to leave the office.
The Mugabe's also own several millions of property and houses in South Africa, Dubai and Singapore. Grace, at a time, was reportedly duped by a Lebanese diamond dealer over a deal involving a 100-carat diamond.
Her play sons also live a lavish lifestyle around the World. Some of them include rare diamond jewellery and Rolls-Royce limousines.
Another property owned by Mugabe in the suburb of Borrowdale was estimated at ZWD1,391,634,220.
Mugabe's property in UAE
The Mugabes, according to report, was rumoured to have a property in one of the most expensive countries to live, the United Arab Emirate (UAE), though details of the family's property were not revealed, however, the former First Lady Gucci Grace allegedly rented a home for a staggering $480,669 per month.
Mugabe's property in South Africa
Another multi-million property was traced to the Mugabe family in South Africa. Mrs. Grace Mugabe reportedly bought a $3,089,461 (R45million) home in the wealthy Sandton area in the former Apartheid country.
We're sure that more reports about the properties owned by the late leader will continue to emerge a few days from now.
The value of former African leaders is not known until they die. The richest people in African are either incumbent leaders or ex-leaders.
For instance, no one could appropriately evaluate the net worth of Sani Abacha, until he died. Even more than 20 years after death, Abacha's net worth remains a mystery.
Below is another report by Ten Over Ten that the late Mugabe bought several expensive things, ranging from a wristwatch to cars and shoes specially built for him.
Mugabe was finally laid to rest on September 28, 2019, after days of controversy over where he should be buried.