Last updated on December 7th, 2023 at 01:20 pm
Back in 2021 when Forbes released a list of the richest cryptocurrency founders, Binance founder Changpeng Zhao popularly called CZ was valued at $1.9 billion by Forbes in August 2021, but in less than a year, CZ's net worth rose to $96 billion in January 2022, according to a report by Bloomberg.
CZ's fortune has now been reevaluated by the media organisation in October and it is estimated at $33 billion. His wealth nose-dived due to the rumbles in the crypto space.
His crypto platform Binance is the largest Cryptocurrency Exchange in the world. CZ has more than enough to build houses on the sea and tour the space for an expedition.
Quick Facts About CZ
Date of birth: September 10, 1977
Country of origin: China
Citizenship: Canada
Residence: Singapore
Bloomberg Billionaires Index: $33 billion (October 2021)
Institution attended: McGill University, Montreal, Canada
Course of study: Computer Science
Company: Binance (A global Crypto Exchange Company)
Coin: Binance Coin (BNB)
Cryptocurrency rating: 5th richest crypto CEO
With his latest wealth, CZ is on the move to displace billionaires like Meta Founder Mark Zuckerberg who is worth $124 billion or Warren Buffett who is worth $116 billion at the time of updating this biography.
According to Forbes in the 2018 list of The Richest People in Cryptocurrency, Chris Larsen, co-founder of Ripple was the richest crypto person in 2018 sitting on $8 billion in crypto assets while CZ occupied the third position with $2B.
But today, the Binance founder is 16 times richer than Chris (whose worth had dropped to $6Billion) as of January 17, 2022.
According to the crypto-tracking website, Coinmarketcap, the Binance coin (BNB) market capitalization was $80,142,788,863 as of January 13, 2022
But dropped to $46,000,463,136 (November 14, 2022) due to the rumbles in the crypto market after the collapse of FTX token on November 8 and LUNA in May 2022.
CZ wanted to rescue Sam Bankman-Fired's FTX exchange from the November 11, 2022, calamitous collapse, but DD showed that the crypto exchange – FTX – was in deep financial trouble.
The Bloomberg Index estimated that Binance made $20 billion in revenues in 2021 using indicators like spot and derivative exchange volumes and its advertised trading fees.
Changpeng Zhao Net worth:
CZ stake in Binance was worth $2 billion US Dollars in 2021 in the rating by Forbes when he ranked 5th richest crypto founder by Forbes.
According to a report, Binance's CEO, who was a former employee of McDonald's, is worth $96 billion, a new estimate by Bloomberg and its Billionaires Index reveals.
But CZ, as he is fondly called, who is the founder and the Chief Executive Officer of Binance surprisingly doesn't have a car of his own or a house. He said all he wanted is to continue to keep crypto.
Although he initially had little knowledge about fintech, his story is slightly similar to a Norwegian Kristoffer Koch who stored some bitcoins who consciously didn't know that his action would change his fortune.
Growing up 
Most times, family upbringing and the status of parents can influence their children, of course, CZ isn't an exception.
His parents were school teachers: while his mother was an elementary and high school teacher, his father, a programmer and coding specialist was a professor in one of the Canadian universities.
Changpeng and the rest of the family stayed behind and before turning 15, his family got a visa to visit their father in Canada. That's how he stayed in Canada for his education.
What Inspired CZ Course Of Study
The Binance founder got exposed to programming and coding at a very tender age. In an interview with Bloomberg, he revealed how his dad spent 7,000 Canadian Dollars to purchase a 286 computer. From then, he had a computer to himself where he played games and did other stuff.
His exposure to programming was influenced by the versed knowledge of his dad who is an extremely brilliant programmer, who specialises in Fortran, Pascal, and C among others.
Before 17, CZ had already enrolled in programming courses in high school. As an undergraduate student at McGill University, Changpeng Zhao, whose vision for success was unrivalled submitted an application for an internship at a Montreal-based software firm.
At the software company, he was doing virtual-reality markup language like HTML.
Career In Trading Systems
Just like Oliver Twist who always wants more, the cryptocurrency expert and influencer got another internship in Japan for his first programming job which is related to trading.
He started accumulating experiences that would be the backbone of running a crypto company that would be born in 2017.
During his time in Japan, the firm was outsourcing for Tokyo Stock Exchange where they were doing trading systems. Again, he added to his database of experience while nurturing his dream.
The money that was flowing into through system was huge and he stayed longer with the Japan-based firm even though he didn't know what financial technology (FinTech) or financial trading systems were at the time.
Previous Projects
What became the largest crypto trading exchange platform today was not magic, as the founder has always been known for hard work, and resilience, and doesn't give up on projects even in the face of challenges.
Zhao had worked on several projects before becoming a crypto entrepreneur who is rated as one of the wealthiest crypto founders who ever liveth.
Before founding Binance, he worked as a developer at Bloomberg Tradebook for four years. He's also the brain behind Fusion Systems in 2005, a tool that was described as one of the fastest high-frequency trading systems for brokers. He was below 30 when he developed Fusion System.
He was a member of a team that developed Blockchain.info and was formerly the Chief Technology Officer at OKCoin
OKCoin was his last-place employer as he took a bold step to found Binance in July 2017. The launch was epic as it hit the crypto world with a $15 million in funding raised during an initial coin offering (ICO).
And in less than 20 months, his dynamic management team coupled with a lot of shifts from how his competitors did business, catapulted Binance to the largest trading exchange by trading volume.
How CZ Turned Binance Into Largest Cryptocurrency Exchange
Leveraging his involvement in other major projects, Changpeng Zhao moved his company to an incredible height within the shortest possible time.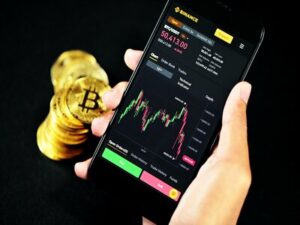 How exactly can you describe a firm that came into the crypto world in 2017 and before the end of 2018, it has become the largest globally?
Today, Binance exchange can process incredibly 1.4 million transactions within a second. More coins are traded on the platform than any of its competitors in the world.
At the time of publication, BNB was the fourth most valuable coin globally, trailing behind Bitcoin, Ethereum, and Bitcoin Cash.
1 BNB was $486.43 on Sunday, August 29, 2021, with 168,137,036 BNB circulating in the market and in public hands. BNB price has now dropped to $286.78 (November 14, 2022).
Binance Coin is now the fourth-biggest cryptocurrency by market capitalisation despite regulatory scrutiny in several countries including the U.S. and China
How He Did It?
CZ says crypto exchanges used interfaces that were slow since the acceptance of bitcoin went global back in 2016 through 2017 plus poor customer support.
Considering his knowledge in programming, improving or solving the existing problems was an advantage.
"I looked at what we had. We have a fast matching-engine trading system pretty much ready", and he alongside his team made the user interface much better.
What Binance is doing differently from its competitors:
The dynamic solution the Binance team brought to the exchange world includes:
Improved on exchange speed
Improved on UI
They improved on customer service
Reduced fees
Went pure crypto-to-crypto
Serviced the global audience including Nigeria.
Offered mobile support.
"So back then, even though there were hundreds of new exchanges each day, they were just copying each other. No one really made significant improvements. I thought we had a chance to make a pretty nice exchange," he was quoted as saying in a Bloomberg interview.
With close to 2,000 workforces spread across the world, Binance continues to expand and aims to launch more products like Binance Card.
Another one is Binance Coin (BNB) which was launched in July 2017. Today, BNB can be used to perform the following tasks:
Process payments
Make credit card payments
BNB can be used to purchase virtual gifts
Pay for travel arrangements
It can be used to make donations to charities around the world
It can be used to make investments
BNB can also be used to make loans and transfers
Binance Headquarters
While some people around the world think Binance is based in China, this isn't true. CZ  actually took a quick step in decentralising Binance's offices and saved his crypto firm from China's authority clampdown.
One such move is the incorporation of Binance in the Cayman Islands, Mahé, and Seychelles. But when he was asked about the operational base of the crypto exchange company, CZ categorically said headquarters are just a concept, saying wherever Binance office is found it's just a way of abiding by regulations.
According to the CEO, the company has both styles of operations (virtual office and office). Binance is one of the popular exchanges used by Nigerians to buy cryptocurrency trading after the CBN restrictions in 2021, it provided P2P platforms for the crypto community in Nigeria.
Changpeng Zhao House
When you are worth close to $96 billion US dollars, you could decide to buy a jet, ground it, and turn it into your private home, but to Changpeng, owning a house and a personal vehicle is nothing to him. CZ doesn't own a house or a car.
Instead, he prefers to buy gadgets like laptops whenever there is a new release in the market. To him, laptops aren't expensive.
He told Olga Kharif of Bloomberg in an interview in April 2021, that houses and cars are not liquid.
"I don't have a car. I don't have a house. The problem with cars, houses, is that I just don't think they're liquid.

As soon as you buy them, you can't trade out of them that easily. You can rent an apartment or stay in a hotel—that gives you much higher liquidity.

"So I'm one of those guys who value liquidity much more than owning something. I actually prefer not to own anything" saying he prefer to buy more coins.
Challenges:
We may think everything was rosy for CZ, but this isn't through, he has had to cross hurdles even when he was growing up to some ant-cryptocurrency policies in some countries where Binance was doing well.
When the crypto founder was growing up he worked at a time to support his family, one of them is McDonald's
Some of the challenges Binance faced included the investigation that was launched on the crypto exchange firm in the United States on May 13, 2021, by the Justice Department and Internal Revenue Service regarding individuals who use the platform for money laundering, which the Binance spokeswoman Jessica Jung denied.
As if that wasn't enough, his home country China on May 18, 2021, banned financial and payment institutions from offering cryptocurrency-related transactions, which slightly affected its operations.
What would you do if you were worth $96billion?
Relocate to the most expensive area or buy the most expensive cars? All of these are inconsequential to  Changpeng Zhao, one of the most influential people in crypto but to continue to have more coins.
Further Reading:
BeInCrypto Staff (April 8, 2021). "Binance CEO Has Nearly 100% Net Worth Invested in Crypto". finance.yahoo.com. Retrieve August 30, 2022
Maloney, T., Yang, Y., Bartenstein, B (January 9, 2022). "World's Biggest Crypto Fortune Began With a Friendly Poker Game

". Bloomberg.com. Retrieved January 12, 2022

The Economics Times (January 12, 2022). "Binance CEO becomes one of the world's richest billionaires

". indiatimes.com. Retrieved January 13, 2022