Last updated on September 3rd, 2021 at 05:54 am
You may have heard about a woman who revealed that she lost more than N3,000,000 in sales during the pandemic. She regretted failing to have fully taken her products online.
You don't have any reason not to start selling online. One of the ways to start doing this is by setting up a Flutterwave store for your products and start to reach millions of people around the world.
You're likely to be amazed by the results that you would start getting when you put your products in front of millions of people who are constantly searching for what to purchase online.
Why you should start selling online
Statistics show that over two billion online shoppers would make purchases in 2021 compared to 1.66 billion people that bought products online in 2016.
This means the online stores will be the first destination point for people who want to buy goods and services online.
At InfomediaNG, what we love about Flutterwave store is that it supports several payment methods, meaning you're able to reach more prospective buyers.
It's what that can be described as selling beyond boundary when buyers are able to make payments via:
POS
Debit Cards
USSD
Bank Account
Credit Cards
Bank Transfer
Mobile Money
MPesa
Visa QR
Benefits of setting up Flutterwave store for your products
The advantages of setting up an online store for your business are numerous, but the most encouraging one is the ability to have a global reach.
While it may be difficult and challenging for a potential customer in Germany to visit your shop at Idumota in Lagos, the same person who is interested in buying one of your African fabrics can easily visit your store, make payment and you deliver, then you receive your payment.
Other benefits of creating an online store for your goods and services include:
No opening time restrictions
You can operate your store from any part of the world.
You pay less setting up an online store than a physical shop
It can easily be measured with the in-built tools
You would securely receive payment
With the above benefits, here are some of the products you can sell in your Flutterwave store:
Foreign Fabrics
Grocery
Liquor and wine
Cocktails
Local fabrics
Shoes
Sun glasses
Beauty products
Food
Farm produce
Meal-Prep
Plain and pattern
Home fitness equipment
Slippers
Hygiene/PPE
Hair clipper
Customised shirts
Home/Board games
Sewing materials
Online Bakery Store
Electronics
Online OTC Drugs Pharmacy
Building materials
Clothes
Human hairs
Home Improvement Goods
Toys
Day-themed Gift Store
Organic products
eBook
How to set up a Flutterwave store for your business
I'm sure you definitely want to make the running of your business as easy as selling in any part of the world.
If you're ready to go, here is how to set up a Flutterwave store to start selling to global buyers: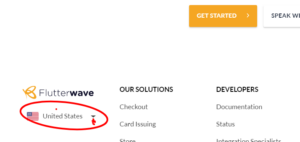 1) Head straight to flutterwave.com/us/
NOTE: Sellers can set up store account in the following 14 countries:
Cameron
Kenya
Nigeria
Tanzania
USA
Ghana
Malawi
Rwanda
Uganda
Zambia
Ivory Coast
Mauritius
South Africa
United Kingdom
2) Scroll down to the page, click the down arrow in front of U.S to select the country of operation
3) Create an individual or business account on Flutterwave for free or log in if you already have an account
4) Check your inbox to confirm your email address
5) The landing page would require you to select how you would like to receive payment. The options include:
To accept payment as an individual (this is for unregistered business, sole traders)
To accept payment as an individual (select this option if your business is registered with the Corporate Affairs Commission (CAC) or any other regulatory agency in your country of residence.
Select NGO is your organisation falls under Incorporated Trustees like Churches, Mosques and other Non-profit organisations
The last option is for an event management company.
6) So, choose the applicable one and click proceed
7) Navigate to Store on your dashboard and fill in your phone number and bank details including your Bank Verification Number (BVN)
8) A one-Time verification code would be sent to your phone number
9) Fill other fields and Click 'Complete Setup'. A store link will be generated and displayed on your dashboard. Begin to add products and specifications including images of your products
10) Begin to share your link on WhatsApp, Google My Business Page for people to make purchases from your store.
Happy selling!