Last updated on December 1st, 2023 at 04:41 pm
Do you know you can use Google My Business to sell more of your products online? The good news: It is one of the free online tools for small business owners.
Takeaways
Google My Business is a free and easy-to-use business tool to start selling online for free
It is one of the best free business tools a small business owner should take seriously.
Understanding Google My Business
It is one of the free business tools designed by Google to enable companies and individuals to make their products and services visible on Google search results and maps for prospective customers to find them.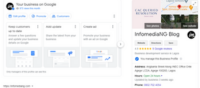 Why your business should be visible to Search Engine
The number of people who go online to search for the product they want to buy keeps increasing every day.
As search is important to the sellers, buyers also see the search engine as their destination point to know where and how to buy the product they want to.
Note: Google My Business is completely different from Google Merchant Centre (I'll share some tips on how to implement this in another guide).
The features to use on Google My Business to market your products and services on Google are:
Freedom To Use Multiple Photos
Search engines love photo and videos and Google is giving you the privilege to extensively use photos on the My Business page in order to grab prospective customers' attention.
Photos of your products are the first thing your customer would possibly see before clicking to get more details about the product, so you can use this tool to sell more. Good photos draw attention and increase the chances of high sales
Use The Exact Product Name In Search
You can sell on Google for free by distinctly using the name to distinguish one product from another.
And one of the ways you can take advantage of this is to do a quick search on Google by using the name of the product you want to list, and see the list of similar products that come up.
You can modify the name by using the SEO-friendly name and use as your product name.
Don't forget to apply the same strategy before uploading photos of products on your page, you can do this by moderately optimising the photo.
You can name the photo the exact name you want to use as a product name on Google My Business product page.
Freedom To Totally Classify Your Products
If you already have a list of your products ready, you should set the ground running by creating a category.
For instance, if you sell different fabrics, you name one of your categories "adire" or "ankara" this way, only adire fabrics go there.
A good classification of the products on Google My Business Product page can also make your rank higher than your competitors.
Use Keyword in Product Description
Another crazy way to sell on Google is by paying attention to your product description.
Just like I earlier pointed out, do a few keyword searches, and have a list of two or three keywords you can strategically place in your product descriptions. You don't need to keyword stuff to achieve the desired result.
According to TrustedShops, "A good product description should focus on the product's features and benefits."
In doing this, be creative when describing the benefits of your product to reach the right audience. It's advisable to use some positive adjectives.
Use Your Online Shopping Link
This is a new feature Google added some time ago. I'm sure it's specifically added to enable business owners to add " order online" link to their products.
This is a huge opportunity for sellers and freelancers to tell their prospective customers more about what they offer.
What makes this interesting is the fact that you don't necessarily need to have a website to sufficiently use "Add a button" option which has the following:
Order online
Buy
Learn more
Get offer
To get a link of your product, you can setup a free online store for your product on Flutterwave or any other supported platform.
Freedom To Totally Classify Your Products
Nearby Local Search Visibility
If you've probably done a search at some point like, "places to buy baby diapers, "where to buy a phone in Ikeja', "Affordable hotel in New York" etc
One of the benefits you would get from creating a page for your business is that if anyone uses a related search string, the person is likely to land on your page.
With the tool to show your business address and phone number, you have a brighter chance of getting a new customer.
With search queries becoming geographically specific, your business has a more than 70 per cent chance of benefiting from Google's algorithms which were developed to consider user intent.
To get found easily in local search you need to have a Google My Business listing for your product and update the listing.
Intuitive Direction
How many prospective customers can you direct to your office every minute via phone call? When setting up your business page on Google, you can use the power of Google Map for people to easily locate your office.
Business Description
Have you ever been asked by an interviewer to describe yourself? So how exactly would you use a similar opportunity for your business on Google?
You can take advantage of close to a 1000-word to use the right keywords for your business, and get the most relevant information out there.
Ability To Combine The Power Of Content Marketing
Just the way companies use content marketing to drive in more clients through their blog, the post feature in GMB gives you the opportunity to create great content around what you sell.
From experience, the best way to use this feature is to create a guide on how to solve a specific problem your client might be facing.
Leverage Customers' Review
If you have a blog for your business, you're possibly going to install a Review Plugin to allow customers to write about their experience with the products and services you offer.
But you don't need a plugin to collate customers' reviews on Google My Business, it comes with a page and you can also share the review link with clients to drop a review for your business. You can also ask for reviews
How To Set Up Google My Business To Start Selling Online
1) Use the sign up url google.com/business/ sign in to your Google account or create an account if you don't an existing account
2) Type in your business name or search for yours
3) Type your business category, don't worry you can add more categories when your account is fully set up
4) Add a location or store which customers can visit. Use the right location because the address will show up on Google Maps and Search when customers are looking for your business.
To make it easy to be found on search and maps, use shop address number, street, postal code, and state.
5) Next, be specific if you make home delivery. Let your customers know this information. This is very important.
6) If you chose "Yes' for home delivery service in step 5, it is time to add areas where your business provides deliveries or home and office visits. You can add more locations as possible. When you're satisfied, click next
7) Add you phone number and your website URL. If you don't have a website, no worries, you can get a free website based on your business information.
8) Google will now create a Business profile for your business, however, this doesn't give you full control over the business profile.
You would have to verify it, you have to claim the business profile and continue to manage it, you'll need to confirm that it's yours.
9) To be the manager of the page, enter the contact name to receive a verification code from Google. In some countries, you can verify business through three methods:
Phone call
Postcard mailed to your business address
Email
In Nigeria, you can only get GMB verification code via postcard
That's all, you'll get a postcard with your verification code within 14 days or more, check the nearest NIPOST in your location.
10) And finally, verify ownership of the page when the code arrives.
That's all
…but wait you still have to properly customise your page
To make your page more effective, do the following:
create more categories for your products
Set your opening and closing hours, you can change this at any time.