Last updated on August 26th, 2022 at 02:59 pm
In 2020, Nigeria spent around $56.61 billion USD on imports while in the same year under review, products exported from Nigeria to international markets were around $34.54 billion USD. In economics and trade, that's a trade imbalance or trade deficit of around $22.07USD, the data obtained from the National Bureau of Statistics (NBS) put the Naira value at N7.37trn.
The aforementioned trade imbalance, if not curbed, will put pressure on Nigeria's foreign exchange market, it may also sink local production and could make indigenous manufacturers to struggle for survival just like we've seen in the textile industry a few years ago.
How can Nigerian exporters fill this gap?
First, the imbalance means that export traders in Nigerians have not fully explored the agriculture sectors which has the potential of outperforming crude oil.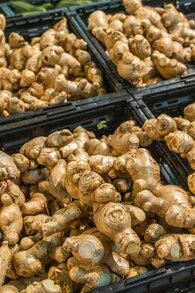 It's either suppliers in Nigeria find it difficult to get buyers or their inability to meet the standard requirements and the necessary documentation.
So, in this post, we'll share with you 20 genuine platforms where you can find international buyers for your agriculture products..plus other traditional means of meeting buyers.
Note:

The export international directories in this guide aren't limited to Nigerians, Ghanaians, Tanzanians, Americans, Sudanese, and everyone around the world can use them to get their products in front of more than 20 million prospective buyers
Ways To Find Buyers
There are two major methods to find buyers, they include:
Online methods
Offline methods
Online methods
The online methods include the Business To Business (B2B) marketplace for export products. Some people prefer to call them international market directories, they are:
| | | | |
| --- | --- | --- | --- |
| Foreign Buyer Platforms | Terms of Use | Location | Website |
| Panjiva | Subscription-based | United States | panjiva.com |
| Boomingafrik | Paid and Free membership | Côte D'Ivoire | boomingafrik.com |
| Global buyers online | Paid and free subscription | India | globalbuyersonline.com |
| Export Portal | Free and Paid | USA | exportportal.com |
| Tradewheel | Paid | United States | tradewheel.com |
| Euro Pages | Free and Paid | France | europages.com |
| Hotfrog | Free | Australia | hotfrog.com |
| ExportHub | Free and paid | Dallas | exporthub.com |
| HKTDC | Free and paid | Hong Kong | sourcing.hktdc.com |
| eWorld Trade | Premium and Free membership | Texas | eworldtrade.com |
| Alibaba | Premium | Hangzhou | seller.alibaba.com/pages/gpc? |
| Canadian Importers Database | Free | Canada | ic.gc.ca/eic/site/cid-dic.nsf/eng/home |
| YouTube | Free | San Bruno | youtube.com |
| Export Genius | Free and Premium | India | exportgenius.in |
| Tradeling | Free and Premium | United Arab Emirate | tradeling.com |
| Globalsources | Premium for seller | Hong Kong | globalsources.com |
| Go4worldbusiness | Both | India | go4worldbusiness.com |
| Tridge | Premium and Free | South Korea | tridge.com |
| Facebook | Free and Paid | USA | Facebook.com |
| ECVV | Paid and Free | China | ecvv.com |
| Tradeford | Premium and Free | Oregon | tradeford.com |
| Agro-Market 24 | Free | Germany | agro-market24.eu |
| LinkedIn | Free and Paid | | |
| Personal website | Premium | | You could choose WordPress or Joomla or any other Content Management System (CMS) |
Note:

Some of them are free while some are based on subscription. You may not get the full benefits of the free subscription on some of the aforementioned directories.
So, let's discuss each of them how what they offer and how to fully explore them for you to meet your export business goals.
Panjiva
This is a subscription-based website where you can gain insight into useful global data. You need international trade data to be able to target the right people, this is exactly what panjiva offers its client around the world.
On this platform, you can narrow your search to a specific country that you know is one of Nigeria's export partners.
Boomingafrik
This is built by Africa for African export traders and the rest of the world who are interested in non-oil products from the continent. If you studied the foreign directories above, you'd notice that most of them are based in the United States.
What this means is that exporters of raw materials in Africa will have to use the foreign-based B2B to sell their products, this is one of the gaps BoomingAfrik is filling.
The portal which is based in Ivory Coast is designed for African suppliers to upload their products while buyers can connect with them
Note:

The number of products you can display for prospective buyers depends on your subscription. It's not free
Global Buyers Online
This platform carries out trade matching services for buyers and sellers. Global Buyers Online allows you to search for buyers from over 200 countries.
To get a quicker result, you can search for all buy requirements and reach out to the buyers through an inquiry manager that would be assigned to you.
Export Portal
This platform has taken a step further by incorporating blockchain technology into its search portal to boost trade. You can leverage the newest technology on this Export Portal to find and connect with new customers from any part of the world.
Tradewheel
This is a US-based online B2B listing platform where buyers and sellers of export products meet. If you specialise in exporting sesame seeds from Nigeria or Ginger, you can definitely find buyers.
What we love about tradewheel

It's a certified Google partner, which makes it more reliable to engage in international trade. It is a paid subscription-based platform with an assigned agent to guide you on how to optimise your products so that you'll be more visible to potential buyers.
Euro Pages
This platform connects buyers and sellers of agro products around the world. It isn't limited to agro products, you can also find buyers of other products right on the platform.
There are several search terms you could use to get better results, they include search by country, size of the company, company type.
This means you need to pay attention to how it works before setting up a supplier account so that foreign buyers will be able to find you easily.
What we love about Eauro Pages

Ability to translate 26 languages, meaning you can easily find French or Dutch buyers for your products.
Export Genius
Based in the city of India is a platform that believes that data drive international trade and the best way to begin your export business is by knowing your market if they are the trade partner of your country if the products you want to export to the country is needed or not.
You can just wake up in a day start exporting to whatever country that pops up in your head. You need to gain insight into such a country's imports data.
This is exactly what the guys at export genius are doing by collating customs data, HS codes, and other useful trade indexes that would help you find international buyers for your products wherever you are.
Hotfrog
With web directories in more than 30 countries around the world, Hotfrog is one of the platforms suppliers find buyers globally.
Tradeling
If you are targeting foreign buyers in the MENA region, tradeling is a B2B marketplace you should check out.
MENA means the Middle East and North Africa region (MENA)
Some of the benefits of Tradeling include product listing support, price negotiation facility and logistics support among others.
Pro tips:

Critically check the countries that make up the MENA region, go back to check their import data, if they import some of your products, you can set up and account to start targeting buyers from there. Don't target the wrong buyers who do not need your product.
Tradeford
Tradeford is a secured global marketplace for international buyers and sellers which has several subscription options for user.
You can begin with the free membership, though it has limited benefits, it gives you the opportunity to display 10 products and gives you 100 credits to access contact info and send mail or receive emails from prospective buyers.
This platform isn't limited to agro products, if you sell African fabrics and foods like crashfish and local vegetables, you can open trade with buyers from any part of the world.
Global Sources
You can send a direct inquiry to sellers on this platform, meaning you can also receive orders from prospective buyers of your product when you setup a supplier account.
Exporthub
This is platform is based in Dallas, United States. It offers free and premium subscriptions which enables you to set up a supplier account and begin to search for buyers in your specific product and begin a trade.
The premium service gives your product more visibility which gives buyers the opportunity to reach out to you.
HKDC
With 50 offices around the world, HKTDC is one the places where you can find honest foreign buyers for agro products from Nigeria. Set up an account and start your search for whatever products you supply or sell, you can find buyers in the Unites States, Netherlands, and Japan
Tips:
Target the top buyers or narrow your search to a specific country at a go, this way, you would be able to get a great result
eWorld Trade
It is B2B marketplace for international buyers and sellers. To explore this platform repeat the same process as outline in HKDC, register as a supplier, and start searching for buyers.
What we love about eWorld Trade
From the platform you can see latest buy offers and can also find buyers by countries making it easier to directly target your market.
Alibaba
This needs little or no introduction for persons who are familiar with B2B market place.
With close to 30 million potential buyers in over 200 countries, Alibaba is one of the largest platforms to find international buyers for your products.
Go4worldbusiness
Go4WorldBusiness is one of the best international directories to find buyers for Nigeria's agriculture products.
Established in 1997, the platform has created a niche for itself. To get customers for your products, click on "buyers", choose the product you want to sell and narrow it down to a specific country.
Tridge
The South Korea-based company is a supplier directory where you can also sign up and start getting inquiries from buyers.
ECVV
If your target market is Arabic countries, ECVV is one of the largest platforms for foreign buyers and sellers you should try to sign up with.
Although it focuses more on hardware, electrical appliances among others, you can also explore it to find buyers for your agric products.
Facebook
So, you've wondering how to get foreign buyers for your products on Facebook? Definitely, you can if you pay attention to data and run an advert that target specific countries that buy most of Nigeria's non-oil exports
Some of the non-oil exports from Nigeria include cocoa beans, sesame seeds, and cashew nuts among others.
Pro tips:

In your Facebook Ads, target countries like Brazil, Indonesia, United States, and Malaysia to find buyers for garlic

Do you know why? These countries are Nigeria's trade partners in garlic export. To even gdig deeper, we did a quick check on the number of Facebook users in the aforementioned countries and we discovered that Brazil has 139 million Facebook users; Indonesia has 136.96 million users ; the United States and Malaysia have 240 million and 25,520,000 million users respectively, according to worldpopulationreview.com

You can use these tips to target another country if you're marketing other products that have completely different market.
Agro-Market 24
Basically designed to meet the needs of suppliers and buyers of agro produce. It's free to use. To get the best out of this platform, ensure you have your contact details for potential buyers to chat directly with you using the inbuilt chat function.
Above all, it supports 10 languages
Canadian Importers Database
Canada has a dedicated section on the official government's portal for importers. You can target buyers on this platform by using HS code, by targeting a specific region. For instance, you can find buyers based in Alberta. It's free to use.
Pro Tips:

You can offer to send a sample before the bulk order.
YouTube
YouTube, as of September 2021, has the highest number of users globally, it has 2.29 Billion users, which means 42.9% of all global internet users use the video platform every month, according to YouTube data published by backlinko.
On the list of top five countries by monthly users is India, which has 225million, followed by the United States with 197million monthly users, Brazil occupies the third position with 83 million users every 30 days; Japan and Russia are fourth and fifth with 60 million and 58 million users respectively.
You should be tapping into the YouTube huge user base to find foreign buyers for your export products, wherever you are.
Bonus:
LinkedIn: To get the best result out of LinkedIn, you will have to engage in content creation and marketing in your chosen product
Personal website: Register your business, obtain an export licence, get a website for your export business.
Social media: Apart from Facebook, explore the marketing tools on Twitter, Tiktok, and Instagram among others.
There you have them, let's take a quick look at the second method.
Offline Method
Event and workshop organised by the Nigeria Export Promotion Council (NEPC). The agency is specifically established to sell Nigerian non-oil products to the rest of the world.
And most of the time, they invite foreign importers to their events, so you can subscribe to their newsletters and get the first-hand information in relation to agric products.
Events of Chamber of Commerce that are organised by Nigeria's export partners.
Buying Agents: There are reliable buying agents in Nigeria. They represent the interest of the importing countries or foreign companies.
You can reach out to the agents if you don't want to get involved in the task and stress involved in finding buyers.
The agents take the burden off you.
Take Away:
It's important you to constantly familiarise yourself with the items on the prohibition list (https://infomediang.com/export-prohibition-items-in-nigeria)
International directories allow you to find and contact buyers for your export products
You can the best out of YouTube, considering its user base to find buyers
In international trade, you should be guided by data
Obtain export and import data in order to target the right market.