Last updated on September 29th, 2022 at 01:07 pm
Don't copy and paste other people's work, be creative, listen and read news, create your own unique content from it, head straight to the hub, and hit publish. You can earn as much as N500, 000 if you can perfectly do this. 
While you continue to create content and earn on the hub, in another guide, we added another four foreign platforms where you can find work-from-home writing jobs, you can find it at: https://infomediang.com/content-creation-platforms-nigeria-make-money
In case you don't know, Opera News Hub has stepped up from creating just any content (when it was launched in 2019) to original and quality content.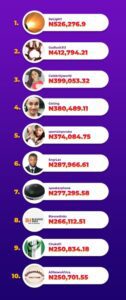 Being an original content creator on the opera news hub is one of the best work-from-home jobs in Nigeria.
Just the way US residents can make some dollars by being content creators on medium.com, Nigerian residents and five other African countries can now write creative content and make as much as they wish.
The hub is a brainchild of Opera Inc.
Let me take you on a journey to financial independence on how to work from home and receive your earnings via your Opay account and how to withdraw it to your bank account.
Why you should start creating original content
Every content you create on the hub will be accessible to all Opera News App users. The app already has more than 1billion users.
It is ranked number 1 on the Google Play stores in Nigeria, Kenya, Ghana, and Tanzania. Opera News App is the most downloaded app in Nigeria. So, you're definitely in the right place to make some money. Ready to get started?
Requirements To Be an Original Content Creator
Full name
Functional email address
Phone number
Ability to write original content.
How to register on Opera News Hub
To start creating original content, follow the steps below:
Sign up for opera news hub at https://hub.opera.com/
Login to your Facebook account
Use the Facebook account to sign up
Confirm your details
Create your username on the wemedia information page
Choose your preferred category (area of interest for your content)
Upload your photo
Write a short description about yourself or about what your followers and prospective readers should expect from your page
Click next to the following details: legal name choose country, phone number
Click Confirm
Wait for your account to undergo review. In less than 24 hours it should be up and running.
Start creating content, publish and earn
How to publish your first post
Login to your account
Click on "CREATE ARTICLE" Tips: You can first create your content on Word Doc, when you are done with the editing, you can copy and paste on the create article space.
Upload photo in your content
Scroll down to choose the right category for your content
Use tags
Preview if you like, and then hit publish.
Wow! You just a step away from earning from your writing. However, you will have to be patient for a few minutes for your post to pass through the quality control unit before it's live.
Opera News Hub Rules You Need to Follow To Prevent Your Article From Being Rejected
Kindly read the guidelines and abide by them before you hit the publish button. Consistent rejection may lead to frustration. You may also find the following tips useful so as to avoid your article from being rejected:
1) Don't publish divisive articles e.g "Steps on how Biafra can achieve their freedom" It will be rejected.
2) If you continue violating the rules of the hub, you may be suspended.
3) Indicate on your headline when writing an opinion piece, let the word, 'opinion' come first EG
Why Buhari May Not Support A Northern Presidential Candidate in 2023 (Opinion) WRONG
Opinion: Why Buhari May Not Support A Northern Presidential Candidate in 2023 ACCEPTED
4) Indicate on your headline when writing a fictional story, let the word, "Fiction" come first EG
How I Spent 10 Years With A Man Who Kidnapped My Father (Fiction) REJECTED
Fiction: How I Spent 10 Years With A Man Who Kidnapped My Father ACCEPTED
NOTE: Write a fiction story that teaches moral
5) Don't use the article rewriting tool, if you do it WILL be rejected
6) Avoid symbols in your headline
7) Don't copy from another platform. Be creative. Copy and paste content will not bring in enough money for you. And you may be suspended.
8) Don't use gory images in your content or as featured image. Photos of a dead body and someone with a serious bodily injury will be rejected.
9) Don't use blur images as your featured photo
10) Make sure your headline is grammatical correct
11) Read your content to be sure it doesn't contain factual and grammatical errors
12) Spell people's names well. Nigeria's president is Muhammadu Buhari NOT Mohammad Buhari, take note.
It's Lai Mohammed NOT Lia Muhammed
13) Check your facts and figures in your analysis
14) Don't publish stake news.
15) Avoid publishing defamatory content against anyone.
16) Stay away from publishing news of any group that has been proscribed by the government.
17) You can't publish everything someone says on social media. For instance, if the opposition party calls the president "stupid", opera news hub will not approve such content
How to earn more and win a bonus
Choose a topic or category that is exciting to Nigerians
Be simple as much as possible to connect your content with your audience
Share your content with your followers on WhatsApp, Facebook, Twitter, and social mediaplatforms.
Encourage your followers to read and share your content
Choose a controversial topic, but be objective as much as you can so that you trigger your readers to air their views. If you're going to take a side, do it sparingly.
If you're writing about sports, it is advisable to go for popular sports or league. English Premier League, La Liga and other popular leagues will earn you more readers. Writing about Saudi Arabia League, or Russia League may get you little or no audience in Nigeria.
Avoid defamation in your content in order to scale through the quality control unit.
You can install Grammarly on your device in order to minimize grammatical errors in your content.
Make your content interactive, like asking about your readers' views at the end.
You've published some content and it's time to get paid, you don't have to worry about bank delay. Your earnings will automatically be credited into your Opay wallet, which is the official payment platform for opera news hub content creators.
How To Link Opera Hub to OPay account For Payment
Payment is made easy for content creators via OPay wallet. This means you will have to create an account and link to your hub profile page.
Usually, you should have completed these steps during account setup, but if skipped it, follow these guides to receive your payment in your wallet.
The traffic bonus will be based on how many clicks one article gets.
Step 1: First download Opay App from Google Playstore and verify your account
Step 2: On your opera hub dashboard home page, Click "Account"
Step 3: Scroll down and click Link Account
The first 10-digit of your phone number is your OPay Account Number e.g if your phone number is 08000000001, then your Opay account number will be 8000000001.
Click on SAVE, that's all your Opera News Hub account is linked to your OPay account.
You can begin to receive your payment when you're qualified.
NOTE: Please make sure you fill in the correct payment withdrawal information. You shall bear all losses that result from any errors in the payment account information provided by you.
How to get paid
It's advisable to download Opay Mobile Wallet which is also owned by Opera.
To benefit from quick disbursement of your opera news earning, simply link your Opera News Hub account to your Opay Wallet.
Please note that you have to link your opera news account with your opay account for you to receive payment as quickly as possible.
How to Transfer Your Earning from Opay Wallet to Bank Account
When you receive your Opera News Hub earning in Opay account, the next is how to withdraw it or possibly cash out. In this guide, I'll show you how to make a transfer from Opay wallet to a bank account.
You can only withdraw cash from Opay wallet when the money is in your bank account.
There are several reasons who may want to withdraw your money from your wallet to your bank account
If your friend transfers a certain amount to you
If you receive earnings from Opera News Hub
Follow the steps below
Note: First download Opay app
Step 1: Log in to opay app
Step 2: From the homepage are three options, I) transfer to opay, II) transfer to the bank, III) transfer to friends
Step 3: Click on "Bank" option which you can find in the middle depending on the kind of device you're using.
Step 4:Click bank name to select your preferred destination bank from the drop-down menu. All banks are listed.
Step 5: Enter the account number, and input the amount you want to transfer, other spaces are optional.
Step 6: Click done and check the details of the destination account and the name of the person you want to transfer to. Be sure so that you don't transfer to the wrong bank account.
Confirm your transfer.
That's all. Within a few seconds, your bank account should be credited.
That's how to transfer from Opay account to your bank account within minutes.
10 things we love about Opera News Hub Nigeria
It doesn't hinder your present job, it's flexible. You're free to work at your own pace. You could choose to write and publish just two articles or more per week, depending on your work schedule.
It is a reward for passion.
It also means you can begin to make extra cash from your social media following.
Write interesting articles, publish on your Opera News Hub account, share with your followers and get paid from the traction of your content
You work remotely, from your workplace, from home or anywhere you are, you have access to an Opera News Hub dashboard.
Apart from earning, it also gives you more opportunities to reach a wider audience. This is because your content will be live on Opera News App. Opera News App has over 50 million downloads on Google Playstore ALONE and several millions of readers on the App every day.
You connect with the rest of the world through Opera News Hub.
It is an opportunity to sell or market yourself. This is because you can gain thousands of followers right within the app provided you're able to connect with them through your content.
Opera News Hub is legally binding. That is there is a document to sign meaning you are protected just like the owners of Opera.
To me, it also looks like a way of saying THANK YOU to the Nigerian market which is the largest in Africa.
We received a few questions from prospective and existing content creators, check here for answers:
How can I know if I've been suspended on the Opera News Hub?
To simple way to know you've been suspended is that you won't be able to publish on the hub again.
If it's suspension, you could get back to hub. If it's a serious violation, you may not be able to access the account again.
How to share posts from Opera News Hub to other social media platforms
One of the ways to make your content go viral is to choose a trending topic and to share it with friends on Facebook, Twitter, Telegram and other social media platforms.
To share your content,
Download Opera News App,
Login to the app to access your dashboard
Click the post you want to share
Below every post is a social share button, click it and share
That's all.
What is the best way to copy and paste your own article on Opera News Hub?
Copying and pasting articles on the hub is not allowed. If you republish your old post as a fresh article, you will be caught and be penalized.
Opera News Hub encourages fresh and interesting content, so, steer clear of publishing plagiarised and old content that has no new angle.
Does Opera News Hub allow creators to do affiliate marketing?
Affiliate marketing isn't not allowed on Opera News Hub, such content will be treated as advertisement.
How many violations will earn me suspension as a creator on Opera News Hub?
How to contact Opera News Hub Support Centre:
The channel is active on social media in case you encounter an issue in the course of your registration.
Twitter: @OperaHubSupport
Facebook: @OperaNewsHub
When did you start creating content on the hub? Share your experience here