Last updated on August 3rd, 2022 at 12:48 pm
Some online applications may ask for your NYSC Call-Up Number and NYSC Certificate Number as one of the checks to be sure you passed through the one-year mandatory service.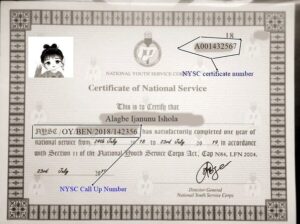 Disclaimer:

This NYSC certificate you see in this post is specifically adapted to serve as a guide for those who are confused about the difference between call-up numbers and certificate numbers. It isn't intentionally meant to deface the prestigious NYSC certificate.
As an ex-corps member, spotting the difference between the two important numbers could be confusing, we've got the sample here for you.
We first came across the question, "What's the Difference between NYSC Call Up Number and NYSC Certificate Number" during the 2016 N-Power registration period.
Again, the NYSC certificate Number is required in the ongoing application for the Tertiary Institutions Entrepreneurship Scheme (TIES) which is specifically designed by the Central Bank of Nigeria (CBN) former NYSC members to support their creative and business ideas with at least NGN5,000,00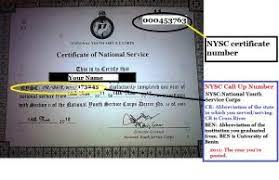 What is the difference between NYSC Call Up Number and NYSC Certificate Number?
While the person who asked the question got knocks from others, we believe that it's better to ask what you don't know than to die in ignorance.
So, let's take them one after the other.
What's NYSC Call Up Number?
NYSC Call Up Number is the combination of abbreviation of National Youth Service Corps, the state where you're posted to serve or where you're serving, the institution from which you graduated from (the institution that mobilized you), the year you're posted to serve (if you like call it your batch year), and your unique number.
Example of NYSC Call Up Number
NYSC means National Youth Service Corps
OY means Oyo State. That is you're posted to serve in Oyo State
BEN means the University of Benin. It means you graduated from the University of Benin
2011 indicates that the year you served
142356 is your unique number
The above NYSC Call-Up No is for illustration purpose, any coincidence isn't intentional.
That said.
What is NYSC certificate number?
Also called NYSC discharge certificate number, your NYSC certificate number usually appears at the top right-hand corner of your NYSC certificate.
NYSC certificate number is simply the number that doesn't have initials like NYSC/OY. It's simply the certificate number which usually begins with A00 followed by a seven-digit number.
Do not confuse NYSC discharge certificate number with Call-Up number.
Example of NYSC discharge certificate number?
If you can't find a solution to your problem here, we've collated the most comprehensive questions and answers about NYSC.
Wrapping up:
NYSC was formed after the end of Civil War in Nigeria to foster national unity and integration among Nigerians. It has indeed achieved so much in that regard.
Though it has been criticized by some people, but it's actually achieving the goals for which it was founded in My 22, 1973 by the regime of Gen. Yakubu Gowon.
We hope this post helps you get a clear distinction between NYSC Call-Up Number and NYSC discharge Certificate Number